Vision in action at Moree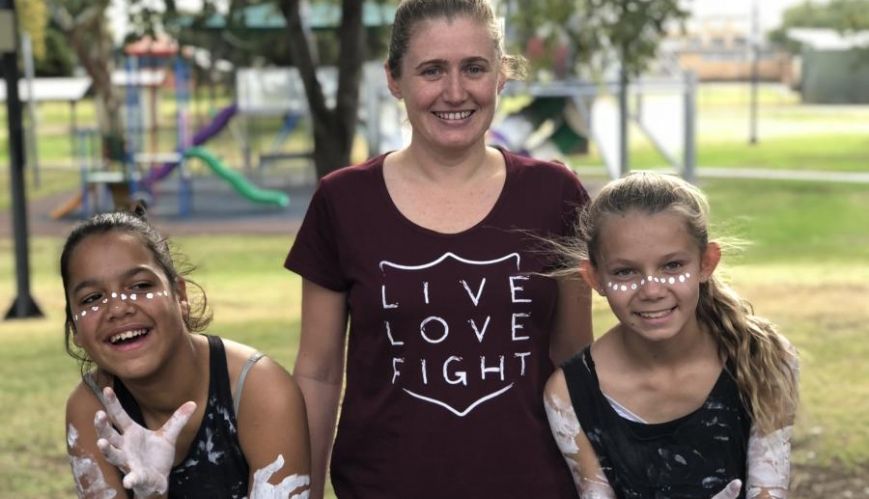 Vision in action at Moree
13 November 2020
Moree Salvation Army leader Jessica Poutawa with girls from the corps' kids club. Youth mentoring is the way The Salvation Army in Moree, north-west NSW, is living the organisation's vision, of 'one life at a time, with the love of Jesus.'
By Lauren Martin
On any Friday night in the north-west NSW town of Moree during the NRL season you can bet (not that Salvos are betting-people) that most young people will be camped out in front of a TV with their eyes glued to the game. Sometimes, you'll find them at the local Salvation Army, where 'footy and faith' nights are part of a unique discipleship model that is boldly focused on transforming Moree, one life at a time, with the love of Jesus.
Jason Poutawa leads The Salvation Army at Moree, along with his wife, Jessica.
Jason Poutawa, who heads up The Salvation Army Moree, knows first-hand how much of an impact a supportive role model can be at an early age. He came to know Jesus through the support and encouragement of a Salvationist couple who moved into his public housing estate in Sydney when he was just 10 years old and started running homework club and holiday programs. As God would have it, Jason met his wife Jessica while on a mission trip to Moree, so when the opportunity came up to minister full-time in the town, it felt "right".
Moree is a largely agricultural town of around 10,000 people situated on the banks of the Gwydir River. It has a large Indigenous population, with people of Aboriginal or Torres Strait Islander descent making up around 20 per cent of its total population. Many young people in the town are looked after by members of their extended families and lack the stability that enables them to thrive, which led to The Salvation Army's particular focus on children and youth in Moree.
"Our main focus in Moree is to make a significant impact amongst youth and children in the town and we really wanted to focus on the long-term picture of seeing a generational change," says Jason.
About a year into their time there, Jason and the Salvos team started the 'Deadly Diamonds' youth leadership program and Salvos Youth Mentoring. The two programs focus on discipleship and work seamlessly together, as well as with the other programs for children and young people such as the weekly kids club and youth group.
Deadly Diamonds is a leadership program made of up 8-10 young people from the youth group who help to lead the Salvos' weekly kids club. Most of them also participate in Salvos Mentoring, a once-a-fortnight (or weekly) breakfast with one or two of their peers and a local Christian mentor who commits to being a reliable support person to them for at least a year.
"We don't just have one contact a week with [these young] people, we have multiple contacts," says Jason. "With our Deadly Diamonds, they'll come to a Deadly Diamonds meeting on a Tuesday, they'll help with Kids Club on a Wednesday they'll attend Youth Group on the Wednesday. They'll also attend mentoring once a fortnight or once a week with their mentor."
Strong relationships are built on connectivity. For followers of Jesus, this means connecting with God every day, not just at church on Sunday, in order to have a meaningful and fruitful relationship with him, to allow him to transform us from the inside, out, and be able to discern his pure and perfect will for our lives (Romans 12:2). At The Salvation Army in Moree, discipleship is no different. It's about consistent, positive connections with young people who are hungry to go deeper with life and faith.
"The way that kids and youth experience life out here [is different to what many Australian young people experience]," says Jason. "A number of young people that we work with really have very small support networks, or no support networks, to help them navigate their lives as young people. It's an evolving and changing environment for them, which is difficult. As a young person, one of the key things they need is stability, they need reliability and consistency."
The goal of Salvos Mentoring is to pair role models that are accepting, caring and capable of helping young people navigate the various challenges of adolescence into adulthood. "To be a consistent, stable and positive presence and influence, guide, coach, support, advise and mentor," says Jason.
Norman's story
Norman has a dream of becoming the first Aboriginal national champion cyclist.
Norman is a proud Indigenous young man with boundless energy for sport. He has been connected to The Salvation Army in Moree since he was a toddler and has had multiple connection points to programs and social events throughout those years. At the beginning of 2019, Norman attended a Salvation Army camp and soon after he joined the Deadly Diamonds.
"He came home with a spring in his step, with an element of Christian faith in his life," says Jason. "It was clear that there was a shift in his attitude, his attendance and willingness to serve. Norman became one of our head dance leaders and through his leadership, boys that didn't usually participate began to get involved."
When he joined Deadly Diamonds, Norman was given the opportunity to pair with a mentor, which he readily accepted. He started meeting with Greg Bell, a local Christian and business owner, who took up Jason's challenge of giving "one hour, once a week (or fortnight) for one year" to mentor young people.
"This is what Jesus was all about – doing relationship with people," says Greg, who, despite working nearly 12 hours a day, five days a week in small business, makes sure he sets aside his mentoring time in his diary and makes sure is he always there for the young guys that he has committed to.
"I pick them up and take them out for breakfast," he says. "We meet in pairs. For young boys having other men in their life that they can look up to, it's really beneficial ... that was the big thing for me," Greg says, explaining that throughout his years in university he was mentored in much the same way, and now, "I can be a steady person [in the lives of young people like Norman.]"
Norman has been connected with The Salvation Army in Moree since he was a child.
Norman has also connected with Salvation Army youth work volunteer Steele Sutton, who engages young people, particularly teenage boys, in cycling activities. He introduced Norman to cycling, inviting him to participate in the Moree Cycling Project, which offers young people the chance to connect, have fun and race road bikes. The Salvation Army supports the project by providing transport to racing events and accommodation at local Salvation Army centres.
Norman fell in love with cycling instantly. "I like the training, it motivates me and I'm good at it," he said. He began training intensively and has competed in both New South Wales and Queensland. "One day I want to be the first Aboriginal national champion cyclist. I want to compete against the best in the world."
And it's a dream that is supported and encouraged by his peers, teachers, relatives, the local media and business owners, and none more than his mentor, Greg.
"He's a good kid with a lot of potential," says Greg of Norman. "He thrives on positive influence and guidance."
In addition to mentoring Norman, Greg and his wife Rachel, who mentors a number of teenage girls in the Salvos Mentoring program, have included him within their family sphere. He regularly shares dinner in their home, has met their extended family and is embraced and celebrated. Norman recently spent time living with Greg and Rachel in order to focus on his training for the cycling season.
In the two years since Norman began mentoring, his mentors in partnership with The Salvation Army and Moree's supportive community have assisted him to buy a race bike and support him to follow his dreams. This has also included identifying and assisting him with his health and wellbeing, taking him to appointments and being there for Norman, even when things aren't going great on his journey.
For Greg, mentoring is where the "rubber really hits the road" when it comes to the way he actively follows Jesus in his life. "Jesus called us to be with others and be in relationship. For me, it's congruent with living a life of faith."
The Jesus discipleship model
Norman with Moree Salvation Army leader Jason Poutawa (left) and youth worker Steele Sutton. 
Some might question the allocation of resources to invest so heavily in so few lives. After all, the Great Commission that Jesus proclaimed at the end of the Gospels is to reach the whole world. In Moree, Deadly Diamonds and the Salvos Mentoring program works intensively with a mere 20-30 young people at a time.
But Jason likens the model to that of Jesus, who had powerful connection points with multitudes of people during his ministry but heavily invested into just 12 – his disciples. "You look at the impact that Jesus made on those 12 and then the impact that they made on the world after he left. That is central to what we are doing with Deadly Diamonds and with Salvos Mentoring – to get to those places of trust and intimacy and connection ... and to consistently be a positive role model on their journey."
He says while The Salvation Army in Moree has a wide "reach" among children and young people through its school breakfast programs, school chaplaincy, and kids and youth groups, it's going deeper with the select few that will create generational change in the town.
"What we're really strategic about is having positive people in [local] families. Kids that have their lives transformed in all aspects of their life, because they are connected to The Salvation Army, then they themselves are positive role models for their families. That's the only way we could see both incremental and long-term change."
It seems an optimistic if not 'lofty' goal. But Jason is by no means naïve to the reality of one-on-one journeying. Some young people drop out of the program. Some drift away, then come back. Some make poor choices at school, or with peers that land them in strife. Some are given the opportunity to work or study that they don't continue on with. This is the reality of journeying with people. But Jason says setbacks don't mean that the journey is not worth taking.
"Jesus worked with 12 and even one of them sent him to his grave!" He says the success measurement for the mentoring program is based less on the decisions the young people make, or what they end up doing with their lives, but more upon maintaining a long-term, positive connection with the young people involved.
"Along the way, of course, we are going to see some adjustments, changes, things that will go backwards, things that will go forwards, but at the end of the day we not trying to measure our success based on the outcomes – because the outcomes are really up to the young people." And Jesus.
Lauren Martin is Assistant Editor of Others