Mother's Day comes early for the Meads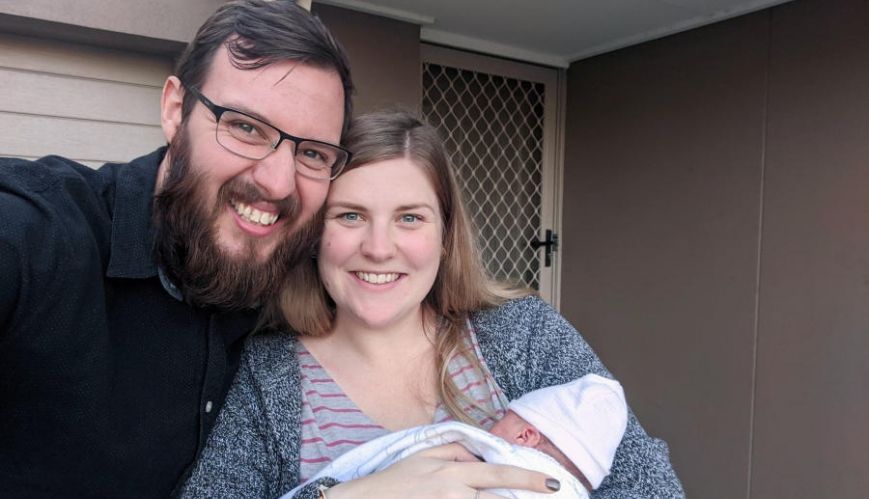 Mother's Day comes early for the Meads
10 May 2020
Isaac and Tanya Mead with newborn Emma Rose Mead.
By Jessica Morris 
Mother's Day will look a little different for Tanya and Isaac Mead this year.
Not only are they celebrating in isolation due to COVID-19, but they have birthed a whole new meaning to the day for them – their little girl Emma Rose Mead.
"Mother's Day [this year] was never supposed to be a thing for us!" laughs Isaac, the youth pastor at Dandenong Salvation Army. "We were not meant to have a baby for another two weeks – Emma was due on May 18, so it's been a massive surprise."
Emma was born at 3.06am on 4 April, six weeks before her due date. Weighing just 1.7kg, she was tiny but in good health. She was Tanya and Isaac's unexpected miracle in an upside-down world. 
"It feels weird being a mum! I think no matter how many parenting books you read, you can never really be prepared," says Tanya, the mission events coordinator in Victoria and Western Australia for The Salvation Army.
"There's a lot of pressure with the breastfeeding and the lack of sleep. But we look at her and we're like, 'We made this!' It's so miraculous!"
It's one thing to be a first-time parent, but an entirely different experience to become one during the COVID-19 outbreak. Not only do Tanya and Isaac now have a daughter to raise, but they're having to do it in the confines of their own home with minimal social connection. 
Thankfully, they don't have to do it alone. Just before state borders closed, Tanya's mother flew in from Perth to help the couple prepare for Emma's arrival. She had to self-isolate for two weeks upon arrival, but her knowledge would prove useful for the couple as they navigated the new world of parenthood, complicated by strict visitor restrictions due to the pandemic.
"Before the birth, Isaac could only be at the hospital with me for an hour a day. It was pretty brutal," says Tanya. "Even once we had Emma, there was serious screening when we went in and out of the hospital, especially when we discharged and she was in the nursery. There were a few days when only one of us could be in at a time." 
They say it takes a village to raise a child and Tanya and Isaac were counting on their community at Dandenong Salvos to help them through the first month of Emma's life.
"One of the amazing things about a church community is that you have this social network. We were really looking forward to having this amazing community around her of people who loved her and care for her, and sneak her snacks!" laughs Isaac. "Church now is a Youtube playlist and Facetiming friends, so it's been strange."
Granted, this community may not look the way they expected due to social isolation, but their church family has still come through and shown they care. 
Before the birth, they had a baby shower over Zoom for Tanya. And in the weeks following, meals, toys and gifts were dropped at their door, not to mention phone and video calls with Salvo friends from across the country.
"We've had people outside our immediate social circles unexpectedly call us. It's so nice to feel loved," said Tanya. 
Parenthood may not have begun the way Tanya and Isaac expected, but this Mother's Day one thing is sure – Emma has made sure it is an event they will never forget.
"I feel very underprepared for Mother's Day! I now have my wife, who is a brand-new mother, and her mother in the house!" Isaac laughs.
"Emma is small but fierce, vocal and very sassy and we love her to bits. I just wish restaurants were open on Mother's Day!"