New Chief leading the way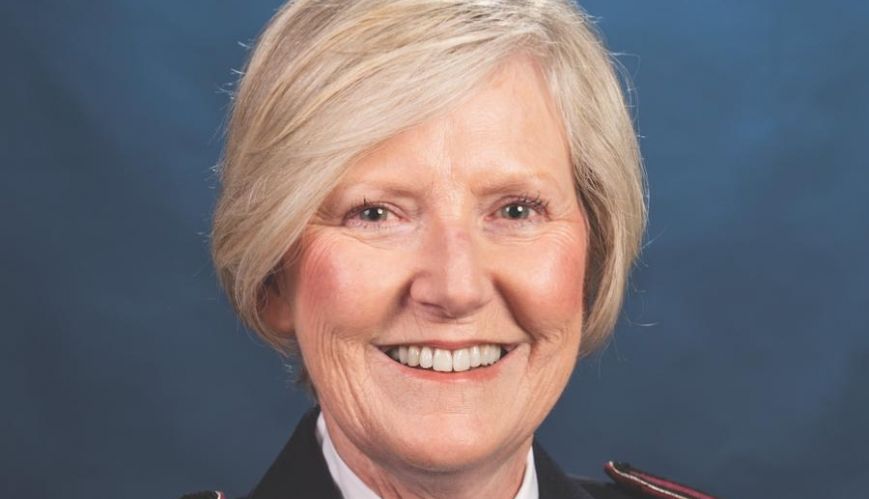 New Chief leading the way
30 January 2020
Incoming Chief Secretary Winsome Merrett says her appointment empowers women and men.
By Simone Worthing
The soon-to-be Colonel, Winsome Merrett, says being the first married woman in Australia to fill the position of Chief Secretary is a privilege that carries enormous weight in the gender equity sphere.
Winsome begins her new appointment as second-in-charge of the Australia Territory on 1 February, after previously serving as the Assistant Chief Secretary.
"It's an incredible privilege to be appointed to this role that plays a significant part of how The Salvation Army will express its mission both now and into the future," Winsome says. "At its heart, The Salvation Army is what it's always been, raised up by God to ensure people can respond to the Gospel message and Good News of Jesus, and which also has open hands to people experiencing crisis and disadvantage.
"Sometimes it's daunting and challenging, but also incredibly exciting, to see the great things God has yet in store for this territory and how he will use us to transform lives with the love of Jesus. As the first married woman in this role, I also feel incredibly honoured and pray that how I lead in this appointment actually empowers women and men, and forms a solid foundation so that doors continue to open for other women to take on leadership roles and gender equity can become a reality."
Winsome explains that one of the messages around gender equity is the importance of men also promoting women and creating opportunities for them, especially since men still hold most of the power and authority in organisations and governments around the world. "My officer parents [Majors Hilton and Wilga Morris] were full partners in ministry and officership," she says. "They modelled gender equity and equipped and empowered me to lead, too, as I grew up and beyond. Marital status was not even an issue in their ministry and leadership.
"Kelvin, my husband [Secretary for Personnel], thinks the same way. He is a competent leader in his own right and is also very supportive of me in my own ministry and leadership. He has created opportunities for me to lead and develop skills in the past and made sacrifices himself for me to do this. I know, though, that this is not every woman's experience. There are many talented women in The Salvation Army and they are a resource God wants to use and we need to find ways to make this happen."
Although Winsome is not a part of the Gender Equity Committee, she hopes that her appointment is significant to the gender equity focus, both in Australia and internationally. "My role is to ensure that this mandate is continually kept before leadership [management] and that it continues to play an integral part in our decision-making and thinking. My advocacy is in the leadership that I provide."
As 'the Chief ', Winsome will be accountable to the Governance Board for implementing board-approved strategies that impact how the Australia Territory operates, develops and grows. "This relates significantly to making sure that our Local Mission Delivery model is being effectively implemented so that our vision is being fulfilled across the territory," she said.
In addition, Winsome will also lead the Executive Mission Council, which assists and works with the chief secretary to make high-level operational decisions to ensure the mission and vision of The Salvation Army are being achieved. Winsome is also accountable to the territorial leaders, Commissioners Janine and Robert Donaldson, who together are responsible for the spiritual health and development of the territory.
"'The Chief' also has many management and leadership roles, but it's all about what I see as my life's purpose – to give people the opportunity to find hope and salvation in Jesus, to care for the needy, love those hard to love, be a friend to the friendless," she said.
"'Heart to God, Hand to man' hasn't changed – which is why the new Local Mission Delivery model is so important – it brings those two together in ways that maximise opportunities to serve the whole person when they access our services, whatever that might look like for them."