New initiatives connect women in Bayside community
New initiatives connect women in Bayside community
17 November 2016
An SMS ministry, worship events, Bible studies and women's fellowship groups are helping women in The Salvation Army's Bayside Community Church to build stronger relationships with God, with each other, and with their local community. These initiatives are part of the newly-created Women's Connect team which plans and coordinates all women's Connect ministries.
"All of our women's Connect events have had a strategic focus on being for the community of faith and also those who are not yet believers," said Natalie Frame, Bayside corps leader and cadet-in-training. "We are actively seeking to bridge the gap between 'outreach' and 'believer' ministries with a vision to combine outreach, growth and service in every ministry we do across the entire church. Seeing the intimacy and connection of women both in the church and the community reinvigorated has been a highlight of the year."
The women's SMS ministry, which God placed on the heart of the corps' June Best early in the year, has attracted many women. Each woman is paired with another for the month and, during that month, they share encouragement, struggles and prayer through a minimum weekly SMS (text). "Most ladies are engaging on a much more frequent basis and the feedback from all ladies participating has been very positive," said Natalie. "Stronger relationships and intimacy are developing and connections being made with women who would not naturally connect with each other."
The worship and social events were also popular, and will continue into next year. A small Bible study group has also seen those attending develop a renewed hunger for the Word.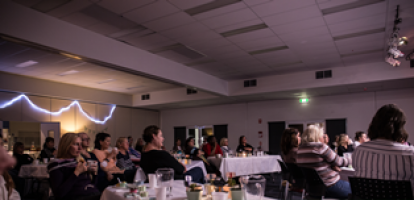 Women of all ages, from the corps and community, attended the worship nights.
The Home League decided to change its name to Women's Fellowship this year and have sought to revitalise the group to attract more younger women. "We have seen a few new faces and it has continued to be a strong group of ladies sharing and journeying together," shared Natalie. "This group also ran a Mother's Day pamper morning for around 30 school mums and teachers at the local school that Bayside Community Church supports. The chaplain was thrilled at the level of engagement by the parents and we anticipate making this a regular annual event."
Women's monthly coffee nights have continued, with a much more strategic focus on building intimacy. The leader of this ministry, Margaret Kelley, has made a point of ensuring people sit with different people each month and that the invite is extended more proactively to many people from the community and Salvos Connect site. "With renewed intimacy and connection with each other this year, the number of women attending regularly has increased and more ladies are feeling compelled to invite others to be a part of the group," said Natalie.
Rita Biermann has been serving as Women's Ministries Leader and next year will enter The Salvation Army's School for Officer Training in Sydney. "We have seen ministry to women flourish under her leadership," said Natalie. "Her legacy of building a committed team and growing a vision will continue to drive women's ministry into 2017 and beyond. We are excited to see where God will lead us and hope that every group will continue to be more aligned to our church vision of seeing people find freedom."