No more sorries ... I am allowed to take up space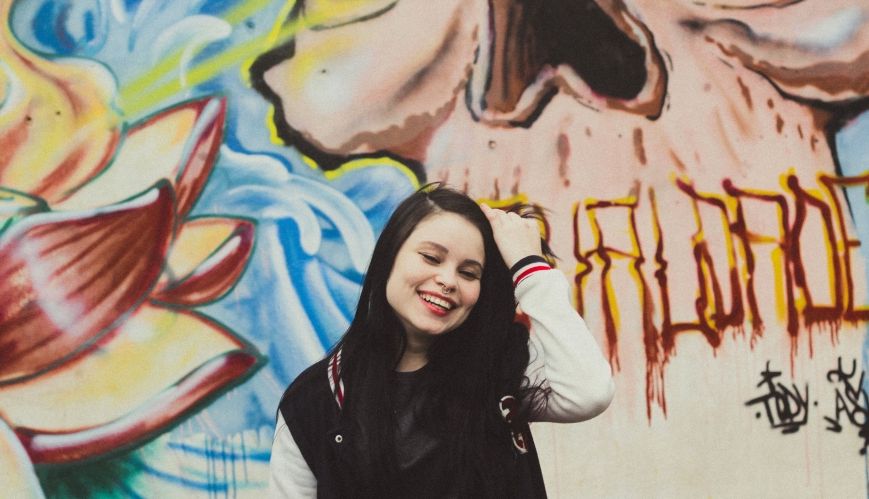 No more sorries ... I am allowed to take up space
3 November 2016
"I'm sorry," the woman said to me as she exited the changing room at the chiropractor's clinic. "Oh no, I'm sorry," I replied, as I waited my turn to enter. A slight feeling of shame washed over me as I quickly looked away from her.
I went into the tiny booth, locked the door, and started to change into a mint-green medical gown. And I began to wonder – why were we so sorry, this woman and me? What was it about our common need for that tiny changing space that made us both so apologetic?
It reminded me of an experience I had in Grade 1 at school. Our class was studying Japanese culture and the afternoon's project was to make fish kites out of butcher's paper. Our assignment was to paint them however we liked. My nana was an artist, with a real studio and everything. She painted in abstract style, a la Jackson Pollock, and she'd recently taught me to drizzle, swirl, and splatter on canvas. My five-year-old self thought these techniques would be just perfect for my fish kite.
I will never forget the look on my teacher's face as she snatched the paintbrush from my chubby fingers or the tone she used as she explained that this was not how we painted in her classroom. "I'm sorry," I said sadly, and went to painting straight lines, just like the teacher's example, just like all the other children.
I have a confession ... I am tired of saying "sorry."
I've noticed that we women seem to think we have an awful lot to apologise for. You both reach for the sugar at Starbucks ... "sorry". You both begin to speak at the same moment ... "sorry". You both try to pass in a narrow hallway ... "sorry".
We are so sorry, we women. And I'm starting to wonder, what exactly are we sorry for?
There are appropriate times to be sorry, for sure. When you lose your temper and say unkind words. When you forget an important appointment or task. When you act out of selfishness or disregard for another. These are all times to authentically say, "I'm sorry". As humans, we all do things that are worthy of apology. This isn't what I'm talking about when I confess to you that I'm weary of being sorry.
Some of [us] need to realise we're allowed to take up space.
No. It's the message that we must apologise for our presence in this world. We've been culturally groomed to apologise for taking up space with our bodies, our voices, our ideas. This notion started to percolate for me in yoga class one day. As we stood in five-point star pose, the teacher said with a heartfelt sternness, "Take up some space!"
He caught my gaze as my eyes welled with tears. "Some of you need to realise you're allowed to take up space." At the end of class, as I lay in savasana pose, flat on my back, his words echoed in my mind. I didn't realise I was allowed to take up space and I'd been called out on it. Somehow I have accepted the notion that much of what I do as a woman requires me to be contrite.
And yet, this is not what I really believe. What I do believe is that we women are made in the image of God. We are given voices to speak truth and justice, minds to create with, bodies to be the hands and feet of Christ with. When we enter into God's design for us – body, mind, spirit – we continue to fulfil God's creative purpose, we continue to become the thing God declared as very good in Genesis 1.
Who we were created to be does not require continual sorries. What if, instead of using our energy for endless apologies, we allowed ourselves to embody our own presence? No more hiding, shrinking back, saying "I'm sorry" for simply existing.
I'm challenging myself to think and speak differently, to have a mindful presence about what comes out of my mouth when I reflexively want to spout "sorry". I commit to finding other words to say what I really mean in those moments.
In preparation, I re-imagine my exchange at the chiropractor's clinic. As the woman exits, she might say, "Here you go. It's all yours." And I might reply, "Thank you. Have a wonderful day", as I notice she has a warm smile and lovely chestnut hair. I see her for her, the handiwork of God, and recognise that we are both very good.
This article first appeared in Sheloves magazine on 13 October.