Our seniors' moment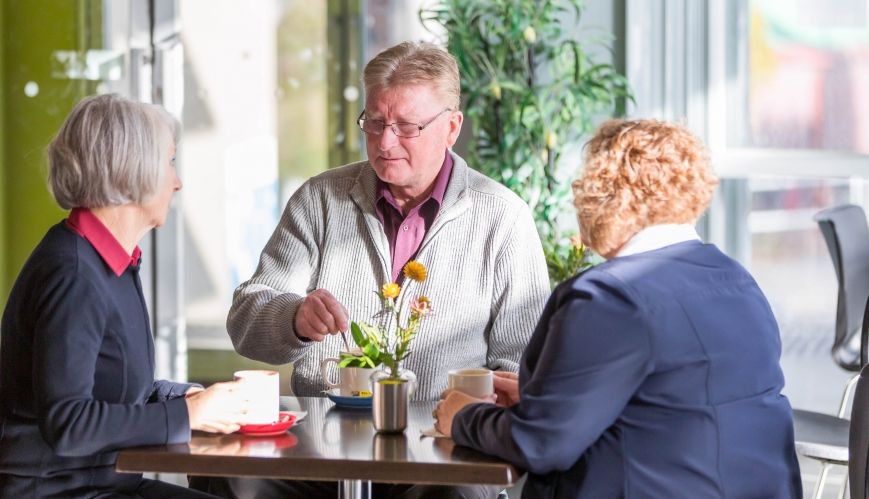 Our seniors' moment
9 October 2017
Our young people are not the Army of tomorrow, and our senior adults are not the Army of yesterday," counsels Major Jennifer Cloke. "All are the Army of today."
When Jennifer began working in seniors ministry for The Salvation Army in 2005, her role was known as Companion Club Secretary. Back in the early 1960s, The Salvation Army had started "Friendship Clubs" for people aged between 50 and 60, and "Companion Clubs" for the over 60s. Nearly 50 years later, when Major Cloke began her role, this model of "entertaining" seniors, she says, still existed.
She knew it needed to change.
Major Cloke is now known as the Australia Southern Territory Salvos Caring and Seniors Ministries consultant, and she believes it's time The Salvation Army reviewed its attitude towards seniors and seniors ministry.
To illustrate her point, Major Cloke recalls a Companion Club that she visited in the first year of her appointment. It comprised of seniors sitting with blankets over their knees, listening to a talk about the colour yellow representing sunshine and singing I'm Happy Today.
Seniors ministry was "seen like primary Sunday school", she says, explaining the misconception that older people reverted to childlike-ness. "But I looked around the room [that day] and I could see somebody who had been an international buyer for a large company; somebody who had lost a husband in the war and who had to work and bring up family at a time when single parenting wasn't a 'thing'; and other people who had run businesses. And here they were being asked to sing I'm Happy Today because the theme of the day was 'yellow' and the sun makes us happy, you know?"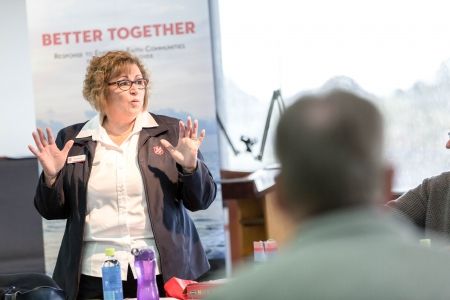 These days, Major Cloke (pictured right) laughs at the absurdity of that experience, before rattling off a stream of statistics to back her claim that The Salvation Army is ageist and needs to change its attitude towards people aged over 50 if it is going to survive.
Among her statistics are:  
• Around two-thirds of Salvationists are aged 50+ (based on Australia Eastern Territory figures and anecdotal Australia Southern Territory figures);
• Elderly Australians already outnumber children aged 14 and under (Australian Bureau of Statistics);
• The fastest-growing age group in Australia is 65+ (Australian Bureau of Statistics);
• Life expectancy for males is 80.1 years and 84.5 years for females (Australian Bureau of Statistics).
"In our thinking, we often assume that we can ignore the members that we already have – especially the older members of our corps," Major Cloke says. "We need to recognise that being a senior is a positive thing, it's actually a real treasure, it's a real asset and it's something that we need to tap into and use."
Questions that Major Cloke often pose to corps are, "Why can't a person in their 60s be the youth group leader?" and, in the same vein, "Why couldn't a 17-year-old talented musician be appointed the bandmaster?" "[We need] a Salvation Army that's not ageist ... that looks for the best 'fit' for local officer positions that has nothing to do with age," she says.
Major Cloke would also love to see a "seniors pastor" become a normal part of Salvation Army corps life, just as children and youth pastors have become ingrained in our culture.
Mission fields
Over the past 12 years, Major Cloke has worked alongside her Eastern Territory counterparts (currently Envoy Roz Edwards, the NSW/ACT Division Seniors on Mission Coordinator) to bring seniors ministry into alignment with the current generational reality that retirement now involves active living for many years.
Seniors on Mission, an initiative to shift over-50s away from "entertainment" ministry to "active" mission, has seen hundreds of seniors take part in mission trips and activities. That has now evolved into Salvo Mission Teams so that age is not a barrier to people joining. 
"We have a database of people from all different generations, including seniors, who tell us their skills," says Major Cloke, explaining that it could be building, playing in a band, singing in the songsters, cooking, running kids clubs, etc. "When we have a mission opportunity we can pull a team together. It's driven by the Seniors Ministry Unit, but the inter-generational approach is the way of the future."
And it doesn't just involve being "sent to serve" either. Seniors are being encouraged to see their own corps as their mission field. "If you're really good at data entry, go to your officers and offer to do it," Major Cloke says. "If you're good in the kitchen and you can organise a roster and food and do all that, go to your officer and say, 'I want to value you, I want to release you and I'll look after that aspect'. Just go and offer wherever you're able to serve. That's 'seniors on mission'."
Spiritual development
Major Cloke has also been intentional about investing in the spiritual life of Salvation Army seniors since she began in her role. "It's been a real shift bit by bit; it's been intentional, it's been strategic and we've been building on the spiritual life of our seniors, helping them to discover a real sweet walk with Jesus," she says. "Because if you have a robust Christian relationship, if you have a sweet walk with Jesus, then when change comes along and there are a few things that leadership wants to happen at a corps and divisional level, like our two territories becoming one, no matter what you think or whether you're comfortable with it, if your focus is on Jesus ... then even if you're not comfortable you're going to sit back and say, 'I have to be part of this, I have to be a leader, I have to demonstrate it. This is Kingdom stuff'."
The Australian Bureau of Statistics 2011 Census results showed that of older Australians, 80 per cent owned their own home. Major Cloke says that the figures show that the kind of seniors we have right now are mostly active, financially secure and have the time to invest in Kingdom building.
"Two-thirds of our movement [The Salvation Army] are actually over 50 so why would you not feed that? Why would you not help them to grow spiritually? Why would you not empower them, train them?"
Better together
Major Cloke says it's imperative to tap into the skills, time and resources that seniors bring to the table while we can, because it's projected that by 2050 only 3 per cent of older Australians will own their own home (Federal Government forecast – quoted by the then-minister for Mental Health and Ageing, Mark Butler).
"So many older folk are going to have to work because of the changes," she says. "Even now, so many of our older folk are not just doing intentional grandparenting and sort of doing more care to help their kids get into the housing market, but are actually becoming full-time carers for their grandchildren," she says. 
The inter-church team that gathered for the launch of Better Together earlier this year. Salvation Army representatives included Kevin Drinkwell (back left), Captain Mavis Salt (front left), Major Jennifer Cloke (front second from left) and Envoy Roz Edwards (front right).
Earlier this year, The Salvation Army helped launch "Better Together", an inter-denominational project to challenge ageist views within the Church. It will provide resources, run conferences, training and research, write and publish teaching material, statistics and articles from an Australasian perspective.
The priority is to assist older adults develop a deeper walk with God and in doing so, build God's Kingdom. The launch also involved the release of an Alpha Plus course specifically designed for older Australians, which is being run in various locations across Australia.
"There is no retirement age in the Kingdom of God," is Major Cloke's message to older Salvationists. "God has not finished with you yet!"