Park lunches packed with love and kindness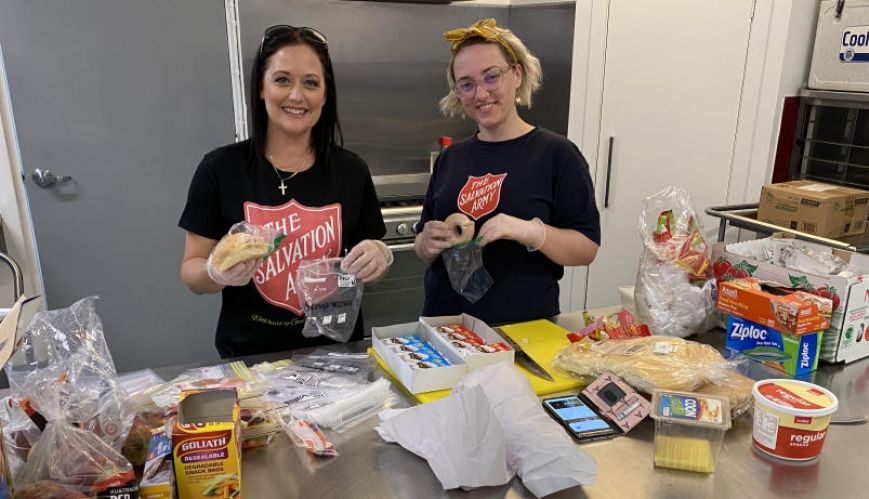 Park lunches packed with love and kindness
30 October 2020
Bundamba Corps ministry assistant Rachal Mills and youth worker Amy McNabb prepare the food packs for their Monday Browns Park ministry to the vulnerable and homeless.
By Darryl Whitecross
Around 7.30am most Mondays, Bundamba Corps ministry assistant Rachal Mills can be found at the supermarket hunting for bargains in the fruit, vegie and food aisles.
On her shopping list are things that she can turn into delicious, nutritious lunches and fun goodies for a special group of people who take part in the corps' park ministry each week.
Bundamba Corps, about 35km west of Brisbane, has been coordinating the program in an undercover seating and barbecue area in Browns Park for about five years. The park is located inside the area of neighbouring Ipswich Corps but collaboration between the two congregations allows Bundamba to continue the ministry.
Renae Strong, who pioneered the ministry, said it was "so much a God thing" in how it began five years ago. "I was driving to work on a cold winter's day and thought about people sleeping rough. I thought: 'How cold must they be?'"
She approached her corps leadership to buy swags and sleeping bags and, with the help of local Aboriginal elder Davina Daylight, it decided that Browns Park was the best location to hand them out. A Monday was chosen as the day and lunch was prepared, too, but only the swags had arrived so it was decided to return the following Monday with the sleeping bags. "We decided that this was easy to keep going," Renae said.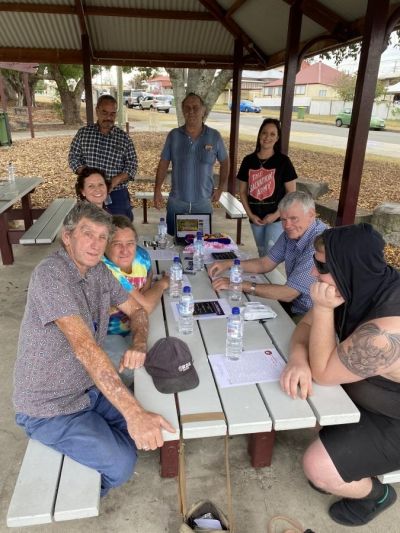 Some of the community who turn up each Monday as part of Bundamba Corps Browns Park ministry.
Rachal said the ministry had been affected by COVID-19 social-distancing requirements, especially having to package meals rather than having the usual barbecue, but it was still a popular activity. Between 10 and 20 people regularly take part, down from around 30 pre-COVID-19 when the ministry shut down for about six weeks.
Over that 'break', Rachal said the Bundamba Corps Officers Major Laithe and Kaelene Greenaway and other members of the team discussed the program's future. "We wanted to keep going so long as it had faith pathways – if it wasn't missional there was no point continuing. I went away and thought about that. If The Salvation Army has their hand up to do something, make it missional."
When the group started meeting again, the culture began to change. With it came the slogan: Same place. Same time. New Season.
"Changing the culture with community like that was always going to be difficult because change for them is difficult in general," Rachal said. "We went back and said: 'The Browns Park ministry isn't going to stop. It's just going to look a little bit different.' We wanted them to have a heads up that we were going to bring in some devotions; we're going to pray for you guys and have grace before the meal and we wanted to have a time of sharing.
"At first they didn't quite like it. Their faces were not very positive but we kept it going and, by three or four weeks back with this changed program, they've adapted and they love it. There is not a lot of negativity around anymore. It's a safe place for them to be now. It's a positive place."
Rachel said there was a strong and positive culture being created within the group where there was a requirement that language and conversation was positive in a "kingdom atmosphere". Bad language was not tolerated and mutual respect encouraged.
The introduction of 'conversation cards' had also encouraged positive conversation and relationship building.
No, it's not Pirate Pete ... it's Sailor Sean, who enjoys being part of the Browns Park ministry each week.
Sense of community
Sean, who wears a different hat each week, said he attended "to meet new people". "It's more of a community thing; like a family," he said, sporting a full-size pirate's hat. He said he had plans to wear a cowboy hat next time or maybe a horse-head mask to fit in with Melbourne Cup week.
Vicki, who is always the first of the group to arrive each Monday, has been part of the ministry since it began. She said she loved helping and went away each week encouraged after having met with "my friends".
Ricardo said he liked the group because it was good to get out of the house. "I'm bored at home and the fridge won't talk to me," he quipped as he prepared to ride away on Trigger, his trusty motorised scooter. He rides about 10 minutes each way to be part of the ministry most weeks.
Tank – or Yank as his nearby boarding house flatmate Dougy calls him because he's from the United States – is a more positive person these days after having attended for about 18 months. He said appreciated that Rachal and the team prepared meals for him to cater for his dietary requirements.
Doug, who constantly deals with the memory of a significant road-train accident in Western Australia in 1999, said his experience of God had deepened since devotions were introduced to the group. He said that when laying in the wreckage of his truck he had a vision of Heaven and God telling him his time had not yet come and that he still had a purpose in life. "He told me I still have something to do." He shares this testimony with the group.
Sharing a letter from God. One of the Bundamba Browns Park community takes part in the devotion segment, which included selected Bible verses about how much God loves each one of us. 
Shopping begins routine
After having done the early-morning grocery shopping, Rachal heads for the corps kitchen to package the food into individual servings and usually gets help from her "right-hand person" Amy McNabb, and Kaelene and Laithe.
A special faith message is placed inside the bags for the person to take with them to encourage them for the week. Each person gets two packs – one to eat during the morning and one to take away with them. People walking past are often offered a meal, a smile and an invitation to join the group.
Then it's into the office to prepare the schedule for the day, which often includes games – "which they all love" – such as Christian Bongo (the Army doesn't play bingo!).
Along with the one-on-one conversations between the Bundamba team and those who attend, conversations using the cards are handed out so good conversations can be held between them, which takes them on a journey of discovery about each other and "breaks the ice" for them.
"They start to get some knowledge about each other and they start to build relationships with each other and we've started to build relationships with them, which has been a blessing for us to see," Rachal said. "We have been trying to have conversations with the community members, asking what they want out of what we're doing; what can we do to serve them what; what do they need from us? They mentioned things like health and doctors and dentists."
The corps is considering healthcare professionals in the community to invite them to be part of the ministry with the view of providing a service in some capacity.
Rachal said the corps had also launched a Facebook page through which they could interact with their Browns Park community "not just on Mondays anymore". 
Many of the people who are part of the Browns Park community also avail themselves of the meal night that Ipswich Corps runs. "So, they've connected themselves with The Salvation Army in more than one way which is good," said Rachal.