Podcasts that helped me through 2020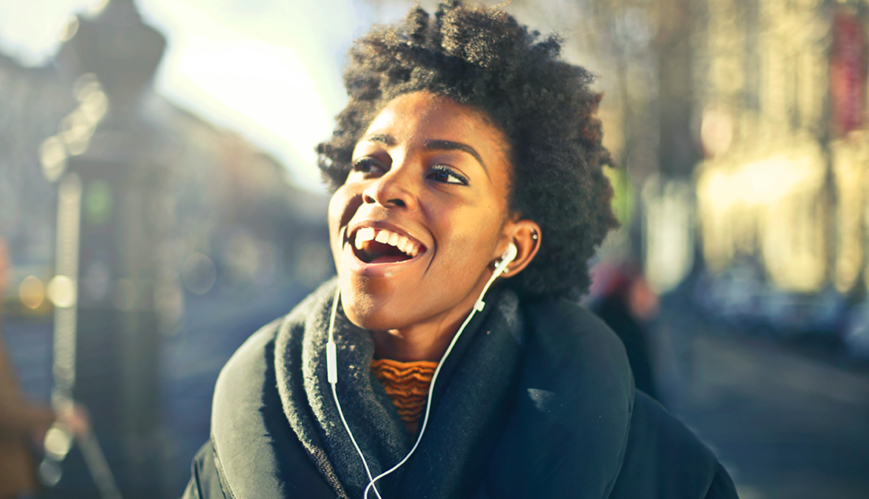 Podcasts that helped me through 2020
29 December 2020
Salvos sound off on the podcasts that inspired them in life and leadership during 2020. Photo by Andrea Piacquadio from Pexels.
By Jessica Morris
For many of us, 2020 was a challenging year. So, what got us through it? Well, aside from the obvious answers of Jesus, prayer and digital community, it was the small things that helped us to survive the pandemic year. A good book, a good TV show, or a good podcast.
Lots of people have become podcast devotees, and find that the free audio episodes on any topic you can imagine both entertain and inspire them to live a more Christ-centred life. Some are even run by Salvationists like Stories of Hope by Bryce Davies, More About Officership from Eva Burrows College, the US-based Do Gooders Podcast and the UK's Youthscape.
We asked Salvationists from across the country what podcasts helped them to survive and thrive this past year. Here's what they suggest tuning in to for 2021 – just click the title for a link to the podcasts they recommend.
Simone Worthing
Assistant Editor, Salvos Magazine
Simone's Top Podcasts:
"During the pandemic, and particularly during lockdowns, I started to really get into podcasts and would listen to them during my daily walk or run. I listened to a range of podcasts from different corps – Bryce Davies' 'Podcasts of Hope', and quite a few others as well. Once in a while, I would look at the offerings from 'Everything Happens' with Kate Bowler
or 'You Made it Weird' with Peter Holmes and would find one or two really inspiring interviews."
Michelle Zammitt
Member of 2508 Salvos in
Helensburgh, NSW
Michelle's Top Podcasts:
Stories of Hope by Bryce Davies
ABC Conversations with

Richard Fidler and

Sarah Kanowski

Overwhelmed and Dying by Judith Lucy
"When my employer instructed me to work from home during the onset of the pandemic, my podcast-listening activities decreased. And I really missed them! I realised that the podcasts that I regularly listened to brought all sorts of emotion but overall hope – and suddenly, here I was at home for long periods without much human contact and it all started to feel very ordinary."
Lieutenant BJ Baille

Corps Officer at Kalgoorlie/Boulder Corps, WA


BJ's Top Podcasts:
Unlocking Us by Brene Brown
The Squiz (Daily news)
"These podcasts have been a source of entertainment and insight while out for a walk/bike ride. Since starting my appointment [in Kalgoorlie/Boulder], 'The Bible for Normal People' and Brene Brown's 'Unlocking Us'and 'Dare to Lead' podcasts have been valuable resources as I engage the world around me."
Lauren Martin
Assistant Editor, Others
Mission Leader 2508 Salvos in Helensburgh, NSW
Lauren's Top Podcasts:
Stories of Hope by Bryce Davies
The Robcast with Rob Bell
ABC Conversations with

Richard Fidler and

Sarah Kanowski
"2020 for me, like most people around the world, has been traumatic. I would possibly still be rocking in a corner if I didn't have Bryce Davies' 'Stories of Hope' podcast in my ears every now and then. Simple, humourous, but very profound – the podcast always brings me back to focusing on what is important in life: my relationship with God and those around me."
Major Bryce Davies
Villawood Team Leader and Communities of Hope coordinator
Podcast Host Stories of Hope
Bryce's Top Podcasts:
ABC Conversations with

Richard Fidler
"These honest interviews and discussions have been a fabulous help in my faith journey. And I love Richard Fidler's interesting and inspiring chats."
Amanda Merrett
Member of MASIC (The Salvation Army Moral and Social Issues Council)
Amanda's Top Podcasts:
Typology with Ian Morgan Cron
The Quickie news podcast by Mamamia
"'Typology' is a podcast that discusses the Enneagram personality theory. It's helped me gain a deeper understanding of what motivates behaviour, both for myself and others. 2020 has been a year where many people have swung between healthy and unhealthy behaviour, Typology discusses that in detail, and helps develop compassion for yourself and others when life is tough."


Lieutenant Bethany Baillie
Corps Officer at Kalgoorlie/Boulder Corps, WA
Bethany's Top Podcasts:
Unlocking Us by Brene Brown
"From the first episode of Brene Brown's
'Unlocking Us'
, she talks about first experiences, which was relevant to the pandemic that was just beginning. Each week she talks with someone different and explores vulnerability in an uplifting way. This helped me to explore new ways of coping through lockdown. I also took the extra time in lockdown to expand what I listen to and read.
'Take It Blak'
by NITV (
National Indigenous Television)
SBS helps me to consider my Aboriginal and Torres Strait Islander brothers and sisters and hear and learn from their perspective."
.
Jessica Morris
Journalist, Others Magazine
Podcast host Between You & Me
Jessica's Top Podcasts:
"My podcast-listening went down when I stopped commuting to the office. So instead, I had to go for long walks to get space and clear my head. I found that 'The Bible Binge' was an accessible and fun way for me to engage in spiritual conversation when Church went remote. By focusing on books in the Bible, or key figures like the disciples, it has shown me how to engage with the world in a more inclusive and discerning manner – and with less of White Saviour complex!"