Preston's 'prodigal son' now bringing others home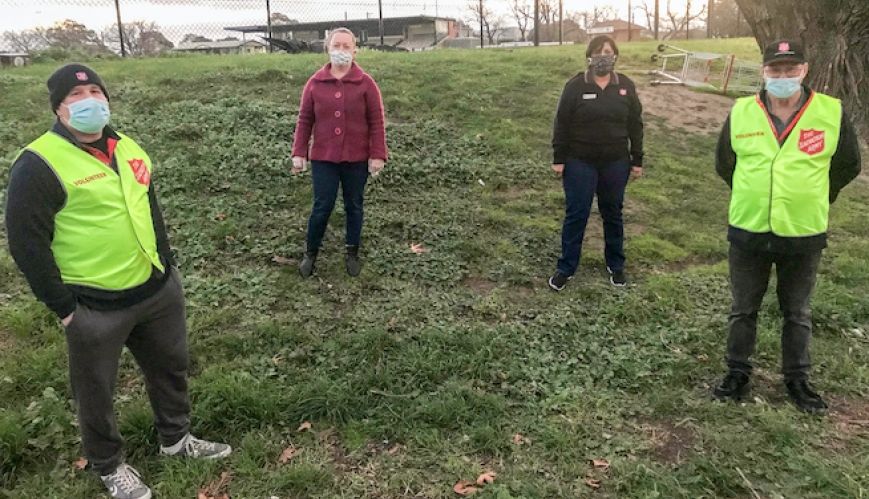 Preston's 'prodigal son' now bringing others home
31 July 2020
Marty Stewart (left) with Darebin City Mayor Susan Rennie, Captain Tara McGuigan and Lindsay Howell, serving the homeless at Preston in Melbourne.
By Lauren Martin
When Marty Stewart walked out of Preston Salvation Army, in Melbourne's north, he was determined never to return. It was the early 1990s, and Marty's faith had taken a battering. He could see hypocrisy that his faith wasn't deep enough to reconcile.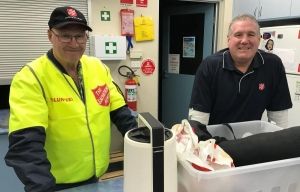 Lindsay Howell (left) and Marty Stewart prepare supplies for Preston Corps' outreach ministry.
God, however, never walked away from Marty, taking him on a journey that, almost three decades later, has returned him to the very place he walked away from. Things are different now and, aged 50, Marty is back at Preston, the 'prodigal son' heading the corps' newest outreach ministry – serving coffee, tea, pies and sausage rolls in a local park to people experiencing homelessness. "I know now that my calling is ministry," he says, "but it's taken me to turn 50 to realise that!"
Marty was born into Preston Salvation Army. He went through Sunday school, played in the young people's band, sang in the young people's singing company, and then joined the senior band. He had a faith, but reading the Bible wasn't a big part of his childhood and early adulthood. When issues arose around behaviours and attitudes not matching "the way Christians are supposed to be," he walked away from church, aged 22. 
A career in the police force, marriage and kids followed, and then a divorce. Marty describes experiencing some significant 'God moments' along the way, but none drew him back into a deep relationship with Jesus. He knew God was real, but says he would only invite him "into my life when I felt it was necessary". At one point, he was a member of a Salvation Army house church and felt a strong calling from God to lead one of his own. Circumstances meant that he never took up that calling. 
Jesus, however, remained persistent with Marty throughout his years "in the wilderness", as he says it could be described. One Sunday, Marty and his partner were patrolling the streets in their police uniforms. His colleague said he needed to drop into Preston Salvation Army, where, unbeknown to Marty, he had a connection. 
"We went during the (church) service," says Marty. "They didn't stop the service, but people came outside to talk to us and it was just like I hadn't left. I felt that if I was going to go to church anywhere, it was going to be there." 
Marty opened the door to God and began attending Preston Corps, but this time things were different. He had a deep desire to change, and experienced an overwhelming sensation of the reality of God in a way that moved him to action.
"I had always known it but I never lived it," Marty says. He remembers thinking to himself: "God is real, you've got to start living it, brother! You can't just say 'God is there, I know God's there,' and have him in your life when you feel it's necessary, it's got to be all the time."
This began a process that many describe as being 'born again'. During an argument with his daughter, she asked him to stop swearing. He hadn't even realised he was using profanities. Shocked, Marty remembers retreating to his bedroom and breaking down in tears. "That was like a lightning bolt moment for me, where it was like, 'You're wanting to change as a person, you can't keep doing the same things over and over'," he says. From that moment, many of his unhealthy behaviours stopped.
Around the same time, he started reading the Bible. Ephesians 4:22-24, to "throw off your old sinful nature and former way of life" and "let the spirit renew your thoughts and attitudes" quickly became one of his favourite scriptures. "I never realised that becoming a new person, living a different life, is actually in the Bible!" he says.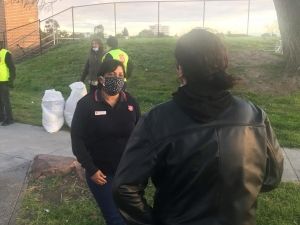 Captain Tara McGuigan speaks with a recipient of a pie and a cuppa during the Preston outreach ministry.
Despite much of Melbourne being in a COVID-19 lockdown, the twice-weekly homelessness outreach that Marty oversees for Preston Salvation Army is deemed an 'essential service', providing vital continuity for the people it serves, many of whom sleep rough. The team includes Corps Officer Captain Tara McGuigan and another Salvo, Lindsay Howell.
"Preston is becoming more and more 'inner-city' in its feel," says Tara. "Years ago, it would have been seen as part of Melbourne's 'middle-north' but now its proximity to Melbourne's CBD means a lot of city-centric social issues have spread to the area.
"And with COVID-19, people from the inner-city are moving out, so, we are having a lot more drug and alcohol addiction, and a lot of homelessness spreading into Preston."
The ministry has its origins in a visit Tara made to the Army's Project 614 in inner-Melbourne. While there, she had a conversation with the co-founder of the mission, Major Sandra Nottle, about how the thriving ministry began.
"It turns out that she and [her husband] Brendan just put some hot pies into a box, got tea and coffee into the car and they went driving around looking for people [in need]," says Tara. "That's how they built it up. And I thought to myself, 'that's not hard'."
Tara mentioned the ministry idea to Marty and his eyes lit up. He actually remembers feeling his heart "fluttering" during the conversation and knew immediately that God was calling him to be part of it. Another of his favourite quotes is from Salvation Army founder William Booth, who said: "You cannot warm the hearts of people with God's love if they have an empty stomach and cold feet." 
Now, every Tuesday and Thursday, like Project 614 founders Brendan and Sandra Nottle before them, the small team at Preston load their car with warm pies, pasties and sausage rolls, hot tea and coffee. They drive to a local park, where about a dozen people eagerly await their arrival.
The nearby Watsonia Salvos Store has partnered with the ministry to provide clothing, blankets and other items. The Salvation Army's Doorways service at Preston supplies the tea and coffee and the outreach team is able to refer people to Doorways when appropriate. 
"We give them pies and pasties and sausage rolls, we give them clothes and other food from Doorways and we go and see them every week and we make a difference just by doing that," says Marty. "They often ask me, 'Why are you doing this?' and I say, 'Well, I love God, God loves me, and God loves you guys, too'."
During a recent visit to the park, the Mayor of the City of Darebin, Councillor Susan Rennie, joined the team. She is a big supporter of Preston Salvation Army and was impressed with what she saw happening.
"I admire the Salvos and their work in the community in all kinds of situations," she says. "What I love most is the non-judgmental approach you have with people who are disadvantaged. You journey with them and they accept and look for your presence in their lives."
As Marty reflects on his life, and where he's at now, he can see God's fingerprints throughout his journey. He is reminded of the pull of Jesus to lead a house church all those years ago. His prayer is that God will bring that dormant calling to fruition, right there in the park at Preston, over a hot pie and a cuppa.
Lauren Martin is a staff writer for Others.