Rekindling a passion for 'Blood and Fire'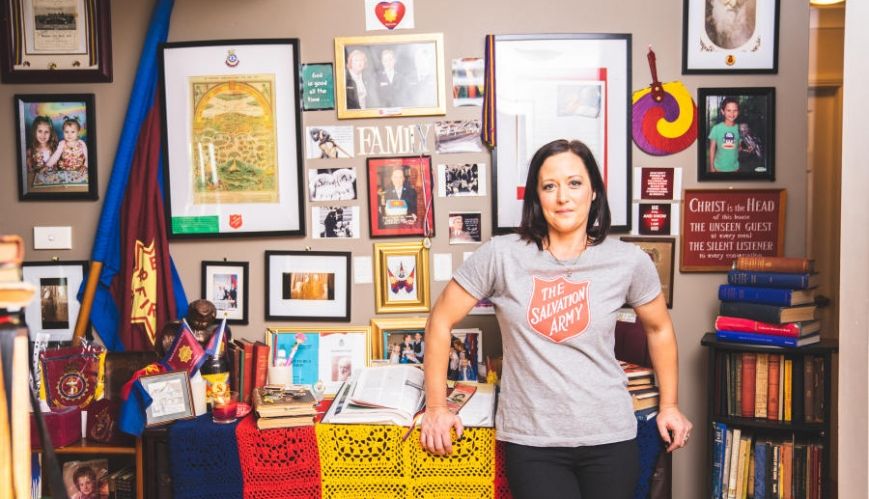 Rekindling a passion for 'Blood and Fire'
24 April 2019
Rachal proudly stands in front of her Salvation Army memorabilia at home.
By Lauren Martin
Approaching the front door of Rachal Mills' house, you can hear the faint sound of music coming from inside the 38-year-old single mother's home.
It's not pop music, or a popular radio station, it's The Salvation Army's classic hymn, O Boundless Salvation. It's one of Rachal's favourites. 
"Bring back the band! Bring back the timbrels!" she enthuses, when asked about her love of what most other Salvos her age would describe as 'old-fashioned' Army music. "You have to have the band. People minister through the band and ... music is an incredibly important part of who we are and what we do. We have to bring it all back, but bring it back and make it relevant."
Her taste in Army music isn't the only thing that makes Rachal stand out from the crowd. Her home is filled with Army history and memorabilia, with a whole wall dedicated to The Salvation Army that greets visitors as soon as they walk in.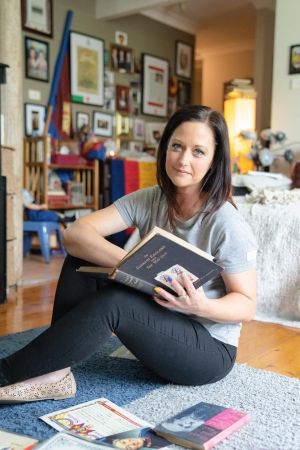 "We have the 'Blood and Fire' all over our house," she says. "People can't miss it!" The mother of three young children says while she didn't intentionally set her home up as a witness for The Salvation Army, it has become a great talking point for anyone who visits.
"They come and as they walk in, they stop, and they look ... and I say, 'It's okay, you can stand there, just have a look', and they're like, 'Oh wow!' And they start to ask questions."
A senior solider of Macquarie Fields Mission in NSW, Rachal may be one of the most passionate Salvationists in Australia, but she hasn't always lived like this. Growing up in The Salvation Army, she says her connection to the mission wasn't strong.
"I didn't fully appreciate as a child why we were Salvationists and why we had our holiness meeting and our two meetings a day and why we marched around the street and why we had congresses, I didn't understand any of that – I just did it because Mum and Dad did it and that's what we had to do." 
abandoning faith
That lack of connection, and a falling out with the Army, led to her walking out of her corps and abandoning her faith in her early 20s. Her life spiralled downwards and more than a decade of drink, drugs and abuse followed.
By the time she had hit her early 30s she was homeless and self-harming. But her family and The Salvation Army never stopped praying for her and one day, in 2015, she walked into The Salvation Army in Parramatta, swallowed her pride and asked for help.
It was the start of a revival of her heart and soul, and in July 2016, Rachal was re-enrolled as a soldier. This time, she says, things are different. "Now I understand our mission and our purpose," she says. "And that's what sparks the passion inside of me."
That passion has led her to study a double Diploma in Community Services and Case Management in just one year, all while being a sole parent to her three children, one of whom hasn't started primary school yet.
She says she's better for her time outside the Army, which helped her to truly experience and understand its purpose and mission. And while she wouldn't recommend others make the same life choices that she did, she believes many Salvationists who have grown up in the Army also need a reawakening.
"Generational Salvationists grow up learning about Jesus, but sometimes we forget to teach our kids about the history of why we are Salvationists and why we are part of this mission," she says. "You lose passion for something if you don't know why you've joined. If you join an organisation and you don't know what it stands for, you're not going to fight for it, are you? So, we need to understand why William Booth and Catherine Booth created The Salvation Army and understand its mission and core values before we can fully and wholeheartedly fight for it."
prepared for battle
Her favourite pieces in her collection of Salvation Army historical memorabilia are her packet of 'Darkest England' matches and her framed 'Darkest England and the Way Out' poster: "I stare at it all the time," she says. 
"The Army was built on the lost and the drowning. The lost souls, we were built on that, we're made up of that. We started with these people and I think, respectfully, we forget where we came from as an Army."
Rachal is grateful to her uncle, noted Army historian Envoy George Hazell, for gifting her many pieces in her collection. She says reading his books, including the letters of Catherine Booth, added to her passion for The Salvation Army to gain new life and fully embrace its mission to bring the Kingdom to earth. 
"We are all commissioned," she says. "I think we forget that. We are all commissioned and you don't need permission to go out and commission others. Salvationists need to step up, we need to get our bottoms off our seats and we need to get out and we need to walk the streets again! The uniform we wear is not just to look pretty, it's a battle uniform. It's meant to get dirty, we're meant to take it out on the battlefield – the streets of our neighbourhoods – not keep it inside the Army hall." 
Read more about Rachal Mills' testimony HERE.