Research shows impact of COVID-19 on corps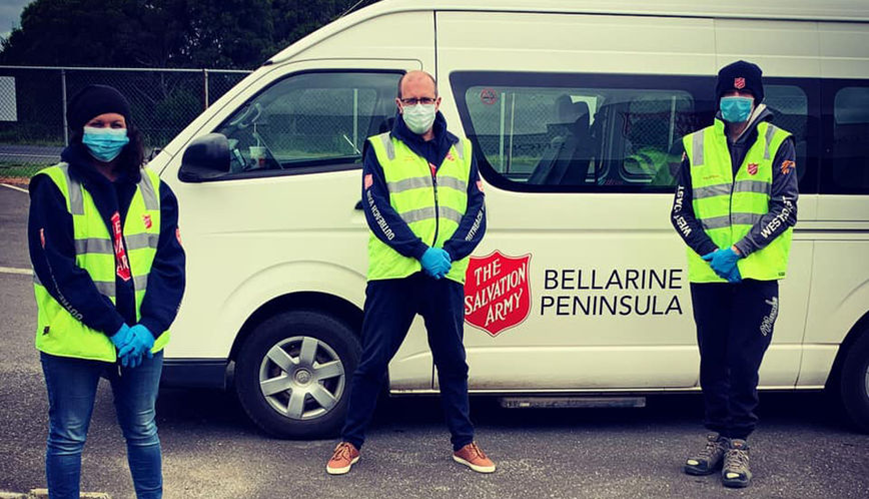 Research shows impact of COVID-19 on corps
28 May 2021
Research conducted in 2020 has revealed how COVID-19 has impacted Salvation Army corps in Australia.
By Lauren Martin
The Salvation Army has released a research report that details the impact that the COVID-19 pandemic has had on corps and corps-based ministries.
A survey conducted in July and August 2020 asked Salvation Army personnel to share their views around mission delivery during the COVID-19 period, including faith gatherings and services, collaborations and partnerships, wellbeing, and resources and planning.
The research found that The Salvation Army reacted well to the disruption of COVID-19, innovating and finding new ways to connect, with an increase in pastoral care across most corps. However, many personnel said workload increases have led to exhaustion, and, as corps return to face-to-face worship, numbers are lower than before the pandemic.
Secretary for Mission Lieut-Colonel Lyn Edge said The Salvation Army would never be the same as it was. Still, she believes some shifts – such as people desiring different ways to worship – were already starting before COVID-19, and the pandemic just accelerated them.
"The research showed us that we were adaptable, and we were flexible – that as an organisation, we have become better at change. And that locally there were lots of little innovations. Overall, it was encouraging to see people continue to look at ways to engage in a really different world.
"For me, one of the challenges, and one of the exciting things, is to ask how can we – as The Salvation Army – apply that sort of innovation to the world at large, which is changing all the time. If we could change because of COVID, maybe we could keep changing because life constantly changes."
Ministry
COVID-19 impacted nearly every Salvation Army corps-based ministry and, overall, three in five corps-based activities ceased to operate. Survey respondents reported that running modified ministries was harder and required more work.
Emergency assistance programs were one of the main corps-based ministries that continued in a modified form, with one-on-one support, food distribution and emergency relief continuing at most mission expressions that already had the service in place.
The report revealed that there was an operational difference between regional and rural corps and city corps. "This finding may reflect smaller regional and rural corps having fewer resources and capacity to continue operating programs," the report stated.
One recommendation to assist rural and regional corps is to share resources and operational support within Area Leadership Team areas. Another is that in times of need, officers from administrative roles (where possible) are deployed to assist corps managing with limited staff, support and resources.
"The rise of the regions – a term used by McCrindle Research – is very real," says Lyn. "That is one of their strong findings from COVID. We know that people are moving to the regions and working remotely. We are definitely alert to the issues and the challenges of regional, rural and remote Australia."
Pastoral care
The pandemic brought about an increased focus on chaplaincy and pastoral care. The research found that 92 per cent of chaplaincy and pastoral care activities continued to operate as usual or with modifications.
Some of the corps-based innovations in this space included delivering worship bags, care packs and food packages to people's homes, letterbox drops and having socially distanced spiritual and faith conversations with people.
Many corps reported their congregations becoming stronger in their pastoral care to each other and the local community. One corps officer said: "Our pastoral care became more organised and targeted – we organised it into seven pastoral areas as we have people attend from across the region. [...] Pastoral care used to be focused on those we considered most in need - the elderly, sick etc. We now consider all our congregation to be in need – very aware of mental health issues, presume nothing!"
One of the report's recommendations is to increase mental health first-aid training for officer frontline preparedness.
Wellbeing
The COVID-19 pandemic has impacted the wellbeing of most people across the nation and the world. The Salvation Army is no different. The Army's research shows that many frontline personnel have felt overwhelmed.
Increased workload due to a lack of volunteers, changing regulations and the need to adapt services led many corps officers and frontline personnel to report that they felt "exhausted". There was also stress raised around many of the fundraising activities that funded mission not being available.
The report recommends deploying mobile teams to help respond to high-need areas and backfilling staff and personnel to support corps impacted by compassion fatigue and burnout.
Corps attendance
As corps closed their doors to Sunday meetings, many scrambled to provide an online service. Sixty-five per cent of respondents said their corps conducted online services.
Many personnel described the difficulty in accruing the equipment and training needed to transition to online worship, but most were positive about the space, with stories of connecting with new people through the medium. More than half of respondents to the survey reported increased attendance at online worship services on Sunday.
The inability to attend face-to-face worship and having ministries stop also allowed many corps to refocus. One corps officer said that COVID-19 had "removed the heavily program-driven routine so that our faith community have had the time, energy and opportunity to consider what the church is really called to be. It has broken some of the attachments held around our building and the notion that mission simply means getting someone through the front door."
Many corps reported increasing numbers in small groups and Bible studies.
"Some Bible study groups that started during COVID online have remained online," says Lyn. "People appreciate just being able to click on; you don't have to worry about getting babysitters and driving across town."
She says she believes the future for corps is a hybrid mix of online and in-person worship, with the report finding that when corps began reopening for face-to-face meetings, there was a decline in attendance.
"People don't necessarily believe that turning up on a Sunday and sitting for an hour and a half is the best way to engage in a life of being a follower of Jesus.
"I think we were already seeing that in the western world, but I think COVID has fast-tracked that. Some people are saying, 'I'm happy to serve, I want to be in a community, I want to be in relationships, I want to be on a discipleship journey. But do I want to sit for an hour and a half on a Sunday morning? Maybe not.' They are questioning their ecclesiology – what is church? What is it to be the body of Christ in Australia in 2021?
"And I think it will be some time before we see where that goes, to be honest."