Rockingham's shed of hope mending broken lives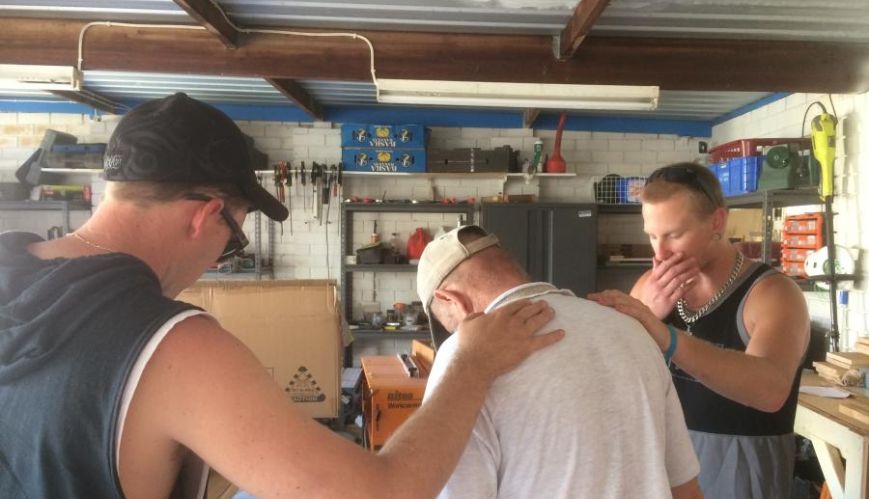 Rockingham's shed of hope mending broken lives
9 October 2019
Prayer and Bible study are key components of the Rockingham Salvation Army Pallet Ministry Men's Shed in Western Australia.
By Lauren Martin
There's plenty of men's sheds around. So why would The Salvation Army start a new one? At the Pallet Ministry Men's Shed in Rockingham, Western Australia, the focus is not on what can be built with hands and tools but on what can be built in hearts and minds.
Col is one of the founding members of the Pallet Ministry Men's Shed at Rockingham Corps, south of Perth. He says it saved his life at a time when he was suicidal.
"I'd been a Christian for 30-plus years, but I had drifted away from church and my church family, as I believed I was no longer worthy and that my sin was too great. My life was spiralling out of control and I was wracked with depression and anxiety."
While Col was waiting to deal with some overwhelming legal issues, he tried a few churches. One day he ended up at Rockingham Salvation Army.
"After the service, I took the risk of staying for coffee as I knew no one and felt very awkward," he says. "I thought, 'Well, if I'm meant to be here, Lord, somebody will come over and talk to me'. I was on my last mouthful of coffee when Graham [Liddle] came over with his wife [Jeanne]. He said, 'Hello my name's Graham, I'm one of the leaders here.' From that point on, my life just transformed."
Graham and Jeanne have a passion for coming alongside others. Every week, hundreds of people connect with Rockingham Salvos for meals, support, friendship and a safe place to just 'be'.
It was Rockingham's heart for community that attracted Graham and Jeanne, who migrated from New Zealand nearly 10 years ago. "We just loved that they were reaching out to people, to the hurting and the lost," Graham said.
Ministry to men
The Liddles started a discipleship program called 'Step-in', held each Tuesday. It is the corps' busiest day, with more than 100 people attending a lunch, many of them unemployed men. 
Graham and Col became friends through the corps' mid-week disicipleship program.
"We saw a lot of guys coming to the centre throughout the week with various struggles and issues ... they'd come in on a Tuesday and we'd make some type of connection, but often they would just go off and continue struggling," said Graham.
During this time, Graham and Col became good friends. Graham discovered that Col, due to his severe depression and imminent legal challenges, had been keeping himself busy making things out of pallets and engaging in numerous art and craft activities using recycled materials. 
"Graham said to me, 'I've been thinking about starting a Men's Shed, would you be interested?'" Col remembers. The pair agreed to pray about it. They had no shed, no tools and no finances to start the ministry, but believed God would provide everything if it was his will.
They put up a sign at the corps and within weeks a woman had donated her unused shed for a location and people started donating tools. Lots of tools! It was very small beginnings, says Graham, but word spread and men started coming. "There are so many guys that are lonely. It's quite sad, we're living in such a culture now where guys are very isolated.
"And a lot of men can't get work. Even guys who have been to school and been to college, they still can't get work. Then you've got guys who've made mistakes, coming out of prison. And we have older guys who are on their own, they're lonely. We've got guys coming to the Men's Shed now from the youngest early 20s right through to age 75-80."
With such broad age ranges and backgrounds, one might think that it would be hard to devise an engaging program. But Graham and Col, who met regularly to pray about the shed both before its inception and after it got off the ground, knew what the focus was going to be from the start: "Graham and I agreed right from the onset that the praise and worship and Biblical teaching were the priority," says Col.
So, every Thursday morning from 9.30, a group of men, young and old, from different backgrounds gather at a shed in the backyard of a home in Rockingham. For the first 10-15 minutes, not much noise can be heard as the men greet each other and make themselves a hot drink. Then, instead of power tools starting up, the sound of Christian worship music and men's voices starts to emanate from the shed as God's name is glorified before anything else.
"That's our format, we do worship, prayer and Bible study before we start up the power tools," says Graham. "When new men come, sometimes they say 'I'm not singing', and as soon as the worship music starts playing, they walk out to the street and have a cigarette," he says. "But we don't deviate from that because we believe Christ is the answer to every situation, every problem.
"It's awesome to be able to offer somewhere for guys to come outside of church where they can build friendships, build trust and build faith."
Col agrees, saying the Pallet Ministry Men's Shed is meeting a big need in the community. "Many men who have made mistakes and want to find a way back and reconnect have few opportunities to do so. Loneliness and inactivity are killers. Many have, are or will commit suicide. Church on Sundays sometimes isn't enough. We need to do life with these men and rebuild relationships and faith." 
Restoring 'broken blokes'
Steve Whiteaker, 26, says before he met Graham and the other men at the Men's Shed, he was without a home and without hope. "I was at a point in my life where I was really over it. I didn't have any purpose, I definitely had no hope." Steve was attending The Salvation Army at Rockingham a few times a week for Crisis Care and his interactions with Graham and others led to him attending the Men's Shed. He's now got stable accommodation and is part of a discipleship program, as well as an active member of the corps and a volunteer throughout the week.
"I love to see these broken blokes who don't have much of a future, you know – most of us shouldn't be here from the scenarios and situations we've put ourselves in or been tangled in, but I love to see these blokes actually come together broken and then you see them start to get restored," he says of the Men's Shed. "Nothing makes me happier than seeing the work of Jesus in other people's lives, I just think that's amazing."
For Col, being part of the formation of the Pallet Ministry Men's Shed gave him hope as he endured many trials, tribulations and challenges. "When I had no hope and was facing a scary future, I believed I was no longer important to anyone. I attempted suicide as I was eaten up by remorse and a sense of foreboding.
"The hope of doing something worthwhile through the Men's Shed gave me purpose and prevented me from once again sliding into the abyss of depression and self-harm. I began to realise that true Christians like Graham actually cared about me! Praise the Lord."
Captain Darrell Wilson opened the corps' Discipleship House in August.
From its small beginnings in the shed of a corps member's home, the Rockingham Salvation Army Pallet Ministry Men's Shed has now got a site of its own and late last year was awarded a Salvation Army Innovation Grant of $20,000 to purchase more tools and supplies. As the men grow in their faith, God is giving them ideas on how to further connect in community with other men.
A Discipleship House has started, with mature Christians living in a home with new believers who need housing, assistance and a 'hand-up' in their walk with Jesus. Col has started doing odd jobs with unemployed men from the shed, to keep them active. He and Graham are also praying about a possible ministry to further assist men coming out of prison.
"It's exciting to be part of and see what God is doing in the lives of these men," says Graham. "All of us who have been with the Lord for a while, I think sometimes we forget that there was someone who helped us, right at the start of our faith journey, and I just think it's a privilege and an honour to be able to help other guys."