Sadaf finds hope in unexpected places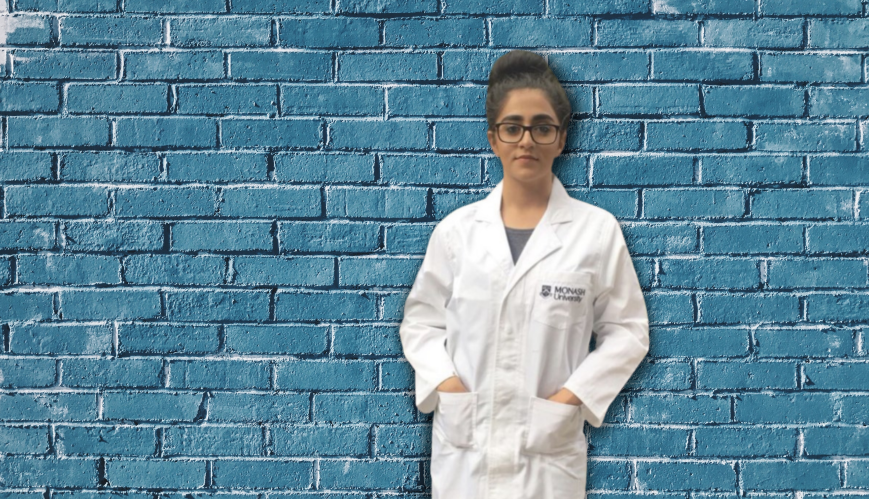 Sadaf finds hope in unexpected places
6 October 2021
Since fleeing from Iran to Australia nine years ago, Sadaf Teymornejad has reached the pinnacle of her medical studies. Now the 21-year-old needs a miracle, yet hope keeps appearing in unexpected places.
By Jessica Morris
When I met Sadaf Teymornejad at Moonee Valley Corps in Melbourne, it was clear there was a depth to this 21-year-old you usually only saw in people triple her age.
Perhaps it was the way she kept eye contact or the composed manner that she held herself. Once I heard her story, I realised what makes Sadaf so unique – it's a God-given tenacity developed in the face of unimaginable adversity.
Sadaf on the day I met her at Moonee Valley Salvos.
"Growing up in Iran, I worked hard to get good marks at school, and I actually found peace in studying and playing my sport [taekwondo]. But often, when I got good results, or I was about to get an award, things would be taken away from me because my parents didn't share the same values as the government," Sadaf told me. "So, one day, when my parents said, 'This isn't working out anymore, we're in danger', I didn't really understand why [we were leaving Iran]. I was just happy that we were going."
Sadaf was 13 when she, her parents and two siblings left Iran secretly to board a boat bound for Australia. I don't know much about the 10-day journey, but when Sadaf said, "at some point, I just accepted that we were going to die," I knew enough.
Arriving in Australia
The Teymornejad family arrived in Australia in early 2013, right before Operation Sovereign Borders was implemented by the Australian Government – meaning they were able to be processed and settled in the country, rather than held in mandatory indefinite offshore detention on Manus Island, Nauru or Christmas Island.
They spent a month in detention in Queensland, and Sadaf immediately made the most of her new life. "I actually met this security officer who would sit down with me and teach me English," she recalled.
Sadaf is a fast learner. By the time she and her family were settled in Melbourne a month later, her education was thriving. She spent six months learning English at a local language centre and was ready to enter high school. After passing an entrance exam, she received a scholarship to attend a girls school in Melbourne. Sadaf had a future.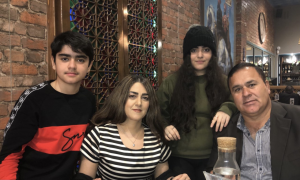 Sadaf (second from right) and her family converted from Islam to Christianity after her mother Ayda encountered God in The Salvation Army.
"I finally felt like I was free, and that was amazing. And I was allowed to take off the scarf I was forced to wear for such a long time. It felt so weird having that choice," she said.
Since Sadaf entered the Australian education system, she has soared above what any proud parent could wish for. But behind the scenes, the struggle to set up her life took its toll mentally.
"My routine was wake up in the morning, walk to the station, go to school, come back home, sit down, cry for a couple of hours and then study more English. And I think it was the most tiring, frustrating, and lonely part of the experience because I couldn't really describe that to my parents – no one else in my family was in that environment," she said.
For school tests, Sadaf would memorise each answer letter by letter, and her teachers spotted her potential, encouraging her to pursue a degree in medicine – her passion. By the time she was 17, she was ready to complete the UMAT entry exam along with thousands of other Year 12 students across the country pursuing medicine. But the day before the test, she found out she was ineligible due to her status as a refugee.
"It was like everything I tried hard for was gone. My hard work meant nothing at all," she said. In an attempt to create a future for herself, Sadaf poured hours and hours into scholarship applications, eventually receiving a humanitarian scholarship at Monash University that would cover the full cost of her Bachelor of Science, Majoring in Immunology.
"It was going well until everything [proverbially] hit all at once – that there is not much I can do after this because my visa limits me from applying for further study unless I cover the full cost. And I just got into this dark, dark hole," Sadaf says.
An internal battle
Mental illness isn't rare in people who have bravely immigrated to Australia in search of safety. With no access to government support, they are limited in what jobs they can apply for.
Sadaf (right) has excelled at taekwondo, but her status as an asylum seeker means she cannot travel far for competitions.
They also have little to no means of accessing mental, physical and social supports. In addition, many live in fear of deportation, which would put their life at risk. The struggle between losing your life, or living a life with seemingly no future, takes its toll.
Miraculously, Sadaf's scholarship was extended another year, allowing her to complete her Honours year. Largely due to her excellent results, tenacity and the unbridled support of her professors, the scholarship means that in 2021, she has been able to specialise in neuroscience at the Alfred Centre.
So what's next for Sadaf? Well, only God knows. And that's the most challenging part – because short of another miracle, she can't pursue further study or find a high-paying job to cover the costs of a medical degree.
"Where I go from here is not really clear. I was 13 when I came to this country, and I am grateful to the Australian community and the Australian government that they let me in. I have done more than I would ever be able to do back home. I have freedom," Sadaf reflected. "But I am now almost 22 years old. And I still don't know whether I can have a future."
Experiencing hope
Sadaf became a Christian in 2019 after being raised in the Islamic religion. She was introduced to Jesus after her mother asked a Salvation Army officer for prayer. And while the future is still uncertain, her faith gives her a sense of hope.
"I don't want to feel like this anymore. But then I have people like The Salvation Army Farsi Fellowship giving me check-up calls or even asking to share my story with the Australian Minister of Immigration. Then I realise there is still hope. These people are the reason why I keep going," Sadaf shared.
"I believe in Jesus now because doors open, and hope keeps coming, and I see my parents happy. People say, 'Do you want us to pray for you?' And when they do pray, good things happen. It can't be a coincidence."