Salvo Big Band... and all that jazz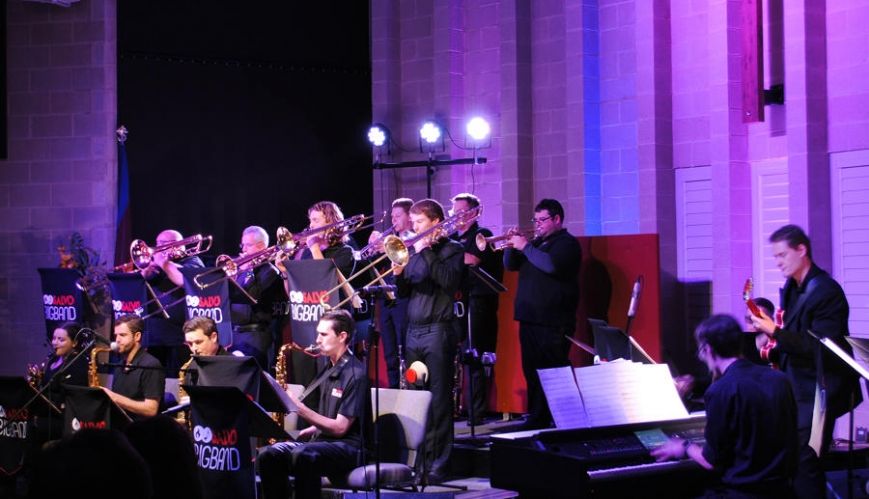 Salvo Big Band... and all that jazz
2 January 2018
What would you do," asked a facetious young bandsman of his hoary old bandmaster one day, "if Kenny G [the popular saxophonist of the 1980s] wanted to join the band?"
"Easy," I replied. "Teach him to play the tenor horn!"
No place in The Salvation Army for woodwinds in those days – but not any more! Now, we could direct him to the Salvo
Big Band, which operates out of Melbourne. 
The Salvo Big Band is the real McCoy: an 18-piece jazz band, with vocalists, that swings like a pendulum, is blessed with fine, improvising jazz players and can play commercial charts from the pens of Gordon Goodwin, Dave Wolpe and Jerry Nowak. Most of the music is self-generated, though, with charts by the group's guitarist Kerry Mitchell, trumpeter Donald Mayne and band leader Brian Hogg, and is based on the old gospel songs and hymns.
The group was formed in 2010 to represent Australia at The Salvation Army's World Youth Convention in Stockholm, Sweden. The band was well received there but has gone from strength to strength, with changes to personnel bringing a higher level of jazz musicianship to the group.
Kerry, the arranger/guitarist, for example, is a fully professional player and teacher who has worked with James Morrison and other leading Australian artists, while Donald is a seriously good jazz trumpeter and flugel hornist, with
a degree in jazz studies – and a stratospheric range! He also finds time, between guest appearances at jazz festivals, to be the bandmaster at the small Mildura Corps some 550km from Melbourne where big-band rehearsal camps are held. 
With players of this calibre, the Salvo Big Band can more than hold its own on the Australian jazz festival circuit. And, as well as playing at the Wangaratta Festival, one of the country's most prestigious, it annually presents the church service at the Inverloch Jazz Festival on the Victorian coast. At these events, the band's mixed repertoire breaks down barriers. It can play Ellington, Basie and Louis Prima juxtaposed with fresh arrangements of What a Friend and All Your Anxiety.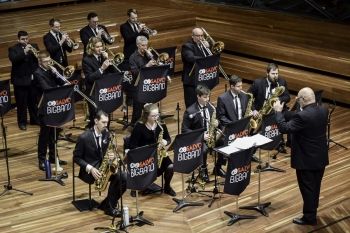 The band is very focused on presenting the latter and creating
 a bridge to the Gospel for the general public. The leader,
 Brian, who is the Army's Australia Southern Territory Music Consultant, says, "I'm not against the notion of entertaining people. I think that's something that's quite unique to the Army, but once you've captured their ears, you can say, 'Let me tell you about Jesus'."
This is a recurring theme for Brian: how to move from the music to the message to make the ministry effective. In formulating the playlist for the band's new CD, Testify, "we asked the guys [both men and women] in the band to name songs which help you understand your faith," he said. "They came back with some amazing answers – well-loved hymns like It is Well With My Soul and Now I Belong to Jesus ... but also Someone to Watch Over Me and What a Wonderful World. So the CD has those songs on it but also some explanation – someone's personal testimony – as to why.
"There's no point in playing Jesus, Thou Art Everything to Me
to non-Christian people if you don't explain its meaning and how it makes you feel," he adds. The members of the group,
all Christians but not all Salvationists, have recently done a survey to find their spiritual gifts. "We have a little time to talk from the stage but when people come to talk to us afterwards, we need to know who in the group is best able to present our message. We're anxious to find who in the group has the gift of evangelism so when we pack up, they're freed up to talk to people."
The Salvo Big Band, complete with its saxophone and rhythm sections, can go places where our traditional brass bands are inappropriate or even unwelcome. It's a medium which could be increasingly encouraged as more of our young people learn woodwinds and jazz at schools, colleges and other educational facilities. Perhaps big bands can become another effective arm in our musical ministry. The Salvo Big Band from Melbourne is certainly showing the way.
Merv Collins is an occasional contributing writer to Others.