Schools cook up support for Salvos during COVID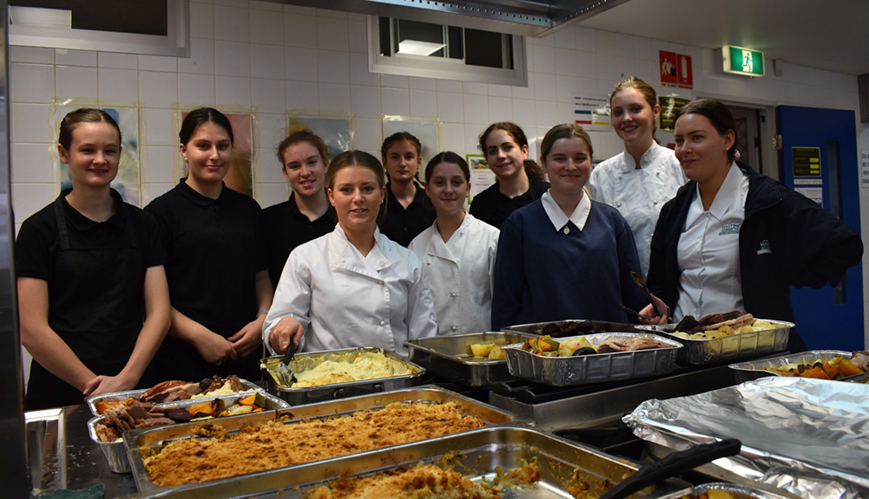 Schools cook up support for Salvos during COVID
13 August 2020
Year 12 hospitality students at Hastings Secondary College cooked meals for people in the Port Macquarie community in partnership with the local radio station and Ritchies IGA.
By Jessica Morris
COVID-19 restrictions have made it a chaotic year for school students around the country, but that hasn't stifled their generosity.
This year alone, almost 2500 meals have been donated by the following schools across the country, allowing The Salvation Army to feed families hit hard economically by the pandemic.
SERVING ON VICTORIA'S SURF COAST
Students and staff at Surf Coast Secondary College have served 2000 meals in partnership with South Barwon Corps and Northside Corps.
Since the end of March, South Barwon Salvos youth worker James Ashley and a group of students at Surf Coast Secondary College in Torquay have prepared more than 2000 meals.
A collaborative effort between the students, staff and local businesses, the freshly cooked meals go to families through Northside Corps, serving one of the lowest socioeconomic communities in the country. 
"It's about [students] thinking beyond themselves. They realise, 'I can do something to help someone else'," reflects James, who works at the school as a chaplain.  
The cooking program started five years ago when James partnered with the school to make meals for men in the community who were experiencing homelessness. This grew to also serve women's and children's services, giving students hands-on experience in the kitchen, as well as time interacting with their community. However, when COVID-19 hit, they had to reconfigure their model.
"When COVID came, it stopped all excursions and face-to-face stuff, so we went into remote learning. But it was the principal and teachers who said they wanted [the students] to do something community-minded," said James.  
"One of the teachers rang me and said, 'What if we adapted the program to what we are going through?' And we realised we could do the cooking from school because the school was vacated and we had space that we could follow all the social-distancing rules."
With no budget, they soon had donations flooding in from Woolworths and Coles. And when Surfcoast College staff chipped in $1000, James knew they could do more than just feed the community – they could give people hope.  
The nature of the cooking program continues to change with COVID-19 regulations and a second lockdown; however, James says the school intends to continue to the partnership with the Salvos.
WESTERN AUSTRALIA DIGS DEEP
Students at St Stevens K-12 School in Duncraig, Western Australia, cooked up a storm for The Salvation Army, making more than 100 meals for locals connected to Heathridge Corps. (Please note, students and staff followed COVID-19 regulations according to their state.)
Multiple schools in southern Western Australia have thrown their support behind The Salvation Army in what Schools Engagement Manager Darren Reynolds calls a "stunning" effort.
"St Stevens K-12 School in Duncraig donated a large collection of toiletries, and a donation box that the school placed at their local shopping centre brought in around $1300 worth of non-perishable food items. This box was full again one week later!" said Darren.
The school also had a group of Year 10 students engage with the Salvos across two days, participating in several community-focused workshops including two sessions with Peter Vernon from The Salvation Army's Beyond the Classroom program.
On day two, they spent time at Heathridge Corps, where they utilised the kitchen to prepare meals for our clients. 
"This amounted to around 40 single-serve meals, 60 family-sized meals and 20 batches of scones!" said Darren. "We also had Year 12 students prepare meals at the school for Heathridge Corps. All up, between the two groups, they cooked 15kg of pasta, 10kg of vegetables, 8kg of beef mince, 2 litres of pasta sauce and 4kg of legumes. That's a lot of pasta!"
PAYING IT FORWARD IN NSW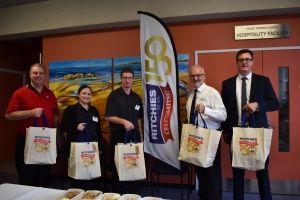 Hastings Secondary College and Ritchies IGA hand over donations to The Salvation Army Port Macquarie. (From left) Greg Cocking (assistant to the corps officers at Port Macquarie Salvos), Kerrie Powell (Store Manager IGA Ritchies Port Central), Dean Dobson (Area Manager IGA Ritchies), Ian Ross (Executive Principal Hastings Secondary College), and Andrew Kuchling (Director Education Leadership, Department of Education).
Good deeds have a ripple effect, and the hospitality students at Hastings Secondary College experienced this first-hand when they cooked a three-course meal for struggling families in the Port Macquarie community. 
After hearing about the local Triple M radio/IGA Ritchies 'Pay It Forward' promotion, Ian Ross, Executive Principal at Hastings Secondary College, rang the radio station and proposed an initiative on how the college could use a $100 IGA Ritchies food voucher. The concept was to have Year 12 hospitality students cook a meal for a family in their community in need.
"Not only does this give students an opportunity to gain the necessary hands-on experience needed in their studies, but it also teaches them about 'paying it forward' and giving back to the community," said Ian.
After the conversation went to air, Stewart Clark, from local cafe Doppio or Nothing, contacted the radio station and offered a further $200, and Trevor Lawrence, from local grocer Hastings Fresh Solutions, called and provided fruit and vegetables to make it possible.
"What was meant to be enough to feed one family turned into being able to feed five families and two elderly individuals!" said Ian.
The meals were delivered by a team from Port Macquarie Salvos, led by Greg Cocking, assistant to the corps officers. The three-course meal included chicken noodle soup, potato and leek soup, shepherd's pie, roast pork and lamb with roast vegetables, lemon meringue pie, apple pie and a fruit basket. Yum!"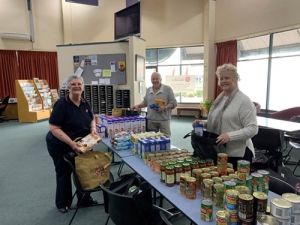 Volunteers at Macarthur Salvation Army pack 20 hampers for local families affected by COVID-19.
And down in Macarthur, a promising contact with two local schools had Captain Nicola Poore putting together 20 hampers for families. The school reached out to Nicola after its plans for a Salvo-led Breakfast Club fell through in March due to COVID-19. 
"A group of people joyfully went shopping to obtain the needed groceries then on to packing 20 hampers. It was a delight to be able to distribute 10 hampers to each school for them to be given out to those families in need due to the COVID-19 crisis," said Nicola. 
With even more stories across the country of schools pouring their time into volunteering with local The Salvation Army expressions, it's fair to say our future is in safe and generous, hands. Thank you, students, teachers and staff for going above and beyond when Australia needs your generosity more than ever!