"Seeing the hope return to people is the best"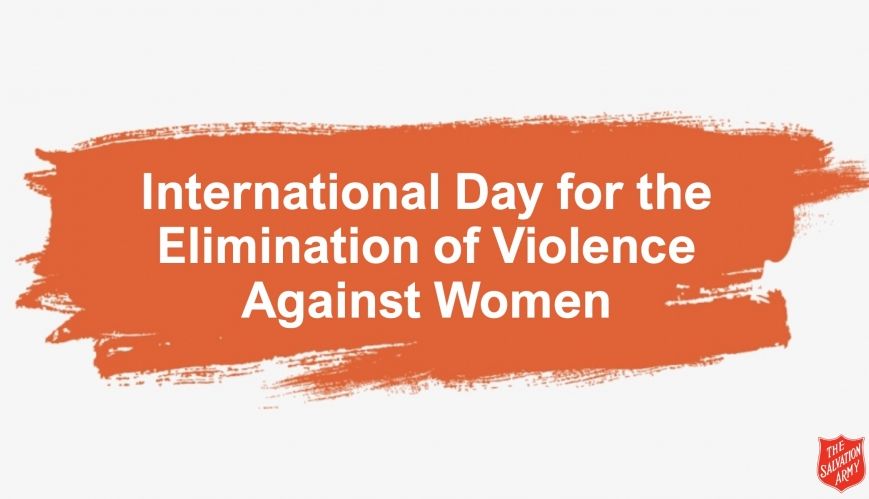 "Seeing the hope return to people is the best"
25 November 2020
The Salvation Army supports women and children across the country who are impacted by family and domestic violence.
By Simone Worthing
The annual commemoration of the United Nations International Day for the Elimination of Violence against Women is Wednesday 25 November. Violence against women and girls is one of the most widespread, persistent and devastating human rights violations in our world today. It still remains largely unreported due to the impunity, silence, stigma and shame surrounding it.
In Australia, The Salvation Army provides a wide range of services around the country to support women and women with children impacted by family and domestic violence. 
Karen is Programs Manager at a Salvation Army refuge that focuses on the needs of women and their children fleeing violence and abuse. Karen shared with Salvos Magazine some of what she and her team see and experience daily, and how they work to support the women and children and help them rebuild their lives.
SM: Can you give us an overview of what a typical day – if there is such a thing – is for you?
K: Generally, we come into work and check to see if there has been any issues or incidents with the clients overnight, such as someone being unwell, feeling suicidal or having anxiety attacks. Night-time can be a turbulent time for the women and children, as a large portion of violence occurs at night.  
We then start case management and other sessions. As manager of the programs, I like to speak with the residents about how things are moving along with them.
The middle of the day is usually appointments for different places – new mums need their ante-natal check-ups, other women go to counselling or medical appointments or take their children to libraries or the park.
We would usually complete an assessment for a new resident or family. This is time-consuming as we need to make sure we are providing a space for the individuals to be heard and to let them know we can support them to move forward.
We also do focus groups where we talk about a topic that everyone can relate to. We can spend all day at a police station with someone giving their statement, or a full day at court waiting for a hearing result for an AVO (Apprehended Violence Order) or an assault charge on a perpetrator. We work with the children who need tutoring support and hold playgroups, homework hubs and gardening programs.  
The days are long, full and very varied. The variety allows us to hold off the burnout that is so prevalent in our sector.  
SM: What are some of the main issues you deal with each day? 
K: Mostly, it is trying to assist the residents with what has happened to them and their children and the emotions and feelings that have come up. Women at the service will usually have some mental health issue(s), which really impedes their ability to reconnect with society and community as they don't feel a part of all that. As one resident told me, it is like they are ghosts walking the streets and no one can see them.
We help the residents to find accommodation, assist with counselling, income support and employment. We offer education programs to the mums around parenting and helping their children through trauma issues.
We advocate for clients who have been treated unfairly, which can be anything from housing and family legal matters, to domestic violence issues that haven't been handled correctly. We work with immigration agents to assist women on insecure visas to remain in Australia and find support for them in community.  
SM: What are some of the main issues your clients are facing? 
K: Aside from the obvious disconnection from the community, house and family they have had to leave, they will generally have a related mental health or health issue. The power and control that occur in family and domestic abuse means that women don't trust themselves – they have been under someone else's will and find it very difficult to make the smallest of decisions. There is a large sense of shame that they have let themselves get into the situation; they blame themselves, not the person who has groomed them to do what they want them to. 
SM: Can you give us an overview on how children are impacted by FDV? 
K: The children's issues are usually complex for many reasons. The smaller children may not remember the actual violence when they are older, but the impact is still great. The mothers often spend so much time protecting their children from the perpetrator that they do not have the capacity to ensure they are giving them the time and attention they need for their brains and bodies to develop. This can lead to problems later in their lives with attachment, trust and behaviour issues, as well as poor schooling outcomes, poor health and mental health, and struggles with addiction.
SM: What is it like for you personally to work in this space each day? 
K: Every day leaves me feeling a different emotion. It is the most rewarding job I can think of doing – to see these families arrived defeated, deflated and without hope, to moving on with their lives and regaining confidence in themselves. Seeing the hope return to people is the best. Not every outcome is what you would wish for, but I really believe we are in people's lives for a short time and we don't usually see big goals being reached. Sometimes it can be an adverse experience for people here, and I really reflect on how we could have done better. I constantly remind myself, though, that I need to allow people to choose how their journey goes; it is their life and they need to live it in a way that is true to them. 
SM: What do you find the most challenging part of your role? 
K: Sometimes our service just isn't able to meet the needs of some of the people that we support. Trauma comes out in different ways and it can be hard sometimes to manage the impact of someone's behaviour on others around them. Sometimes the needs of the larger group mean that more unique and challenging issues can't be catered for as we would want. We do the best we can not to harm or re-traumatise people who already have complex behaviours, but it really can be difficult at times. 
SM: What motivates you to get up each day and do the work you do? 
K: I have an innate sense of social justice. Everyone should have their basic needs met and no child should have to live in an unsafe environment with food insecurity.
SM: Is there anything else you would like to add? 
K: Violence in society stems from gender inequality and permeates our society in every way. We say things that imply that being a female is weak. We are placed in boxes and not allowed the freedom to be who we want or given opportunity that is freely given to others. Gendered violence in some countries is accepted as the norm. Let's stop teaching our children that being a particular gender means less. Let's change our language and let everyone soar and reach their potential without tearing each other down. Our young people grow up to be adults, so let us allow them to be the best they can be without trying to control the other or hold power over the other.
How good would the world be if we could stop violence in all forms!