Sharing the love when choosing gifts for Father's Day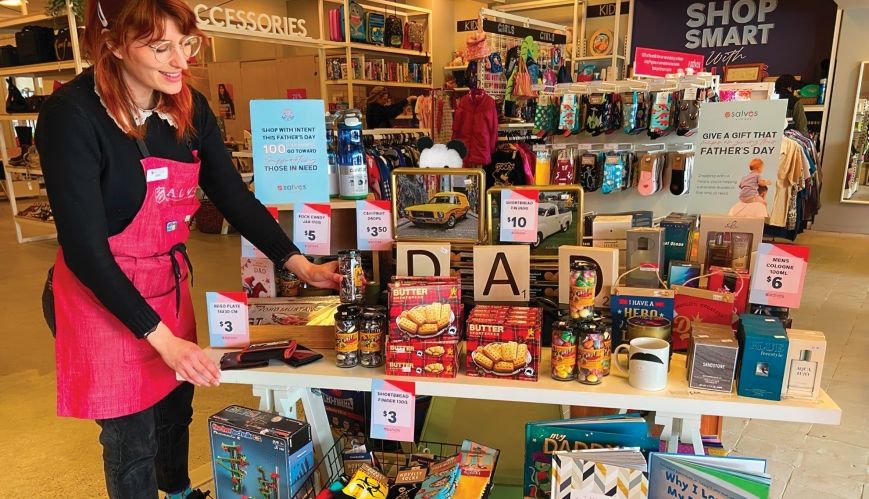 Sharing the love when choosing gifts for Father's Day
16 August 2022
Purchases made at Salvos Stores for dads on Father's Day also contribute to community projects around the country.
By Olivia Hurley
Save your money, delight your dad and help those in need by buying a gift at Salvos Stores.
Australians spend over $800 million yearly on Father's Day gifts. With the cost of living on the rise, wouldn't it be great if we could celebrate the father figures in our lives in a way that was a little less hard on our wallets?
This Father's Day (4 September), Salvos Stores are encouraging Australians to give gifts that keep on giving by checking out their range of affordable, dad-friendly gift items. Focusing your Father's Day gift hunt at your local Salvos Store means you'll avoid extravagant prices and direct your dollars toward a great cause.
In addition to a range of preloved pieces that will make great one-of-a-kind Father's Day gifts, this year, Salvos Stores are stocking a collection of new items that have been curated with dads in mind.
This collection is available in-store at most Salvos locations and includes ideal gifting options such as travel mugs, lollies, cologne, water bottles, and, of course, socks – because nothing says Father's Day like novelty socks! Most of these items are priced under $10, making them perfect for showing appreciation to your loved one without sacrificing your budget or compromising on quality.
If you really want to spoil your dad, there are more expensive items, of course, and some amazing treasures to be discovered in Salvos Stores.
Switching your Father's Day shop to your local Salvos Store ensures that your gift keeps on giving by supporting community initiatives funded and run by The Salvation Army. Every purchase made at Salvos Stores contributes directly to community programs and organisations that provide services to vulnerable Australians, including those struggling with addiction, financial hardship, disability/illness, unemployment, homelessness or family violence.
Salvos Stores are committed to making it easy, rewarding and affordable to put your share of Australia's annual Father's Day spend towards a great cause. This year, give Dad a gift that represents what matters most.
Find your closest Salvos Store or shop at Salvos online here