Shopfront for Jesus in Wagga Wagga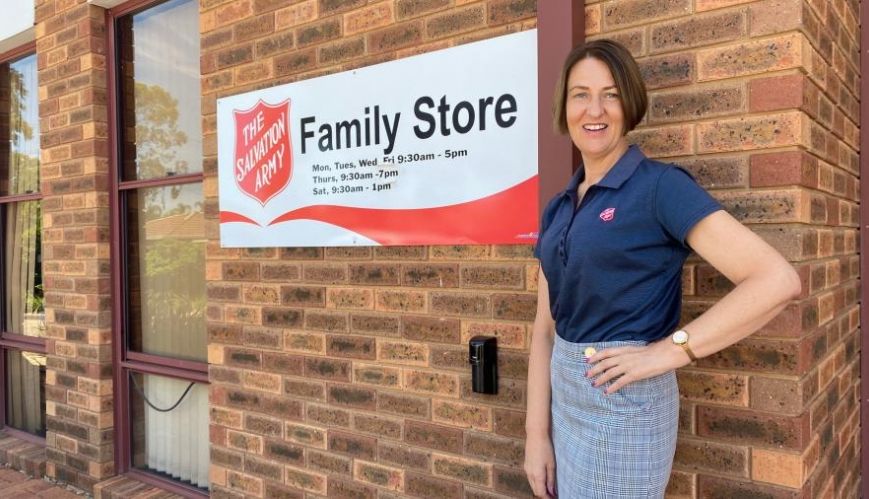 Shopfront for Jesus in Wagga Wagga
15 January 2021
Ros Robinson is the full-time Mission Coordinator at The Salvation Army's Wagga Wagga Family Store in south-west New South Wales.
By Lauren Martin
A visit to the Salvation Army Wagga Wagga Family Store in south-west NSW is an experience like no other.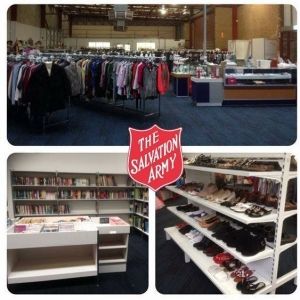 On any given day, you could be greeted by an enthusiastic volunteer on the door (who might be learning English as a second language), and then find yourself chatting to some Aboriginal artists in residence before wandering through the store's Koorong book section.
At the outset, the shop looks like any other Salvation Army family store around the country – full of quality, second-hand items – but Wagga Wagga has one big difference: a full-time 'mission coordinator'.
Her name is Ros Robinson, and she is on fire for Jesus, moving to Wagga Wagga from Queensland specifically to take up the role as Family Store Mission Coordinator. Ros says it was a calling God placed on her heart. "The Lord has really given me very specific key outcomes for my time here in Wagga," she says. "The word over my life here is to be a bridge to the general community – that bridge not only between the community and The Salvation Army but the Christian world and non-Christians."
The role came about as a result of Wagga Wagga Corps being involved in a unique pilot initiative of The Salvation Army, headed up by Greig Whittaker, The Salvation Army Executive Manager for Innovation. While the full pilot, which included a store renovation, did not continue with Wagga Wagga, the idea of employing a full-time mission coordinator hit a note with Corps Officers Captains Kara and Stewart Hartley, who advertised for the position and prayed for God to provide the right person for the role.
Ros works alongside the store manager, staff and volunteers. Each has specific roles and responsibilities within the same location – the family store. The store has 70 volunteers and a number of employees. Ros works to build community and relationship within the store and with the Wagga Wagga community. And while her role only began in 2020, which was a tumultuous year, she still managed to network with the community, build partnerships and even begin discipleship.
"The heart of the store was always missional, and it's known throughout the region for being a place of compassion and care," says Kara. "Now, having that mission coordinator role, we have been able to put into action many more ways of being the hands and feet of Jesus in our community.
"Instead of it just being retail, it is now a missional family store focused on Jesus. Every activity that happens [in the store], it always comes back to trying to introduce people to Jesus."
Missional partnerships
When one of the local churches couldn't run its small branch of the Koorong Christian bookshop, members of the local Inter-Church Council discussed the situation and the opportunity arose to house the store within The Salvation Army's family store. Now, both Christians and non-Christians alike browse the shelves, purchasing and ordering resources. There is space allocated for the construction of an in-store café, which is planned for 2021 – the perfect place for people to read and chat.
With two glass-fronted office spaces and a meeting room at the rear of the store, the potential for missional partnerships is endless. Already, a qualified counsellor volunteers three days a week and in 2021 an organisation that provides mentoring and academic support for children with a parent incarcerated will use the store as its base for mentoring.
Missional programs
Wagga Wagga Family Store Mission Coordinator (left) presents English Conversation Class participant, Esther Ndayishimiye with a certificate and a Bible at the completion of the program.
The city of Wagga Wagga is multiculturally diverse and very welcoming of migrants, refugees and asylum seekers. With a heart to make the store a place of welcome and belonging, Ros started offering English Conversation Classes, a program run by The Salvation Army. They were well attended, with many volunteers from Wagga Wagga Corps and other local churches helping to facilitate [due to COVID-19, classes were disbanded but the program continued on a one-on-one basis]. Ros also approached the local TAFE college to invite its language class participants an opportunity to practise conversational English at the store, as volunteer 'greeters'.
"They wear a lanyard that says 'volunteer', they stand at the front door, they greet people, [saying] 'good morning', 'hello'," Ros says.
"It has just been beyond popular. There is somebody new every week wanting to know if they can volunteer. And it's not only their English conversation skills that are being built here, but it is also building their social networks and giving them self-esteem and self-confidence."
And the program extends beyond those learning English. Members of the community wanting to gain confidence, or who simply enjoy having a chat, are also volunteering.
At the end of English Conversation Classes, a celebration graduation was held, and each participant was invited with their families. About 55 people attended and each participant was given a Bible, many of them in local dialects. The incoming corps officers to Wagga Wagga [Captains Kara and Stewart received field changes in late 2020] also attended and are excited about the program continuing.
Kara says the holy spirit is moving through the connections with great potential for ongoing relationships to be built. "Who knows what God has planned? Who knows what it's going to look like, it's exciting!"
Missional invitations
While Ros is relatively new to The Salvation Army, her heart for Jesus means that she is also fired up for The Salvation Army's mission and vision to transform Australia, one life at a time, with the love of Jesus. She is particularly keen to connect with Indigenous Australians, many of whom fall within the most marginalised of our society. That passion, and a few 'God' moments earlier this year, birthed the Wagga Wagga Family Store 'Artist in Residence' program, or what is now affectionately called 'Koori Corner'.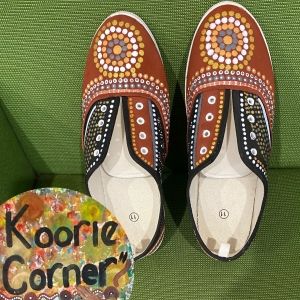 A pair of painted shoes created in Wagga Wagga Family Store's 'Koori Corner'.
"In my relationship-building, basically getting around town, I was at an organisation ... and they have an Indigenous-liaison person there, and just chatting to her about my heart and what I wanted to do, and she said, 'Ros, I've got a list of artists and elders', so she emailed it to me," says Ros, who then began to go through the list and make contact with people, inviting them to create art within the space.
In 'Koori Corner', which is located near the entrance to the store, Indigenous artists paint and create artworks, which they sell to interested members of the public. It's a social enterprise scheme, which The Salvation Army makes no profit from. "It's a very definite bridge to reconciliation," says Ros.
"We chose Indigenous art to line up with NAIDOC Week, which was coming up on the calendar at that time," says Kara. "At other times of the year, that space will be dedicated to showcasing other causes or community groups."
When COVID-19 restrictions ease, Ros has plans to invite buskers into the space in front of the store on a regular basis as well.
The possibilities are endless for the Wagga Wagga Family Store to missionally connect with the community. Ros is overflowing with ideas and passion, and Kara and Stewart are excited to see the original vision of a store with a missional heart coming to fruition.
"This is an encouragement to any [corps with a local store expression] – you can do this, you don't need money," says Ros and Kara. "This can be replicated anywhere."
Captains Kara and Stewart Hartley have been appointed to Tuggerah Lakes Corps and begin on 13 January. Auxiliary-Lieutenants David and Valerie Hopewell have been appointed to lead Wagga Wagga Corps.