Coffee on the go again at TQ's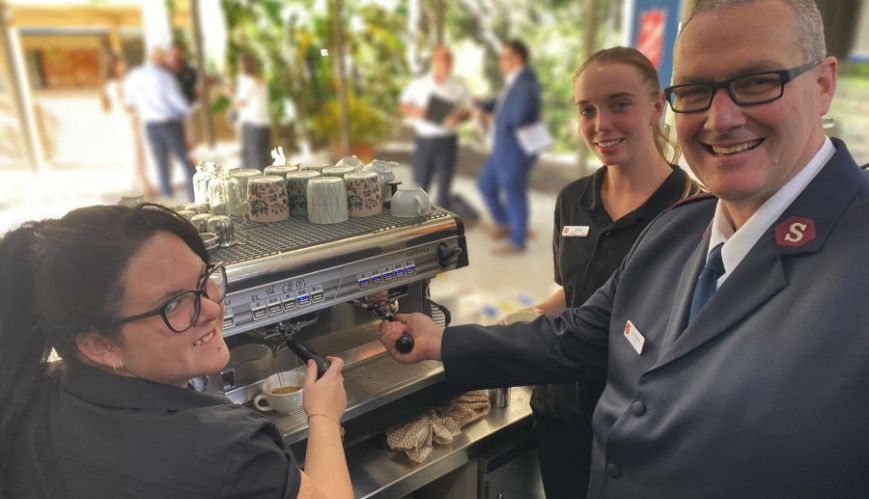 Coffee on the go again at TQ's
7 June 2021
Tom Quinn Community Centre hospitality course trainee baristas Brooke (left) and Jaylee show Queensland Divisional Commander Major Gavin Watts a thing or two about making a great cup of coffee at the reimagined TQ's Cafe in Bundaberg. Photos: Darryl Whitecross
By Darryl Whitecross
The Bundaberg community could not wait for The Salvation Army to reopen its new and improved TQ's Cafe at the Tom Quinn Community Centre in the city's south.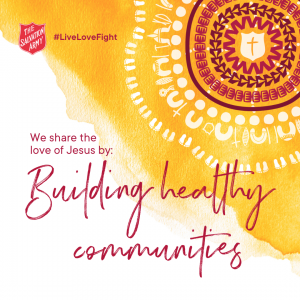 It was only closed for a week in May while the transition was made from the smaller, outdated cafe to a new building only a few metres away, but it felt like an eternity for regular customers, including 86-year-old Graham Tappenden and his friends Nancy and Dale Jones.
Nancy, who was there on the day it reopened with Dale and pet dog Lu Bella, said the staff were the friendliest of any cafe in Bundaberg and the food "unreal".
Graham had turned up for the event but preferred to sit in the shadows and shun the limelight – under the veranda of the old cafe building – while the reopening ceremony took place. While he could not hear what was being said, he said he was happy to sit at "his favourite table" and support what was going on.
Graham said he had been a customer at the old cafe since it began in 2009 and continued to come for his coffee and special scone three or four times a week. "This is like our backyard," he said. "You can't get this atmosphere anywhere else."
He also takes credit for the cafe having introduced "a special fruit bun" to the menu. He tells the story of his Evergreens group that has regularly met at the cafe over the years. To be a group member, you need to have been born in Bundaberg during the 1930s or be the partner of someone who was. He said plain scones were on the menu when the group first began meeting at TQ's. They soon suggested to staff "something sweet" would be a good option. That idea was taken on board, and Graham has been having his flat white and fruit scone on each visit since. While the Evergreens group has thinned dramatically over the years, some members continue to go but none as often as Graham.
The cafe closed while the ageing facilities were upgraded by TCL Projects, with the addition of a state-of-the-art kitchen and a new coffee-making area.
Tom Quinn Community Centre Manager Richard King said the new cafe would continue to be a "vibrant part of the community". He said the old cafe had become outdated, was too small for the training facility and was especially hot in summer.
Rish Lefterys, the Army's State Manager for Youth, said the new cafe was "a vibrant part of our community". He added that the cafe was surrounded by gardens and gums that created a setting where valuable social connections could be made, which "gives purpose for our volunteers and trainees".
"The social connection that the cafe creates is what makes the Tom Quinn centre thrive and gives it a vibrancy that is a joy to see in community programs," Rish said.
He described as "a shed" the building from which the old cafe ran: "That shed served its purpose, but it was crowded and, in summer, unbearably hot. [The new] cafe is more comfortable and will allow us to train even more young people in hospitality. It is a huge improvement."
Queensland Divisional Commander Major Gavin Watts unveils a plaque to officially open the new TQ's Cafe at the Tom Quinn Community Centre in Bundaberg while the Army's State Manager for Youth Rish Lefterys (left), Centre Manager Richard King and Clint Luke from TCL Projects look on.
Official opening
To the background noise of hospitality students Jaylee and Brooke busily making coffees for most people present, Queensland Divisional Commander Major Gavin Watts officially opened the new cafe and unveiled a commemorative plaque.
Gavin said the Army was passionate about providing services and programs for young people on their "journey to independence" and creating "intentional avenues" for them to explore opportunities to build support networks and contribute to their community. TQ's Cafe and the other mission expressions at the Tom Quinn Community Centre had enabled that for more than 20 years.
He said that passion and mission extended to "people of all ages". "TQ's Cafe, in some ways, is the central hub where students, volunteers, staff and the general public can come and enjoy these gardens and, of course, one of the best meals that you will find in Bundaberg," he added.
Piece of paradise
Richard said the Tom Quinn Community Centre grew out of a once derelict and neglected 3.7ha site, transformed by the Army into a safe and friendly environment where people, particularly students disengaging from mainstream education, could learn new skills, receive emotional support and enjoy the company of others.
The property was named the Tom Quinn Community Centre in memory of Thomas Norman Quinn (OMA), a prominent teacher, accountant, barrister and businessman in Bundaberg and committed Salvationist.
Many of those who either attended or addressed the reopening function had either known Tom personally, worked alongside or been taught by him.
Bundaberg Regional Councillor Vince Habermann said in his address during the reopening how he, as a player with the adjacent Diggers Soccer Club, would regularly retrieve soccer balls that had been kicked into largely inaccessible 'jungle', "avoiding the snakes and other creatures that inhabited it".
"This land was overgrown with vegetation, and we always used to dread [going in there]," Vince said. Now it is our own piece of paradise. It's become a place many thousands of people have enjoyed."
The complex has recycled timber and engineering workshops, a picturesque garden and a community nursery maintained by volunteers. It aims to assist the unemployed into the workforce with a combination of training and skills development programs, with the help of various government and community subsidies, in hospitality, conservation and land management, horticulture and construction. It also provides a curriculum for students prevented from being part of mainstream education settings.
TQ's is the hub of the Tom Quinn Community Centre garden areas and nursery. It is open to the public Monday to Friday from 8am to 2pm.