U-Turn on Urana Street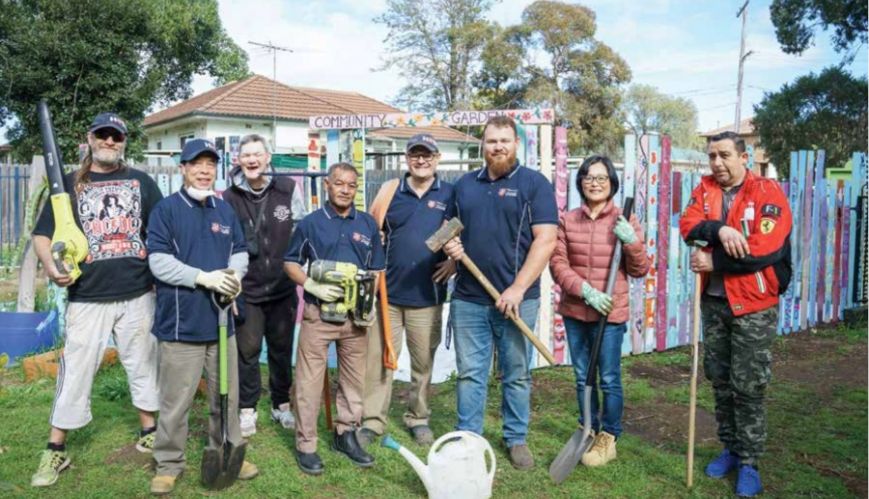 U-Turn on Urana Street
10 September 2019
Major Bryce Davies (fourth from right) and Dan Taylor (holding the mallet) with six residents who volunteer in the community garden at Urana Street in Villawood. Photo: Lena Pobjie
By Lauren Martin
Villawood is a suburb in western Sydney that is often in the news for all the wrong reasons. A lot of it has to do with the Villawood Immigration Detention Centre, but the area is also a hotspot for crime, unemployment and addictions.
But in the thick of it all, at Urana Street, Villawood – the worst street in the suburb, according to one local police officer – there is hope. Hope was ignited when Major Bryce Davies was appointed to Panania Corps in south-west Sydney about a year ago.
He was pretty much given a blank canvas and told to "reimagine" The Salvation Army's work in this area. Bryce Davies is a 'go and do something' type of guy.
He was the officer appointed to start Brisbane Streetlevel Mission and the officer appointed to help develop and share the NSW/ACT Divisional 'Communities of Hope' model, which blends faith and action.
Sunday meetings had ceased at Panania Corps and Bryce was looking at how to integrate the thriving Family Store with other fruitful ministries still operating at the corps building, like the weekly Mini Muzos group.
But he also wanted to get his hands a little dirty – he was a plumber in his former career and relishes any kind of practical ministry.
Living up to his pragmatic approach to spirituality, Bryce approached the local police. They told him to head over to the neighbouring suburb of Villawood and gave him the name of a street: Urana Street – notorious for crime and social issues.
"So, I drove there and got out of my car and had a look around," Bryce says, describing the dead-end cul-de-sac with blocks upon blocks of red-brick government housing.
Major Davies and Dan Taylor with Julio and Sati.
"There was all this rubbish everywhere, so I went and bought a rubbish bin and one of those little grabber things and found someone who would help me."
Some of the residents asked him what he was doing. "I'm picking up rubbish!" Bryce explained. "Why?" they said. "Because it's dirty – want to help?" Bryce responded.
From there Bryce was shown around the complex and noticed a locked community room. "What happens in there?" he asked. "Nothing much," was the reply.
A few phone calls later, Bryce had the keys. Now the community room is open five days a week, with a growing group of residents connecting to prepare meals, cook and laugh together, plan social outings and ways to make the Urana Street complex better.
A community garden has also been constructed and is tended by volunteer residents of Urana Street.
building community
Bryce works alongside Dan Taylor, Communities of Hope Community Outreach Worker. Dan says a rhythm at Urana Street community centre has developed over time. "It was a bit raw when we first got here, but we were really accepted quite well and quite quickly," he says.
"Mondays we have a planning meeting and we work out our week and everyone's invited to that and we have a bit of a prayer. "Tuesday is a community day, so we have our Open Hub [where government agencies and other services are available to meet with people] and we do community lunch.
Wednesday is our 'outreach day', so we either do building works or we take people out on outings to different areas like the zoo or the beach.
Thursday there's a community dinner and Friday the community room is open as a drop-in space." One of the first things Bryce did after getting the keys was to buy a table-tennis table. As he was bringing it in, he came across a resident, Sati, and asked him to help.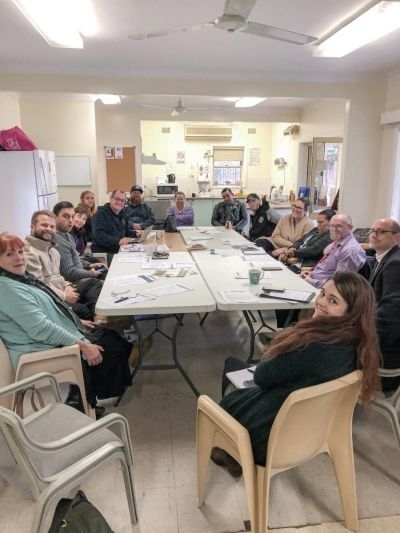 A recent Urana Street Hub meeting in progress in the community room.
For Sati, a migrant from India who says he was "trafficked to Australia" and used as "slave-labour", the meeting was significant.
A resident of Urana Street since 2009, Sati – who, like the majority of residents, doesn't work due to health or other issues – was in a bad place when he met Bryce.
He hated the area, hardly left his small, one-bedroom unit, and had applied to Housing NSW to be transferred to a home in a different location.
Then, he met Bryce, helped him set up the table-tennis table and experienced something he hadn't felt in a long time – friendship. "This place has changed a lot since The Salvation Army came," Sati says, "... and I have changed my heart."
He says he's up and out of his house every day now, helping Bryce and Dan with whatever is happening, and has many ideas himself about how to make Urana Street better.
Together with Woodville Alliance, local residents and support from Bunnings, they've turned the weed-ridden garden space into a beautiful community garden. The produce is used by residents to cook delicious community meals from many cultures.
positive change
Every Thursday night, the Urana Street community room is abuzz with residents of different backgrounds and cultures enjoying dinner together.
Different people put up their hand to cook. One night it might be vegan Chinese prepared by Hong; another night it's a hot Indian fish curry from Sati. People from Hari Krishna, Hindu, Muslim and Christian backgrounds sit around the table, but the differences in circumstance and upbringing are drowned out by the constant peal of laughter that rises above the chatter at regular intervals.
It's a bona-fide family dinner, one that brings to mind the parable of the wedding feast in Matthew 22.
"I think what we're seeing is something of the community we can build in The Salvation Army with the love of God," Bryce says.
"I just think the love of God is the most powerful thing in the world. The unconditional, sacrificial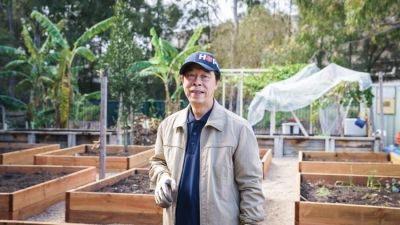 Sati at the community garden.
love of God is not easy, it's not a fly-by-night thing. It's actually knowing that every person is a child of God and loved by God and underneath their behaviour and their story is that precious life, that life that is God-breathed."
Now, Sati wears his Salvation Army T-shirt or hoodie every day with pride. He is developing as a leader within his own community and those who know him can't help but comment on the positive change. According to Dan, Sati's transformation is one of many.
"I can't tell you too much about their life stories, but they have a bit more of a light and a shine in them now; they have a bit more purpose."
And the transformational effect of the loving community that's evolving at Urana Street is not just one way. "It's as good at renewing my spirit as it is to give that hope out to others," Dan says. 
Sati recently declined an offer from Housing NSW to relocate. "I've had a life change," he says. "I'd been in a very isolated place and I had no friends. I changed my mind not to go. I stayed here and I've been enjoying life."
Bryce and Dan have brought together a group of people from government departments and community agencies who meet with each other and residents regularly – something that, apparently, has never been done in Urana Street. 
"Before, I would come out here and people would turn and walk the other way, or they'd run away," a community worker in the area says.
Now that she and her team are involved in the weekly community luncheon that the Salvos have started at Urana Street, she says their interactions with residents have completely changed.
"It's connected us with people on a different level and that in turn helps our work because we're more able to serve the community, because they're more willing to have us."
At a recent 'Urana Street Hub' meeting, passionate people from government and non-government organisations gathered around the community room table with local residents to talk about how to make the community a better place.
Despite the fact that a police raid was going on just metres down the road (with police in riot gear and a helicopter), the feeling of hope in the room was tangible.
"I've always had a passion for community," says the community worker. "But seeing people the way that Bryce and Dan see them, it just has re-energised and given me this whole new purpose to what I do."
There is still hardship in Urana Street, Villawood. But life is a little better for the residents, particularly when it's shared with a group of people who listen and love with no strings attached.
Panania Communities of Hope
Sunday meetings have stopped at Panania Corps, but The Salvation Army is still alive and buzzing in the local area. Mini Muzos attracts 20 kids and their carers on a Thursday and Friday morning.
The Salvation Army supports a Triple M mentoring project at a local high school. The thriving Family Store is just about to be relocated into the corps building as part of a pilot project to create missional opportunities within the retail spaces.
"This will include a kid-friendly cafe, a space where we can have community gatherings and discussions around social issues," said Major Bryce Davies. "As we meet people and get to know what their needs are, we will work out what their needs are and where God leads us."
Lauren Martin is a staff writer for Others.