Van of hope for the vulnerable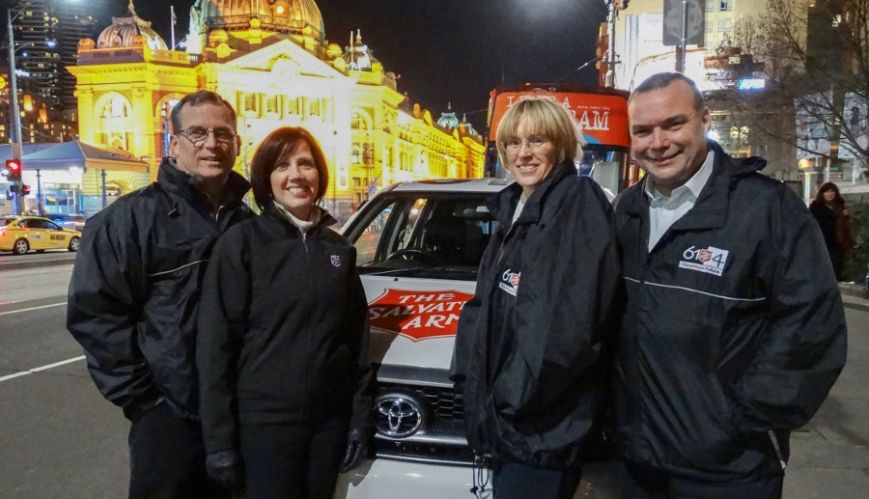 Van of hope for the vulnerable
4 June 2017
It's 9.30 Friday night and a small group of Salvationists and supporters are preparing for another eight-hour shift among "at risk" people on the streets of Melbourne.
The weather isn't too bad for the Victorian capital in late April. A weather sign displays 14 degrees. There's been a few light showers, but otherwise it's OK.
Major Brendan Nottle is the team leader. He calls at police headquarters for a nightly briefing. There's about 40 beat police in the room. They're getting an update on what's been happening so far and how to conduct themselves when a crisis occurs.
The City Coroner has joined the briefing as part of educating herself on police procedures for night street surveillance. She singles out Major Nottle for a chat. She is interested in his involvement. They exchange contact details. She may join him on a night shift soon.
Police are reporting that they have already broken up an early-evening brawl involving about 15 young people at a fast-food store. After the briefing, Major Nottle heads to the Town Hall to collect a radio receiver that will keep him informed of "hot spots" during the night.
The Town Hall hosts a centre bringing in live pictures from 68 security cameras around the city. After collecting the radio receiver, Major Nottle returns to The Salvation Army 614 Corps building at 69 Bourke St. He and his wife, Sandra, are the 614 Corps Officers.
At Bourke St, he prepares his team of volunteers for the night. Every Friday and Saturday night, Major Nottle and teams of volunteers work the streets ensuring that "vulnerable" people are kept safe. They stay on the streets until 5am.
Booth's inspiration
Major Nottle updates his team on what police are already saying about tonight. He reviews the previous weekend and tells them they saved the life of a man they came across in the course of their activity. He has eight volunteers tonight. A quick check reveals five are from the community and three from The Salvation Army.
One of the community volunteers is a young Irishwoman we will call Kathleen. She is there because when she needed help, The Salvation Army delivered. The team collects backpacks. Inside are bottles of water, rubber flip-flops for young women who become unsteady on their high heels and Chupa Chups, which, Major Nottle tells me, have replaced donuts as the early Army handed out.
The team climbs on board a mini-bus, driven by Major Nottle. He calls it "the van". He drops the volunteers off in teams of four in strategic locations. They're looking out for people who have been affected by alcohol and other substances. They check if the people are OK. These people have become vulnerable. Young women, in particular, could be in danger.
As he drives around the city, Major Nottle listens to the security radio, receives and makes calls to his team and does his own personal reconnaisance. It seems the talk is non-stop. Nobody said Major Nottle and his volunteers had to be there. But they know they do. It's a personal conviction.
As we drive around the city, I'm mindful of the words of The Salvation Army founder William Booth: "While women weep ... while little children go hungry ... while men go to prison ... while there is a drunkard left ... while there is a poor lost girl on the streets ... while there remains one dark soul without the light of God ... I'll fight". There are lost girls on these streets. There are drunks. There are dark souls without the light of God. Major Nottle and his volunteers are maintaining the fight.
Also in the back of my mind are other William Booth words: "Brought it all on themselves you say? Perhaps so. But that does not excuse our assisting them ... and that in the most practical, economical and Christ-like manner".
Teams on alert
It's now just after midnight. Three young people attract his attention as he turns into a street. They are swaying uncontrollably as they walk. In a flash, he's out of the van checking if they are OK. They say they are. He will check back later. He sees two young women sitting on a bench. He has concerns. He calls in one of his teams in that area to check the women. The action is starting to build as people leave nightclubs. His teams are reporting contact with a number of people out for "a good time".
Just after 2am, he takes a call that a young woman is in distress at a suburban railway station. She is having suicidal thoughts. He knows her. She is there with a friend. Major Nottle knows him, too. Railway transit police are with her. Major Nottle makes plans to head for the railway station. As he does, his phone rings. It's another man he knows well. The man needs urgent financial assistance.
Major Nottle makes arrangements to meet him in the city. He also has health issues. Major Nottle drives him to hospital. As he leaves the hospital, his security radio reveals that a group of men are causing concern. One is carrying a machete; another what appears to be a sword. He calls his teams to warn them. The teams report connection with more people in distress. They can handle it, for the moment.
Major Nottle spots a man affected by alcohol. He stops the van for a chat and offers water. He's satisfied the man is OK and moves on. There's another call from one of his team. A young woman is sitting on a bench and appears ill. The team calls paramedics. They check the woman, give her a vomit bag and ask The Salvation Army to take her back to her hotel. The team calls Major Nottle. "We have to do this," he says. "She is vulnerable."
He drives the van to the location. Paramedics help him put the woman and a friend into the van. Three other friends have deserted her. He drives the woman and her friend to their hotel and helps get the affected woman into her room on the hotel's 14th floor. "I don't even want to think what could have happened to her if she had been left alone in that state this time of the morning," he says.
He checks with transit police at the suburban railway station. The woman with suicidal thoughts is OK to wait. It's about 3am when he reaches the station. He chats with the railway police and then the woman. He thinks she should go to hospital for assessment. She appears agitated by the suggestion, confessing she isn't popular with hospital staff after previous visits. Major Nottle considers the situation. "Hey," he says to the woman. "How about we go to Maccas on the way?"
The woman and her friend think it's a great idea. After Maccas, he drives them around for a while. They talk footy and family. The woman is starting to calm. Eventually, he gets her to hospital and settles her in for a few hours. street language Back in town, one team has been talking to a man who has fears about returning to his home because there had been a break-in.
Major Nottle arrives with his van. He and the team drive the man to his home in the suburbs. They make an inspection to ensure his safety and provide details for further assistance. The man feels better. The team heads back into town. It's way past 5am. Time to go home.
Major Nottle sleeps for a few hours, has breakfast with his wife, catches up with his daughters, sleeps some more in the afternoon and heads out again at 9 o'clock on Saturday night for another shift. The action and reaction resume. Around 3am Sunday, a Flinders St Railway Station medic calls Major Nottle to seek help with a South Korean man who is distressed.
The man doesn't speak English. His only identification is a Melbourne suburban address in his pocket. Major Nottle arrives at the station and talks with the man. But the more Major Nottle talks, the more agitated the South Korean man becomes. Undaunted, Major Nottle tries his "best South Korean accent". The man settles. Major Nottle drives him home. The pair chat for all of the trip.
As the South Korean man enters his home, he turns to Major Nottle and says: "You speak good Japanese." Major Nottle is bemused. He knows neither Japanese nor South Korean. But whatever he said, it worked. Interesting night!
Read more about the Nottle's ministry at 614 Corps.