Tribute - Dawn Yealland Tribute - Dawn Yealland
Dawn Lurline Yealland was promoted to glory from Box Hill Hospital on 23 August at the age of 92.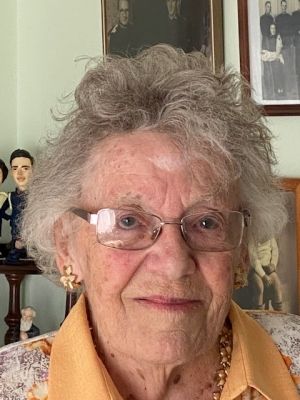 A funeral service, conducted by Lieut-Colonel Frank Daniels, was attended by her close family only, due to COVID-19 restrictions, but was streamed to her many friends across the country.
Dawn's brother-in-law, Major Brian Everett, prayed, and tributes from close, lifelong friends, Marilyn Wright, Arthur and Alison Drummond and Lieut-Colonels Peter and Jan Laws were read. Dawn's niece, Ruth Maunder, read from the Scriptures. Family tributes were delivered by Dawn's nephew Don Tyrer and niece Gillian Vince. The music of 'O Boundless Salvation' played as the photo tribute was presented.
Dawn grew up in the Tyrer family with mother Ivy, father Peter, older brothers Henry and James and younger sister Mavis. She was dedicated at Melbourne City Temple Corps, but as the family moved closer to the West Preston Corps, she grew up attending that corps, becoming a junior soldier, senior soldier and a candidate. At 18, she entered The Salvation Army Officer Training College as a member of the Warriors session and on Commissioning was appointed to the Cottesloe Girls Home in Western Australia.
Dawn completed her general nursing training at Bethesda Hospital in Richmond, Victoria, followed by midwifery training at McBride Hospital in Adelaide. Further nursing study required Dawn to train outside of the Army system and, on completion, Dawn did not return to officership. She served as a nurse in hospitals in Tasmania and Victoria before moving to Darwin to work with The Royal Flying Doctor Service, travelling throughout the Northern Territory delivering babies and conducting maternal health clinics.
On returning to Victoria, she became an infant welfare sister at the Templestowe Maternal Health Centre. Many of those Dawn cared for, both mothers and babies, remained in touch throughout her life.
Dawn married Alpha Yealland in 1968 and together they created a wonderful, welcoming home in Raleigh Street, Thornbury, for their many friends and extended family and they were both very active in the local Thornbury Corps.
In 1978, Dawn and Alpha travelled to London for The Salvation Army Centenary Congress and Dawn was honoured to be chosen as the representative speaker at the Nurses' Fellowship meeting.
When The Salvation Army built Hayville Retirement Village in Box Hill South, Dawn and Alpha took the opportunity to settle into retirement and became the first residents of the village in 1987. With the move to Hayville, they became very involved in the life of the village and soldiered at the Canterbury Corps and then Box Hill Corps, in the process making many new friends and reviving old friendships. This was evidenced in the loving care Dawn received from her friends at Hayville and Box Hill Corps following the death of Alpha in 2015.
Dawn was always interested in and ready to extend love and care to those around her. She had a great sense of humour, a readiness to accept people for who they are and a generous, hospitable spirit. She was a much-loved surrogate aunt to other families and a cherished aunt, great aunt and great-great aunt to her own large extended family. Dawn will not be forgotten by them for her interest in them and love for them.
"In the heart of the Father thy dwelling shall be
For the peace of the Lord has been laid upon thee"