You are here:
Home › Global Focus › Army Tackles Polands Horrendous Human Slavery Problem
Army tackles Poland's 'horrendous' human slavery problem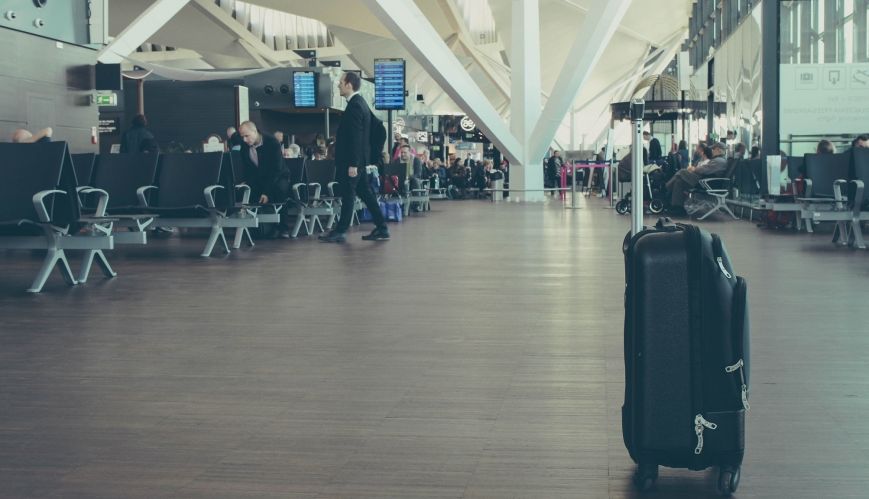 Army tackles Poland's 'horrendous' human slavery problem
A unique Salvation Army project in Poland is offering a job verification service and employment support program that aims to reduce the number of Poles becoming victims of human trafficking and slavery.
The pilot program – the Verification of Job Offers and Employment Support program – is supported financially by The Salvation Army in the United Kingdom. It is run by The Salvation Army in Poland under the patronage of the British Embassy, with the support of the National Crime Agency. Also, the AHT pilot program is closely supported by the Polish Ministry of Interior, police, and the La Strada Foundation in Poland. 

The creation of the project was given impetus in 2015 when The Salvation Army UK reported that Poles were among the largest number of victims of human trafficking in the United Kingdom, and that this trend was growing. Other reports show that significant numbers of Poles were also trafficked to the Netherlands and Germany.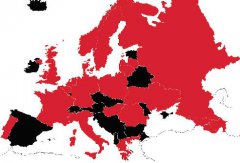 Red shows where The Salvation Army in Poland works with other Army offices.
The Salvation Army in the UK, which operates numerous shelters across the country for victims of human trafficking and modern slavery, contacted The Salvation Army in Poland to discuss developing a preventative program to reduce the number of Polish human trafficking victims. The Army in Poland initially conducted a situational analysis report on human trafficking in the country, and, based on the resulting findings, the new anti-human trafficking pilot project was designed.
[
The Salvation Army in Poland
is a region of the
Germany, Lithuania and Poland Territory
.]
Project goals
"This project has three main aims," explained Joanna Trela, Project Manager, and Anti-Trafficking Project Manager for The Salvation Army in Poland.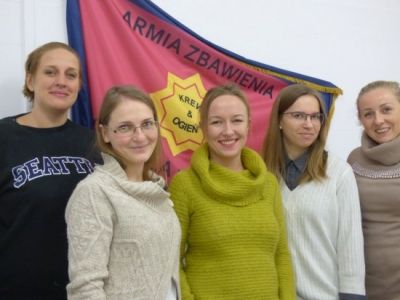 The anti-trafficking team in Poland (Joanna Trela in centre)
"The first one is a job verification service for Poles in order to assist them in undertaking safe, stable and fair work in Poland and abroad. The second concerns reintegration for victims of trafficking – especially for those coming back to Poland from abroad and helping them find fair employment and get re-established in society. Thirdly, we are encouraging Salvation Army officers and the four corps in Poland to respond to human trafficking, to recognise the signs of trafficked people and trafficking situations, and to know how to respond to and report that."
The project's small staff work on checking job offers or advertisements that people send to or discuss with them, and verifying whether those offers are genuine and safe, or whether they have the potential to lead to an illegal, dangerous and unjust situation.
If there are any concerns around the job offer, these are discussed with the client.
"If our client decides to take up employment abroad, we also educate them about living in different countries, their rights and responsibilities in the given country, and offer contacts that would assist in various situations," Joanna explained.
"We then maintain contact with them and ensure their safety and support. Thanks to the presence of The Salvation Army throughout Europe and beyond, we can take joint action, regardless of the location involved, if needed.
"If we identify potential human trafficking conditions, we may also report to the police both in Poland and abroad, and they deal with it from there."
The practical assistance given to victims of human trafficking returning to Poland include job search assistance, resume writing, preparation for job interviews and anything particular the person might need to reintegrate into society.
Through the support of Salvation Army corps and an outreach worker at each corps, the project is being piloted in four regions of Poland – Warsaw, Starachowice, Rzeszów and Malbork.
"The placement of workers in our existing corps means that support is available to them in a social, spiritual and holistic manner via project workers working alongside the corps leader in each location," said Captain Caroline James, Regional Director for Women's Ministries.
Trafficking awareness
The Salvation Army has been in Poland since 2005 and has grown to just over 100 soldiers, adherents and junior soldiers. The Army is also active in working with children, the elderly, those experiencing homelessness, social work, and in its four corps.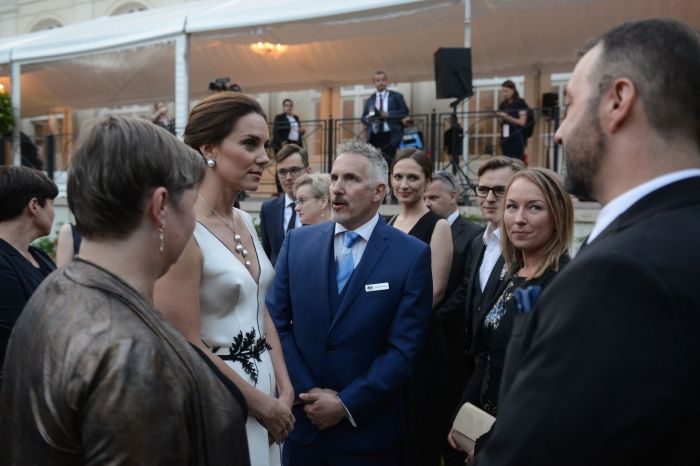 Last year, Joanna Trela (right) met with the Duchess of Cambridge for discussions on the issue of modern slavery in Europe.
"Despite being small, The Salvation Army in Poland is committed to holistically meeting human need in Jesus' name, and the introduction of this pilot project allows this to develop," said Captain James.
"We are very happy to see how this project is developing within Armia Zbawienia (Salvation Army), and how successful it has been at working alongside other agencies dealing with anti-human trafficking in Poland.
"We still have a long way to go to be in a position where people in Poland recognise the signs and traits of modern slavery, but we are convinced that our project workers have the right tools and attitude to help those who are at risk of being caught up in this."
Joanna said she and her team are also working on funding to promote the program, "so people hear about us and the work we do".
"Our strategy has been personal outreach, but we are also doing some workshops at schools to focus on those students who will soon be entering the workforce," Joanna said.
"Generally, there is a low awareness of human trafficking and modern slavery and a huge denial that this exists. Girls sometimes know they can end up in the sex business but most boys think modern slavery or forced labour can't happen to them.
"They also don't think they have any rights as workers abroad, so we are educating our clients about their rights and assuring them that they can maintain their dignity when working abroad and be treated on the same level as citizens of that country. We encourage them to demand their rights and walk away from every situation of abuse."
As part of the project, Joanna and her team posted some fake risky job offers to see what the reaction would be – and as a way of alerting those applying for the jobs to the potential risks of similar offers.
"We received many responses to these jobs," Joanna shared. "We contacted the applicants directly, explained that the jobs were not real, why they were potentially risky if they had been real, and how the applicants could easily become victims of human trafficking.
"We also shared ways to find safe employment and made sure they knew they could contact us for help in verifying safe and stable work. With increased awareness, some have responded, asking us to verify the jobs they are applying for.
"We are not trying to prevent people from working abroad. We just want to make sure people are safe in their work and travels."
Slave market
To help raise additional awareness of the horrendous and growing crime of human trafficking and modern slavery, Joanna and her team organised two "slave markets" last year, in different parts of Warsaw.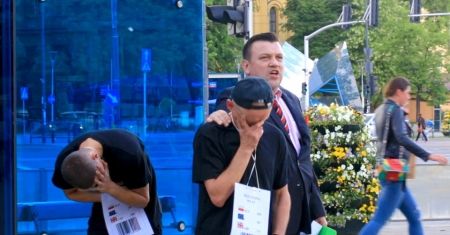 Actors played the roles of human traffickers, selling people as commodities to the highest bidders.

"During the action, passers-by received information leaflets 'Safe Jobs', as well as leaflets containing information about the activities of our free program," said Joanna. "Everyone interested also had the opportunity to talk to staff and ask questions.
"It was a very powerful way of raising awareness. People thought it was real, and reacted strongly, protesting that it was unacceptable and calling for police intervention.
"Anti-trafficking agencies estimate that globally, around 27 million men, women and children are currently enslaved or have been trafficked. I am passionate about fighting to help bring this to an end."
For more information on the work of The Salvation Army in Poland, including the job verification project, go to armia-zbawienia.pl/dobra-praca.html
In Europe, The Salvation Army has a specialised Task Force working on increasing the effectiveness of counteracting human trafficking. It participates in many projects throughout Europe, including the project in Poland. For more information, go to news.salvationarmy.org.uk/ and search "Human Trafficking".
Major Anne Read, The Salvation Army's Director for Anti-Trafficking and Modern Slavery in the UK, was instrumental in developing the job verification project in Poland
Joanna Trela, a Polish national, is a psychologist with a Masters in Psychology. Joanna has nearly completed her PhD in Management from the University of Melbourne, Victoria. She is devoted to fighting for human rights, particularly in the area of modern slavery and human trafficking.