You are here:
Home › Global Focus › Aussie Officers Around The World United Kingdom
Aussie officers around the world – United Kingdom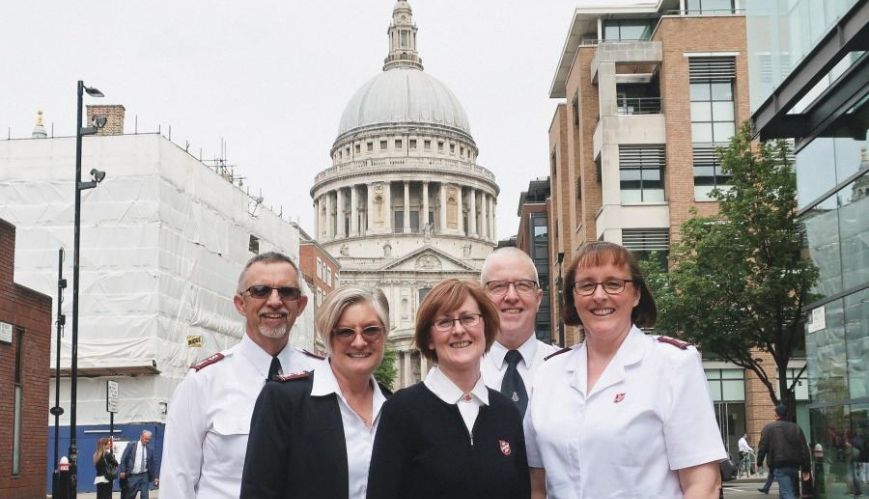 Aussie officers around the world – United Kingdom
Australian officers serving at IHQ (from left): Lieut-Colonel Bruce Carpenter, Lieut-Colonel Cheryl Carpenter, Major Kaylene Fyfe, Lieut-Colonel Geoff Webb and Lieut-Colonel Kalie Webb
Australian officers serve all over the world. In the United Kingdom, 13 of our officers are serving. Five of these officers have shared some reflections on their international service.
Lieut-Colonel Kalie Webb
Kalie serves as an Assistant Chief Secretary – Personnel, International Personnel, Administration, at IHQ. She is married to Lieut-Colonel Geoff Webb, who also serves at IHQ with the same appointment.
This is my second appointment serving overseas, the first being to Pakistan about 10 years ago. You gain a different perspective of The Salvation Army working in a different country.
You realise the magnitude and richness of the Army's work in a different culture and a different context. In saying that, there is also a familiarity that exists in that, whatever country you either visit or serve in, you have a sense of belonging and feeling 'at home' within The Salvation Army.
Geoff and I have been in our appointments at IHQ since January 2017. It is an amazing privilege to serve at IHQ ; I have often reflected that we have a mini-global Salvation Army represented from every (Salvation Army) zone on the building.
The richness of experiences and the staff have become part of our 'international family'. Our roles include the portfolios of training colleges and leader development across the world.
We have been incredibly blessed by the opportunities to share with officers across the five zones where we have been able to encourage leaders in their ongoing development and equipping them for current and future appointments.
Overseas service is also an opportunity to be part of something much larger than yourself. It's an immense privilege and I am grateful to be given this responsibility to influence and make a difference on an international scale.
Note: Since going to print, the Webbs have been appointed as Territorial Leaders of Pakistan.
Majors Annette and Michael Coleman
Annette and Michael are Corps Officers at Winton Corps.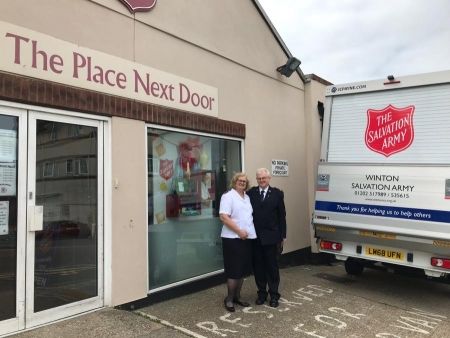 Majors Annette and Michael Coleman
Early this year, we arrived to a bustling corps that has hundreds of people coming through its doors every week, providing a curious mix of earthy, roll-your-sleeves-up, front-line social programs and formal band-and-songster-style Sunday worship.
And here's the thing; it works wonderfully! It is such a pleasure to be mixing with such a diverse group of people.
On a typical day we shake hands with an asylum seeker or two, a person having recently escaped slavery, homeless people, highly accomplished Army musicians, retired officers, intellectually disabled persons, elderly people, and a wonderful bunch of volunteers who do all kinds of work.
Expecting the impact of culture shock, we were surprised how gentle that has turned out to be. That said, the British love of bureaucracy and their tendency to queue for everything still takes a little getting used to!
Although the corps is quite large when measured by the traditional yardsticks of attendance numbers and size of sections, our leadership team is taking an enlightened approach to the future.
They recognise that the status quo cannot remain indefinitely and that now is the time to develop the means of thinking and leading for the future.
They recognise that the corps of tomorrow must be very different to that of today. It is a privilege to be working with such a forward-thinking group of people. Six months into our appointment we feel really blessed to be where we are and we look forward with anticipation to what God has in store in the years ahead.
Lieut-Colonel Bruce Carpenter
Bruce is Assistant Project Director for the International Financial and Accounting Standards Implementation team with the Business Administration Department at The Salvation Army International Headquarters (IHQ) in London. He is married to Lieut-Colonel Cheryl Carpenter, who serves at IHQ as the International Program Coordinator within the Program Resources Department.
It is an incredible and humbling experience to serve outside of our home territory, and at IHQ in particular.
To be here and supporting the ministry of the Army around the world is something that I never expected to be doing during my officership. The more than six years we spent in the Caribbean, and now the year at IHQ has been an incredible education, giving me a worldwide perspective on life, ministry and The Salvation Army.
Yes, we miss family and friends in Australia, but we thank God for Facebook and Messenger to keep in touch.
Major Kaylene Fyfe
Kaylene is the Assistant Under Secretary for the South Pacific and East Asia Zone (SPEA) and has been in her appointment at IHQ since July 2018.
A shared language and similar culture in the UK has made the adjustment to working outside Australia simpler. Yet there are aspects of life in Australia that I miss.
IHQ is truly international and I am surrounded by people of many nationalities, which has widened my understanding and appreciation of the global ministry of The Salvation Army.
Being part of the South Pacific and East Asia Department allows me to maintain good links with Australia and to 'do my bit' in supporting ministry in the SPEA area of the Army world. My perspective to working outside Australia was changed during my service in Kenya some years ago.
It brought into sharper focus distinctions between disadvantage and advantage in a material sense, yet also richness of spirit. International service (then and now) causes me to be more reliant on God and helps me to be more open to other ways of thinking.
Handling the vast distance between the UK and Australia, and the resulting 'disconnect' from family, country and culture is a challenge, particularly as a single officer, and when it comes to family it is also a sacrifice.
Technology does help to bridge the distance but sometimes the lack of physical presence is keenly felt. The opportunities, though, are many.
I am part of an international Salvation Army 'family', and I can expand my horizons through life and ministry in a different context.