You are here:
Home › Global Focus › Aussie Officers Around The World Usa Western Territory
Aussie officers around the world - USA Western Territory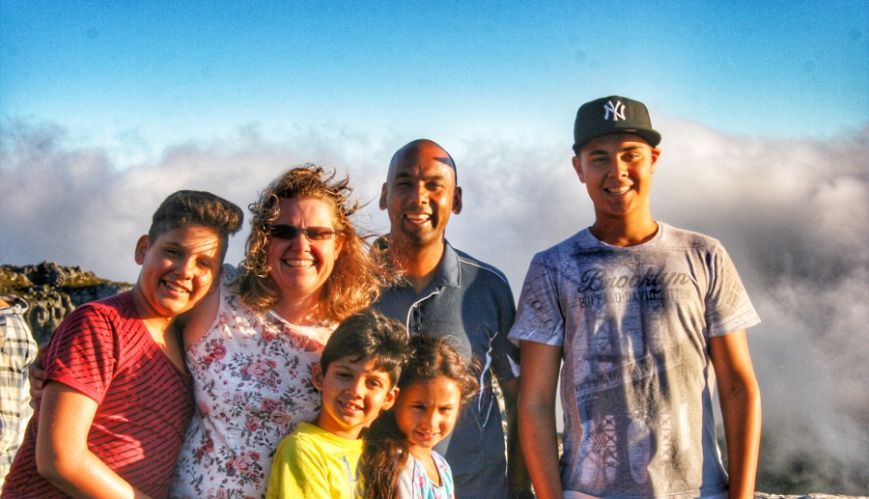 Aussie officers around the world - USA Western Territory
"We believe we are being obedient to God's leading and know that we will be richer for this journey," - Captain Nesan Kistan, speaking from Tustin Ranch Corps, USA.
By Captain Nesan Kistan
Cheryl and I were always open to overseas ministry and mission.
When the conversation arose about serving in the United States, we put out a 'fleece' to God. If this was God's will for us, to help advance the Kingdom in the US, then we would do it. We had already been travelling back and forth to the US for ministry and conferences. The last time we went was in late 2016. At that time, God laid on our hearts that this was the place he was calling us to as part of our journey in life.
It was complicated for us as a family of six, mainly because our eldest son had just finished Year 11 and we have another son who is profoundly deaf and needs ongoing support and assistance. However, we knew that trusting God's call and obeying him was much more important than any personal challenge or sacrifice – and that we would always be richer for it. That has always been our experience. We know that God's plan is always bigger and greater than our minds can comprehend.
Over the years, our ministry journey has increasingly involved working with displaced people who need hope and a place to belong. This has continued in the US. Our previous work with refugees in Australia has parallels with our work with the homeless and the marginalised here in Orange County. However, the US, although a Western, English-speaking country, is vastly different from Australia and our transition to life here has been very challenging. We are different ideologically, in our values and in our thinking, in so many ways. The Salvation Army is so different here as well.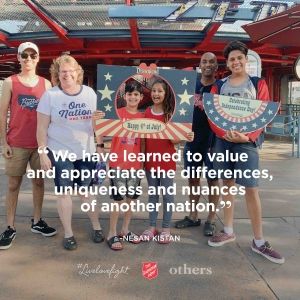 We have learned not to be judgmental but to value and appreciate the differences, the uniqueness and the nuances of another nation. The opportunity to shift our mind to new ways of doing things has been fantastic, so we certainly are missionaries in every respect, learning how to live and do ministry in a different world.
Some of the social issues here run deep, with many people, particularly the poor, uneducated, sick and ethnically diverse, almost dehumanised. We can't fix this, but I think part of the reason God placed us here is to be a moral compass; to show our communities that nobody is a second-class citizen and the love of Christ extends to all. This is the platform on which we are standing in this new season of life and ministry.
My role as a divisional secretary has a broad scope of responsibility: finances, fundraising, human resources and the social program for a county with a population of around four million people. We have a staff of close to 200. As well as our corps responsibilities at Tustin Ranch, Cheryl and I also work with three other corps in the area. One of the real strengths of overseas ministry is the cross-pollination you get as you share and are challenged by new strategies and approaches and acquire new skills, learnings and experiences. Overseas ministry also makes The Salvation Army internationally far richer and stronger, and is a powerful reminder that we are Kingdom people. We have grown as people in our personal development, and as Salvation Army officers, during this time.
For us, the biggest challenge by far is the distance and separation from family. There is no easy way to work through it – you can't sugarcoat it. It's just plain difficult. A real joy, though, is the global network of long-lasting friendships we build and the opportunity to meet people from another part of the world. We have met some phenomenal people who we have the privilege of calling friends.
As we focus on the present and look to the future, we believe that God has given us an audacious mission and vision to do something significant – to end chronic homelessness in Orange County in three years and to transform lives with courage and innovation, empowered by a holy faith. This is the driver behind our 250-bed homeless shelter. Plans are underway for our 600-bed supported housing facility in Anaheim initially and then hopefully in two other cities in Orange County.
It's an enormous endeavour, but we believe strongly in Ephesians 3:20 that says God will give us immeasurably more than we can ask or imagine. This has been the life verse for us in this season of mission and ministry in the US. With a clear vision and a high level of passion, nothing is too hard for God.
The Salvation Army is a mission movement. God calls his people to step out and move from our area of comfortability into mission. We believe we are being obedient to God's leading and know that we will be richer for this journey.