Belfast Corps embraces the world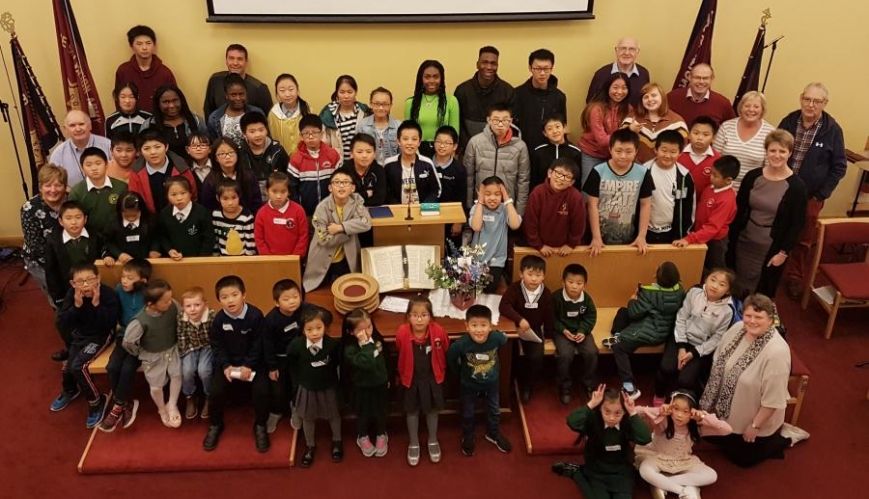 Belfast Corps embraces the world
The Belfast Citadel, Northern Ireland, has a dynamic and intercultural group of children and youth who are active in the corps and local community, and a dedicated team of volunteers working with them.
By Simone Worthing
"Christianity is growing rapidly in Africa but declining in the United Kingdom and Europe, so I couldn't go overseas while this is happening at home," said Major Mark Waghorn, Corps Officer, Belfast Citadel and Community Centre, in Northern Ireland.
Mark doesn't have to go to Africa, a land and peoples he is passionate about. Instead, many Africans have come to the Belfast Citadel, in the heart of the Northern Irish capital, attracted by an inclusive intercultural corps, a focus on youth and local community, and music.
A large number of ethnically Chinese people also attend the corps and its activities, mostly children and youth.
Mark, with his small team of volunteers, has been focusing on growing an intercultural corps for the four years he has been serving there.
"This is different from a multicultural corps where there are many different cultures, all serving and worshipping 'our' way, such as by learning a brass instrument," Mark explained.
"Interculturalism is about embracing different cultures and working together, which could mean an African singing group in worship, a Chinese music section, and global praise nights. I am passionate about different cultures, especially African cultures and the way they worship. There is so much to learn from them; they have such a strong faith."
Major Mark Waghorn (centre) with one of the corps' children's groups.
Mark, who is originally from Essex England, and is serving in Ireland for the first time, says that he is here to help develop the corps into an intercultural Salvation Army expression. [England and Northern Ireland are part of the United Kingdom with the Republic of Ireland Territory of The Salvation Army (UKI).]
"In my first appointment 16 years ago, I started with 14 elderly white people," he said. "By the time I left, we had a vibrant, intercultural church with people from India, Zimbabwe and several other nations. The first representatives from those communities had approached me in the street, recognising The Salvation Army from their home countries. I was simply in the right place at the right time. Now, I am passionate about intentionally bringing other cultures into our corps."
Mark has also been impacted in this ministry by a friend who studied in his session at Officer Training College, as well as a Salvation Army commissioner (who he didn't know), who approached him during his training to tell him that God was calling him to immigrants living in the United Kingdom.
"Now, the corps that are growing the most in the UK are doing so through the Africans," Mark said.
The Chinese community, which began arriving in the UK more than 10 years ago, don't have a background with The Salvation Army, but attend the corps for different reasons.
"Here in Belfast, they were attracted by free brass lessons for children," said Mark. "Some of the parents didn't know we were a church – they thought this was a music club. Now, because we combine Bible classes with our music lessons and integrate the children into the corps, the young people are hungry to learn about Jesus and are asking for discipling. This is particularly true for older teenage girls.
"The Africans come through their parents. Many of the Zimbabweans have a connection to The Salvation Army in their home country, and the Nigerians are Christians too and came here looking for a church.
"An Indian lady who has no family here but has officer parents in India, also recently started attending so we are praying her extended community, will also join us. They share close networks so often when one member of the community starts going somewhere or doing something, others join them."
Active in corps and community
Each Wednesday night, the corps is full of up to 70 children and youth from different cultures, learning brass instruments, playing games and studying the Bible.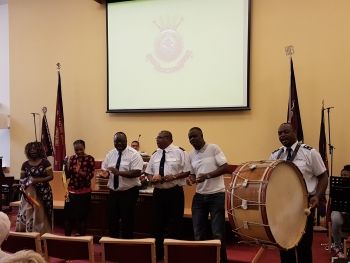 Music plays a key role in the Belfast Citadel worship.
The younger children leave after their lessons, game, Bible class and learners band, while the teenagers stay for band practice with the adults, and youth group. "It's a long night but a great one," said Mark.
Noel Moore, Corps Sergeant Major, leads the youth group. Noel grew up in the Belfast Citadel Corps, with his mother, and grandmother, also attending.
Wednesdays also feature a Bible fellowship and popular community drop-in centre where people from all walks of life and backgrounds come for company and conversation, help with food and utility bills and referrals to Food Bank.
"We top up peoples' cards for gas and electricity, as no other agency meets that need," Mark explained. "We also have a great working relationship with the cafe across the road and give out vouchers for people to receive a meal there. We work with other agencies, too, on food assistance, but try to focus on areas that others don't.
"There is good provision for the homeless in the city, including The Salvation Army's homeless centre, so we try to be a place where people can come to just be normal. Many who do come are lonely. They can talk to others, be listened to, and not have to share their details. It's just a place for them to be and to be accepted and cared for."
Community and corps members also take part in a lunch club each week, and the Sunshine Club for the over 50s.
A group for parents and toddlers on a Friday attracts many community families, with many ethnically Indian families coming along.
The corps also has a strong 40-year partnership with the charity St Vincent de Paul, where they work together on the Christmas Toy Appeal.
Youth service
Once a month, each of the Salvation Army corps in the area host 'Ignite' – an informal and contemporary worship meeting led by youth. "There is freedom in worship, the youth feel it's a place they can invite their friends to, and it's great for them to take ownership of this," said Mark. "There is praying, worship, testimonies – so much potential in our young people."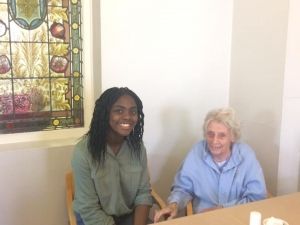 The young and older people alike enjoy nursing home visits.
People of all ages attend Ignite, from children to those in their 80s. Recently the youth – mainly the Africans and a few older Chinese girls – have started to go to nursing homes to sing for the residents, but mostly to spend time talking with them.
"This was one of the goals for the 14 to 17-year-olds, to serve and do mission in the community," Mark shared. "Both the residents and young people really enjoy the conversations and it's hard for us to leave!"
"We also have a junior soldiers' program, and soldiership classes for the older youth. We don't put any pressure on the young people to become either adherents or senior soldiers. It's up to them. It's the same with the adults. Everyone is equal and is treated the same. We are very inclusive."
The corps' deputy bandmaster, Oscar, is just 14 years old, and he has been serving in this role since he was 10.
Challenges
One of the biggest challenges the Belfast Citadel Corps faces is including and integrating the parents of the Chinese children, many of whom don't speak English.
Intentionally and actively developing young people from all cultures – a corps focus area – is also challenging, given the number of children and youth and the lesser number of active adult volunteers. A shortage of people to assist in the corps is also an issue.
"As a single officer, I can't be everywhere and, while I have a dedicated and hard-working volunteer team, we are hoping to employ a corps assistant very soon," said Mark.
"There is potential to be open 24 hours a day if we had the manpower. This area, in the city centre, is surrounded by pubs and clubs, and is always packed. We could be open all day on a Sunday as well.
"Another challenge is that most of our young people, once they have turned 18, leave Northern Ireland for England to go to university. They feel there is more opportunity for them there, which does leave a hole in our corps, and the community as a whole."
The Salvation Army is not numerically large in Northern Ireland, or the Republic of Ireland, although it is growing.
The movement is well-known, however, and very much respected, largely due to its social and community work.
During "The Troubles" (also known as the Northern Ireland conflict or the Irish conflict) of the late 1960s-1998 – approximately 30 years of political violence, armed conflict and political deadlock within the six north-eastern counties of Ireland that formed part of the United Kingdom of Great Britain and Northern Ireland that at times spilled into parts of the Republic of Ireland, England and mainland Europe – The Salvation Army was seen as neutral and non-discriminatory – willing to serve anyone and everyone, regardless of religion, ethnicity, or political persuasion.
A time for change
Just 15 years ago, Belfast Citadel was a very small corps with dwindling numbers and no young people. "They realised they had to change and adapt or they would die," said Mark. "And they did."
Now, especially on a Sunday, we have more young people than older ones, which is very rare these days. We're growing and changing as we serve God, the community around us and all those who walk through our doors.
"I love living in Northern Ireland and am looking forward to the next few years here. I love the slower pace of life, the sense of community which is much stronger, the stronger Christian values and the models of community and togetherness in both the church and in general. People have time for each other.
"The scenery is beautiful too. Just don't ask me about the weather, and all the rain!"