You are here:
Home › Global Focus › Covid 19 Pandemic Meeting The Needs Of The Worlds Mostvulnerable
Meeting pandemic needs of the world's most vulnerable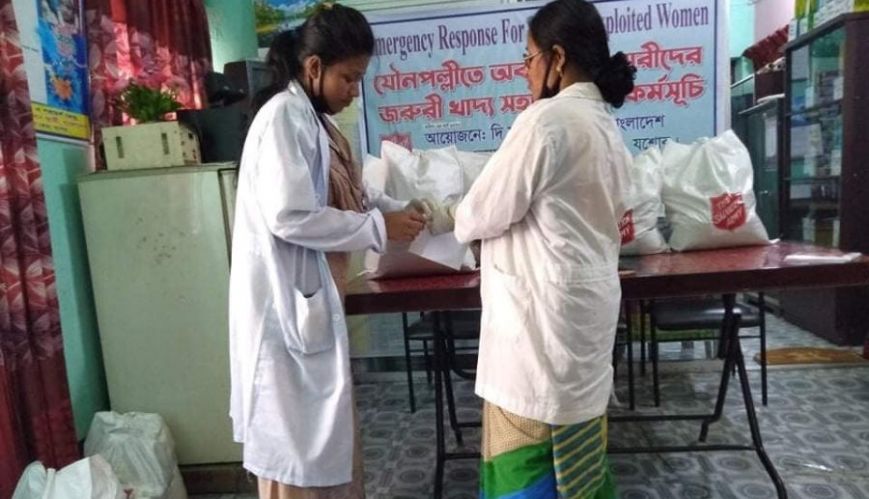 Meeting pandemic needs of the world's most vulnerable
The Salvation Army in Bangladesh is providing exploited women with groceries and essential items, as well as ongoing emotional support.
IHQ Communications
As the coronavirus continues to spread around the world, The Salvation Army is helping to meet the needs of each region's most vulnerable people in a variety of ways.
In Australia, a Salvation Army supporter has converted his brewing business to mass-produce hand sanitiser and is supplying it free to Salvation Army community services. Tim Page-Walker has adapted his business, Bellarine Brewing Company, to produce five-litre bottles of sanitiser to meet demand during the COVID-19 pandemic. The liquid is being produced to the World Health Organisation's recommended formula. See original story here.
The Salvation Army in Bangladesh has distributed 10,000 bottles of hand sanitiser in various communities, as well as installing handwashing facilities in a number of areas. In addition, 2500 hygiene packs have been provided to vulnerable members of the community.
The Salvation Army is the only organisation with access to Dhaka's brothel areas, where it works with women who are sexually exploited, often helping them to gain alternative employment. With the brothels closed because of coronavirus, the women have no income and have become even more vulnerable. Salvation Army teams have been providing them with food and ongoing support.
The Salvation Army centre in Old Dhaka, which meets the needs of women who have left prostitution, has had to close in line with government restrictions. This leaves the women vulnerable and at risk of returning to sex work. To mitigate the risk, The Salvation Army has provided each woman with an initial two-week supply of groceries.
The Salvation Army in Hong Kong has been focusing its efforts on ensuring elderly and vulnerable individuals ­­– particularly those who live alone – have sufficient supplies of sanitising hand gel, disinfectant, toilet paper and basic food including rice. It has also been supporting parents who, with school closures, are spending more time with their children. The Superkids League offers children and parents a range of activities and games, designed to build hope.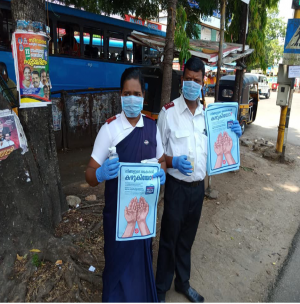 In south-western India, The Salvation Army is teaching people hand hygiene and providing sanitiser and other essentials.
With India under an unprecedented 'stay at home' order, The Salvation Army has been supporting medical staff, patients, the police, street children and homeless people in New Delhi. Around 500 patients and staff were provided with food in just one distribution at Safdarjung Hospital in the city, and drinking water and food parcels have been provided to emergency services personnel across the metropolis. Plans are being developed to deliver food parcels to quarantined households throughout Delhi. The Salvation Army women's ministries team based at India Northern Territorial Headquarters has been mobilised with bottles of hand sanitising gel to help ensure good hygiene practices are adhered to.

More than 5000 meals have been prepared by Salvation Army cadets, their training college staff and the public relations office of The Salvation Army in Indonesia. The food is being distributed to individuals who have lost their income during the coronavirus lockdown, and also to medical personnel who are serving their community. The Salvation Army has teamed up with the BRI Foundation to provide rice boxes to medical staff on duty at several hospitals in Central Jakarta. Food packages are also being given to homeless people.

In Japan, Tokyo's Koto Corps is one that has been acting as an emergency children's canteen during the closure of the country's schools. In order to adhere to the stringent health advice, personnel who prepared meals checked their physical condition and temperature in advance, disinfected their hands with an alcohol disinfectant, and wore personal protective equipment.
Salvation Army teams in Kuwait have distributed 400 bags of essential food items in collaboration with the International Community Centre. This work will be ongoing in the coming weeks as more funds are made available.
In Macau, children of The Salvation Army's education centre have been fighting coronavirus by adhering to the government's advice to stay at home. They have been drawing colourful pictures to encourage and help one another during their period of self-isolation.
An update on The Salvation Army's COVID-19 response in the Americas and Caribbean will be published on this site on Friday 3 April at 10am.