You are here:
Home › Global Focus › Eva Burrows Womens Hostel Opens In Indonesia
Eva Burrows Women's Hostel opens in Indonesia
Eva Burrows Women's Hostel opens in Indonesia
Australian officers, Commissioners Peter and Jennifer Walker, conducted the opening and dedication service of the Eva Burrows Women's Hostel in Bandung, Indonesia, last month. The refurbished hostel provides a safe and nurturing home for up to 24 women who have grown up in children's homes but have nowhere to live once they reach university age.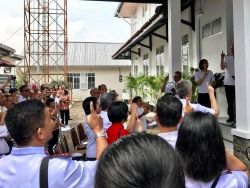 Commissioner Peter Walker addressed the congregation, paying tribute to the late General Eva Burrows, after whom the hostel is named.
Captain Anne Jeffrey, Assistant National Secretary for Women's Ministries, gave the prayer of dedication during the service. "It was my prayer that the Eva Burrows Women's Hostel would be a place of refuge and hope," said Captain Jeffrey.
"I prayed that as it is God's desire to place the lonely in families, that this would be a home to many women throughout the years to come, one where they might find a sense of belonging in The Salvation Army 'family'."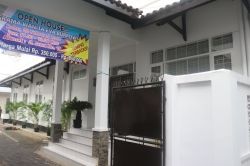 The renovations and refurbishment of the home, including a new kitchen and bathroom facilities, improved security and repairs to doors and windows, was made possible by the Australia Southern Territory's Women's Ministries "Making it Happen" project.
The project focuses on making a difference in people's lives, especially women and children who live in poverty, are exploited or suffer discrimination of any form.
Over the past 10 years, the project has contributed over $600,000 to projects around the world.