You are here:
Home › Global Focus › Global Focus Sri Lanka Territory A Haven For Women And Children
Global Focus: Sri Lanka Territory - A haven for women and children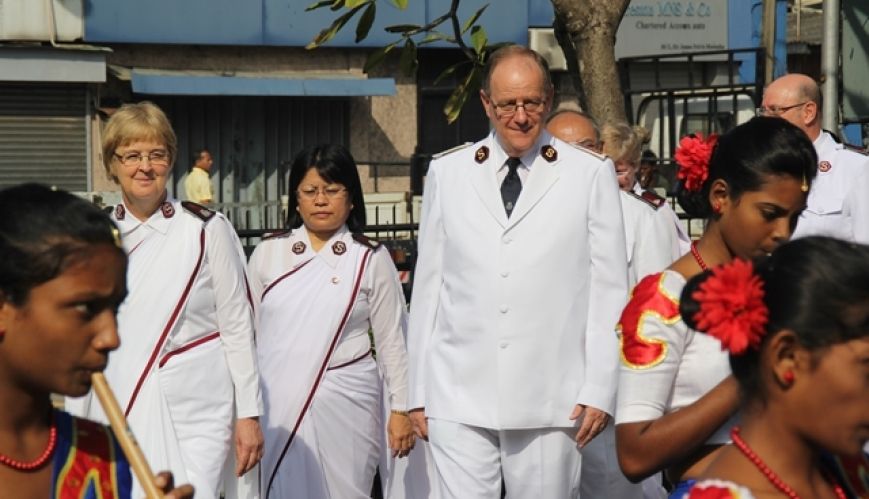 Global Focus: Sri Lanka Territory - A haven for women and children
How well do you know The Salvation Army world? This month, our Global Focus column highlights the mission of The Salvation Army in Sri Lanka
The Sri Lanka Territory is part of the South Asia Zone of The Salvation Army and its headquarters is in the capital, Colombo. The territory contains two divisons (Rambukkana and Western), two Districts (Kandy and Northern) and two Sections (Eastern and Southern).
The territorial leaders are Colonels Alistair and Marieke Venter (Territorial Commander and Territorial President of Women's Ministries respectively).
Australian officers serving in Sri Lanka are Major Peter and Captain Tara McGuigan, who began their appointments in October last year. Major Peter is the Communications and Public Relations Secretary and Captain Tara the Youth and Candidates Secretary.
HISTORY
The Salvation Army has been active in Sri Lanka since Captain William Gladwin arrived from India and held the first open-air meeting near the clock tower in Pettah (the thriving market area of Colombo) on 26 January 1883.
The first Sinhalese Salvationist was Arnolis Weerasooriya, then a young teacher at Trinity College in Kandy. Weerasooriya was looking for a deeper experience of God and ways to be more actively involved in God's work. He and Captain Gladwin formed a team (sometimes helped by Commissioner Frederick Booth-Tucker) to travel throughout the island and establish the ministry of The Salvation Army in towns and villages.
Weerasooriya became a Salvation Army officer and rose to become a Colonel, with a reputation and influence that went beyond the shores of Sri Lanka. He died from cholera as a relatively young man after nursing a dying missionary in India. Weerasooriya is buried in Mumbai. At that time he was the Chief Secretary for All India, when Sri Lanka and India were one territory.

SALVATION ARMY LANDMARK
In the heart of Colombo's Central Business District is The Salvation Army's Territorial Headquarters compound. As well as the three-story THQ building are two hostels accommodating 168 young women from rural areas working in the city and the Hope House complex. This is a large multi-functional community centre comprising a school for more than 100 children, a day care centre, a physiotherapy unit, a Salvation Army shop, two guest flats, the Western Divisional Headquarters and apartments for THQ officers.
Also in the compound, which is triangular in shape and a well-known city property, is Colombo Central Corps, one of eight corps in the Greater Colombo metropolis.
This is a vibrant corps focused on prayer and outreach, with band, songsters, worship ensemble, and many young people seeking God and the opportunity to make a difference with their lives.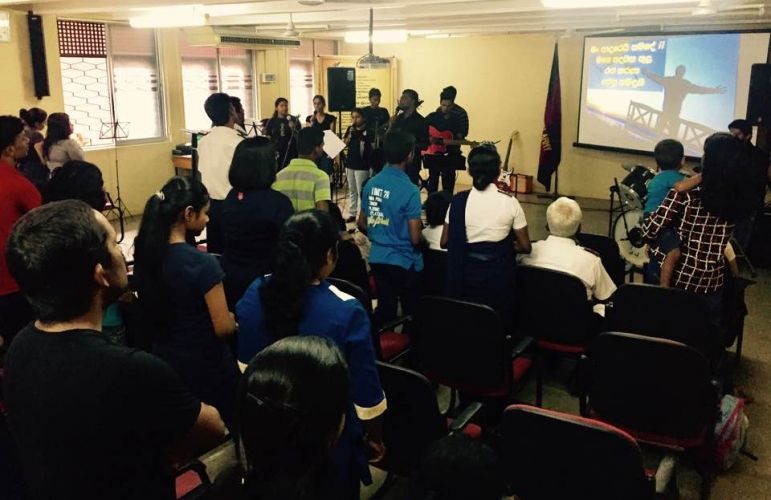 GENERAL'S VISIT
The Sri Lanka Territory was proud to host The Salvation Army's South Asia Zonal conference in December 2015, which was attended by General André Cox and Commissioner Silvia Cox, the World President of Women's Ministries.
Fifty-five delegates gathered for this important event, including all zonal, territorial, command and regional leaders. The South Asia Zone comprises The Salvation Army's six Indian territories (Central, Eastern, Northern, South Eastern, South Western and Western), with the Pakistan Territory, Sri Lanka Territory, Bangladesh Command and Middle East Region.
In addition to several days of discussing matters of importance, there were times of vibrant worship and rich fellowship. A group of Salvationists and young people from the Sri Lanka Territory also presented a cultural program filled with music, dance, rhythm, colour and even opportunities to sample some Sri Lankan cuisine. Before the leaders and delegates returned to their appointments, they enjoyed Sunday worship at Colombo Central Corps.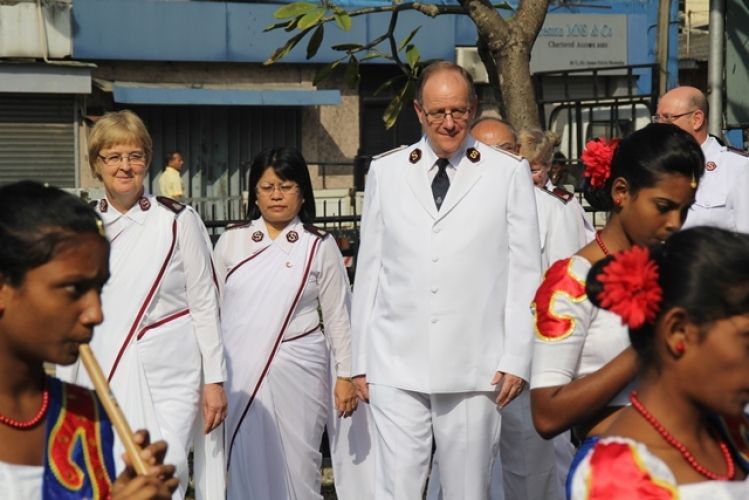 General André Cox and Commissioner Silvia Cox during their visit to Sri Lanka in 2015.
THE HAVEN AND SUNSHINE HOME
The Salvation Army's work in Sri Lanka is multi-faceted. Feeding and education programs, Safe Water wells and livelihood development projects meet critical needs, particularly in rural areas. The Salvation Army's Residential Services continue to serve the nation with comprehensive welfare care for people who, due to the untenable circumstances of their lives, need a place of safety and nurture and an opportunity for a fresh start and a more stable future. This is a serious and longstanding investment into Sri Lanka by The Salvation Army.
 One of the longest-running residential services is The Haven and Sunshine Home in Colombo. Here, The Salvation Army accommodates up to 100 women, babies, children and teenage girls at risk due to the untenable circumstances of their lives. The home provides a safe, loving and learning environment in which residents are equipped and empowered for a more stable and self-determined future.
 One of its former residents is Colonel Rohini Hettiarachchi, now Territorial President of Women's Ministries in the India South Western Territory. Colonel Rohini was born and spent her formative years at The Haven. She recalls her childhood with fondness.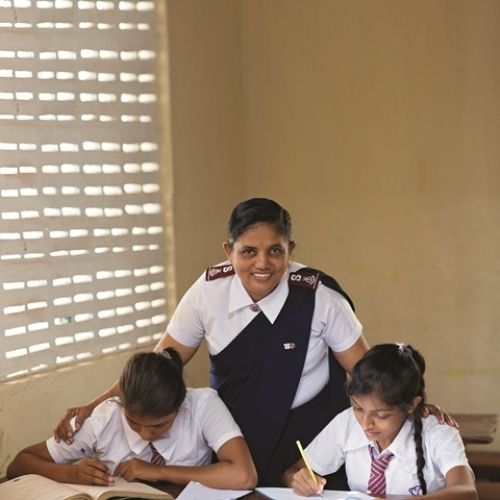 Colonel Rohini spends time with some of the girls at The Haven.
SRI LANKA TREK
The Salvation Army's Adventure Fundraising Program in Australia is running a Sri Lanka Trek in October this year (2017).
The trek, which will raise money for women, children and families in Australia who are in crisis and have been impacted by domestic violence, homelessness and modern slavery, will follow a route through Sri Lanka's central highlands. Each trekker will have a fundraising goal of $4000.
Trekkers will experience rainforests, tea plantations and villages along the way.
Go to salvos.org.au/adventure for more information.
Additional stories
To see how The Salvation Army is helping Sri Lanka heal after a deadly tsumani and civil war, go to salvationist.ca/2017/02/helping-sri-lanka-heal/
Sri Lanka reflections
Major Peter and Captain Tara McGuigan, Salvation Army officers from Australia, share their thoughts and experiences on their first several months serving in Sri Lanka.
Major Peter McGuigan: Creating a better tomorrow
Our appointments are challenging to say the least, but both of us are making steady progress. I am currently engaged in identifying and meeting potential members of a National Advisory Board. The board will comprise some of the country's leading citizens across relevant sectors, including banking, communications, law, accounting, risk management, medicine, retail, manufacturing, etc. Please pray for the advisory board initiative as it will be key to the future of the territory moving towards financial independence.
We have also launched a national brand-building initiative with the message "You can create a better tomorrow". The middle "o" in "tomorrow" is replaced with the Red Shield, similar to what we have done with the word "hope" in Australia. My dream is that the whole country will come on board with The Salvation Army to "create a better tomorrow" for Sri Lanka. The Salvation Army's services in Sri Lanka are critical to the life of the country in many ways, but the Army has not been good at telling the story of how its work is transforming the lives of Sri Lankans every day.
It is vital that this initiative bears much fruit. A very significant breakthrough occurred two weeks ago when the country's foremost media conglomerate agreed to be our national media partner. This will involve strategic television and radio exposure in the three predominant languages of the country – Sinhala, English and Tamil. We are also pursuing national partners in other areas such as food and apparel, plus major funding partners. There will be a nationwide media-driven appeal for funds in September.
The territory is also busy preparing for a visit of the General and Commissioner Silvia Cox in April. A groundswell of excitement is building around their coming to Sri Lanka.
With her team of divisional youth officers, Tara is also making progress, particularly in inspiring young people to step up to leadership, both locally and as Salvation Army officers. Eight candidates have been accepted to train for the Messengers of Compassion session starting next month. This is critical for the future of The Salvation Army here. Across the country, youth and children's camps are being organised for the coming months.
In all things, we seek the mind and heart of God. In fact, moment by moment. It is God's mission and we are his mission agents. Thank you so much for your prayers and your support. We are very happy knowing that we are where God wants us to be.

Captain Tara McGuigan: Doing much with little
Something I'm seeing increasingly as I spend time here is the incredible effort officers and soldiers in Sri Lanka put in to the mission. Resources are much less and they manage to do so much with so little. When we are resource-poor we depend so much more on the Lord's miraculous provision, we make a little go a long way, we share so much more, we expect so much less, we give of ourselves sacrificially.
Most officers work a seven-day week with no thought of life being any different. Peter and I find that more often than not this is the same for us. Public holidays are secured to run programs and teaching. Corps officers put in with their meagre allowances when the money runs out. Kids and youth programs are vibrant and full. The Army here is comprised mostly of youth and kids and young families.
The leaders are kind, considerate and patient. They make tough decisions but know how to make these known, all the time respectful of a person's dignity and humanity. They are gentle with the people they lead. They give time for decisions and are open to moving from the standpoint if there is good reason. They are humble people who come from different countries with a great deal of leadership experience behind them. They themselves have known hardship and so appreciate the humanity of people.
I am incredibly blessed, daily.
Captain Tara and Major Peter McGuigan are happy serving in Sri Lanka, knowing that is where God wants them to be.