You are here:
Home › Global Focus › Italian Soldier Using War Cry To Realise Pisa Dream
Italian soldier using War Cry to realise Pisa dream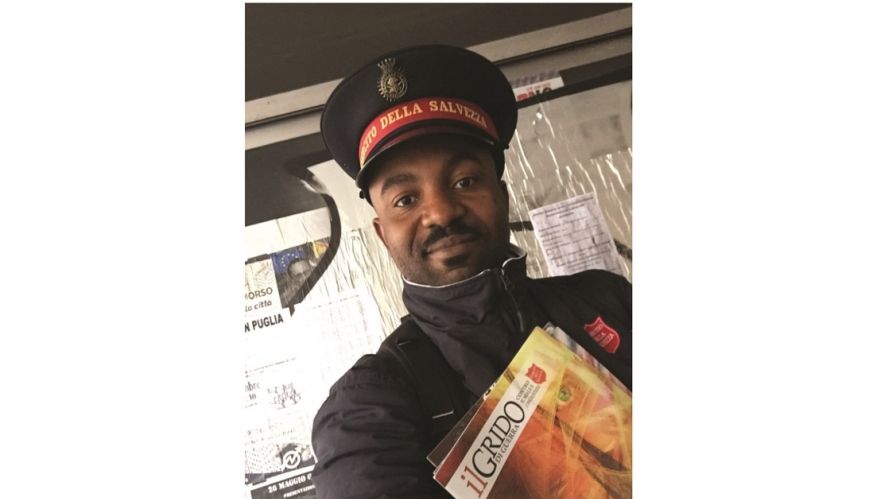 Italian soldier using War Cry to realise Pisa dream
Gildas, an accepted candidate and senior soldier in the Florence Corps, Italy, had a dream. He wanted to see a vibrant and active Salvation Army corps established in the city of Pisa, 85km west of Florence.
Gildas, who lives and works in Pisa, had been discussing his thoughts, hopes and aspirations with Major Estelle Blake, Florence Corps Officer, and they had been praying about a new corps in Pisa for some time.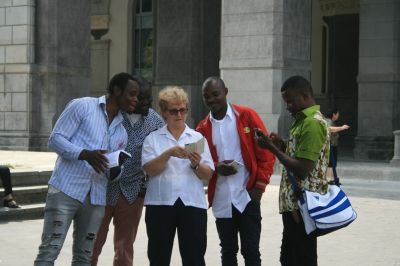 Sharing the gospel with migrants, Turin, Italy.
He had also been distributing the Italian War Cry magazines to neighbours and colleagues in Pisa, as well as leaving them in surgeries, pizzerias and waiting rooms at the council. People began to show interest, and when he invited a couple of friends to go with him to the Florence Corps, they went, and wanted to know more.
Then, late last year, Lieutenant-Colonel Massimo Tursi, Officer Commanding – Italy and Greece Command, shared his vision for 2018 at the Command's National Assembly, and the reaction was swift.
"When Lieut-Colonel Tursi challenged us all to all identify a place to launch a new activity or expression of Salvation Army worship, it made my heart leap and confirmed all that God had been saying to me and Gildas," said Major Blake.
"I spoke to Gildas straight after the assembly, and shared my thoughts about Pisa. He told me he'd had a dream about The Salvation Army marching down his street in Pisa, with him at the rear, searching for the Pisa Corps. This confirmed my thoughts.
"We shared this dream at a Florence Corps meeting where we discussed the recommendations and questions posed by the National Assembly and there fixed the date, time and location for the first gathering in Pisa."
In November last year, The Salvation Army held its first small gathering in Pisa with Major Blake, Gildas and his wife, Wally, and three interested people.
"We shared the history and present ministry of The Salvation Army, but more importantly, the gospel and transforming ministry of Jesus," says Major Blake.
The second group meeting in Pisa, Italy, where those attending committed to monthly meetings.
"We ended the evening sharing food, praying together and fixing and date for a Christmas celebration.
At the end of the evening, Gildas gave everyone three War Cry magazines, one to read and two to share.
"As a result of all that has happened through the sharing of the War Cry, one of the Pisa group, on a planned visit to Chicago, spent time with The Salvation Army there," said Major Blake. "Another asked for prayer, and shared the answers to that prayer, too.
"This is Pisa. Sharing War Cry."
The Christmas celebration had to be moved to a bigger apartment due to the growth in the group.
During this celebration, Lieutenant-Colonel Tursi, shared thoughts from the Bible, and the group also enjoyed singing and food.
The group now meets monthly for worship and Bible discussion – and assist Gildas with continued distribution of the War Cry! Gildas's dream of The Salvation Army in Pisa is being realised.
The Florence Corps did not want to stop there. Major Blake explained the corps also wanted to focus on the 2018 vision and the national core values of identity, spirituality, visibility and professionalism – and reach out into their own community and surroundings.
Cheering on the runners in the Florence Marathon.
They decided to mobilise during the Florence Marathon in November. The corps held its meeting on the Saturday, so they could assist on Sunday at the marathon.
Despite torrential rain, they set up The Salvation Army stand, explaining what the Army is and its work; they gave out hot drinks, water and sweets, cheered on the runners, and held several conversations with passers-by.
"Several people asked us to do this regularly," said Major Estelle. "We want to be a visible part of the community.
"This is what is happening in Tuscany [a region in central Italy with Florence as its capital] and it's exciting.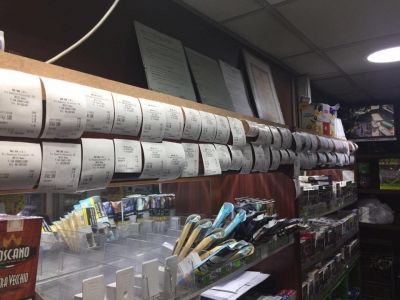 Providing suspended cappuccinos for those experiencing homelessness.
"Elsewhere in the Command, some corps are hosting outdoor Sunday schools, others are standing in front of their buildings and singing after or before the meetings. Some have opted for "church in the piazza" to be visible, others have held community meals in their halls and gardens.
"In response to our focus on the four core values, much prayer and discussions, we have seen new people attend our meetings and Salvationists being more visible in their communities.
"There is excitement in the Command to see growth and discipleship and we are praying, knowing there will be more new openings as well.
"If you want to see an Army mobilised by God, to see people rising to the challenge of God and the vision of a leader, check out The Salvation Army in Italy and Greece!"