You are here:
Home › Global Focus › Many God Moments Shared In 100 Years Behind Bars
Many 'God moments' shared in 100 years behind bars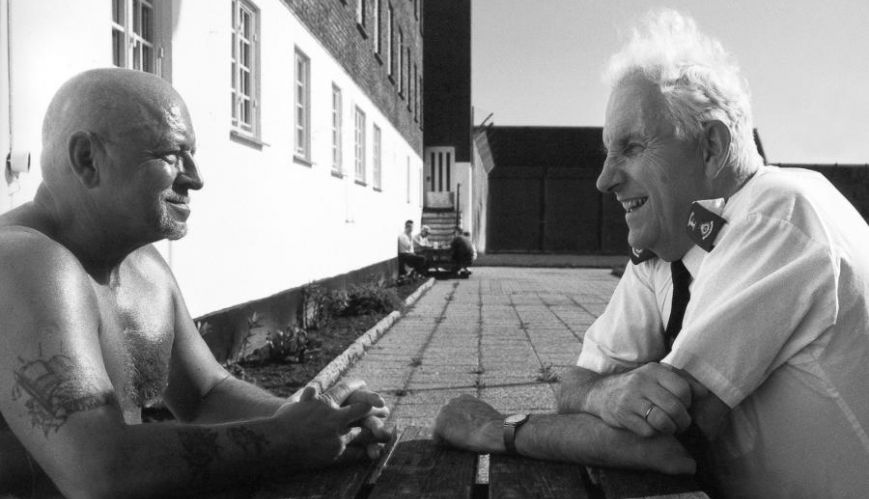 Many 'God moments' shared in 100 years behind bars
Alv Tollisen in conversation with an inmate at Norway's 10-year-old maximum-security Halden Prison, 110km south of the capital Oslo. Alv has been a chaplain there for those 10 years. 
By Darryl Whitecross
Conversions, 'God moments', tears of remorse and repentance – even soldier enrolments – are some of the many experiences of The Salvation Army's prison chaplains in Norway over the past 100 years.
Since its beginning in 1920, the ministry has grown to where now eight chaplains go in and out of prisons across the country sharing with male and female inmates, offering pastoral care and leading worship services.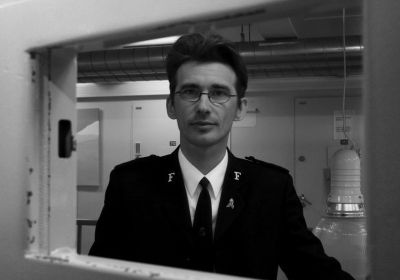 Head of The Salvation Army prison ministries in Norway, Captain Yury Zelentsov.
Head of the prison ministries in Norway, Captain Yury Zelentsov, said it was such a valuable ministry with "a lot to tell". "Where do I begin?" he said.
Yury said the eight chaplains, including himself, visited 14 prisons across Norway four days a week and run Sunday meetings "once or twice a month" "The Salvation Army visits more than 20 prisons nationwide but some visits are done locally by the corps and primarily are Sunday meetings," Yuri said.
As part of the visits, Yuri said chaplains were also "on the lookout" for the victims of trafficking. "We bring a piece of normality into a highly abnormal world. We provide pastoral care, a listening ear, a shoulder to cry on."
The chaplains also run three-week-long "silent retreats", which are based on St Ignatius Layola's centuries-old spiritual exercises, which are a compilation of meditations, prayers and contemplative practices developed to help people deepen their relationship with God. 
Yury said the Army also helped with an inmate's reintegration and resettlement after release through its Safe Way Home program. "We will do anything and everything to help men and women caught up in the world (or just one deed) of crime find their balance again, look with hope into the future, change."
Several of the team are multilingual, which Yury said was valuable where there may be a shortage of interpreters. Being able to pray and bring scripture to someone in their "mother tongue" could mean a lot.
Yury said that, some years ago, he attended an International Prison Chaplains Association conference in Cambridge in England addressed by a former Archbishop of Canterbury, Dr Rowan William.
Major Marit Skartveit stands in front of a mural at Halden Prison, which was done by Norwegian graffiti artist, Dolk (Andreas Hamran Færø). Marit has worked as a prison chaplain in Halden since 2017. She runs the retreat program there.
He said Dr Williams' approach was "profoundly simple": 'Who am I when I'm not a 'criminal'?'
"This is the heart of our work," Yury said. "We follow Paul's words in Hebrews 13:1-3 to 'keep on loving one another as brothers and sisters. Do not forget to show hospitality to strangers for, by so doing, some people have shown hospitality to angels without knowing it. Continue to remember those in prison as if you were together with them in prison and those who are mistreated as if you yourselves were suffering'.
"It is not that easy, you know, as there are people who are committed to the life of crime and their Imago Dei is heavily distorted. Some have done horrible things. We never push for a conversion. We are to make disciples of all people, therefore, by whatever we do, in our services; in our very presence in the life of the inmates, we try to create an atmosphere where they have a chance to grow in their faith and we make sure that when the time comes for 'the big question', we are there for them."
Yury said with joy that the enrolment of an inmate as a soldier was among the "God-moments" the chaplains had been blessed to experience: "Yes, we did. It would have been odd if we didn't. In the end, it is not we but God who produces the change of heart. God has been there before we came. He's doing the work. We are not the ones leading to change.
"Being a part of it is extraordinary. This is the best job in the world. When you see a human being, ruined by their choices, rising again and finding meaning, what is better than that? We are all created in the image of God but, in some of us, this image has been destroyed. When you see it repaired and the image shines through, it's amazing."