You are here:
Home › Global Focus › Mobile Kitchen Keeping Kids Cruisin Over Summer
Mobile kitchen keeps kids cruisin' over summer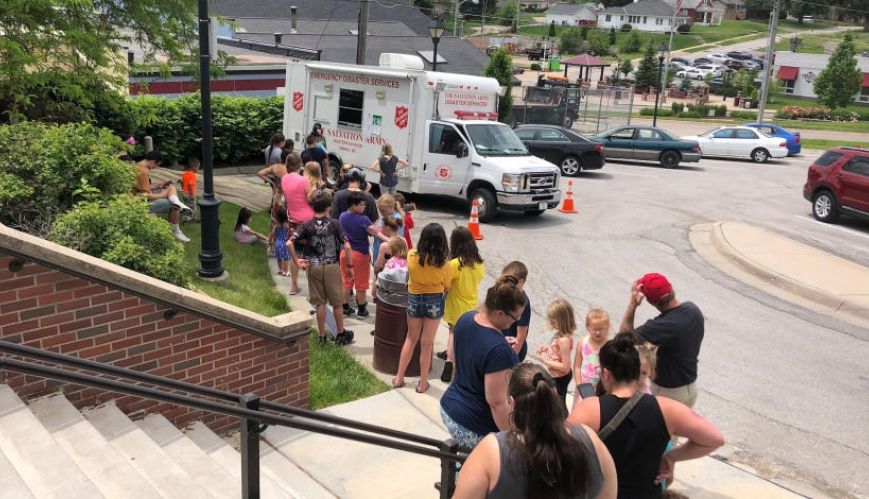 Mobile kitchen keeps kids cruisin' over summer
Families line up at the Kids Cruisin' Kitchen for a meal served as part of a ministry run each summer by The Salvation Army Western Division of the United States Central Territory.
By Darryl Whitecross
For the first time in its 10-year history, The Salvation Army Western Division of the United States Central Territory is 'going it alone' with the annual Kids Cruisin' Kitchen program, which feeds "food insecure" children in Omaha, Nebraska.
Pete Hoskin, who has been a member of the Kids Cruisin' Kitchen leadership team for several years, said the program was usually done in collaboration with the Food Bank for the Heartland but, due to the COVID-19 pandemic, the Food Bank had needed to focus on its own emergency relief programs this year.
Divisional Secretary Major Jonathan Moore said while the division would be responsible for the program this year, it was hoped the Food Bank would be back on board next year. He said the collaboration and coaching from the Food Bank was "a partnership we fully anticipate continuing in the years to come".
Pete said the program did not operate last year due to COVID-19 protocols and restrictions, instead having drive-through facilities and an on-site distribution model. This year, it returns to a more traditional model.
He said Kids Cruisin' Kitchen provided free, hot, nutritious lunches to children "where they live and play", such as apartment complexes, libraries and parks: "Kids Cruisin' Kitchen serves kids from the pre-K level up through the high school level."
The initiative is run during the summer school holidays when schools were closed from June until early August.
Pete said Nebraska Department of Education figures showed that about 45 per cent of children in Nebraska received free or reduced-price school lunches but, when schools closed for the holidays, those students and their families were forced to seek "other sources of food".
The canteen vehicles used in the program are part of the divisional fleet, of which there are three. These vehicles are fitted out with a fridge, stove and microwave oven, but all the meals for the program are pre-cooked. "A local institutional kitchen does all the meal prep," Pete said.
The canteens, operated by volunteers, are driven to "various sites in the field across a wide geographic area. Pandemic safety protocols such as masks and social distancing are followed.
Renate Keilbach, a regular volunteer, said the ministry was a good way to connect with the young people in the community: "A lot of kids don't have many people to talk to so we come out here and engage with them while we serve them. I look forward to [seeing] their smiling faces, feed them, talk to them [and] ask them how their summer is going." 
Michelle Stewart, whose child has been provided with a meal, said the program helped her family "a lot". "On the days when I can't provide a meal for my son, it's nice to have this. It really helps the community here," she said.
Divisional Commander Major Greg Thompson said the ministry was a "critically important service" in Omaha. "It's not just a highly effective mobile summer feeding program, it's also a wonderful opportunity for our teams to provide a ministry of presence to those in need during uncertain times. We are grateful to the officers, staff, and volunteers who make it all possible."