You are here:
Home › Global Focus › Royal Treatment For Refugee Centre In Romania
Royal treatment for refugee centre in Romania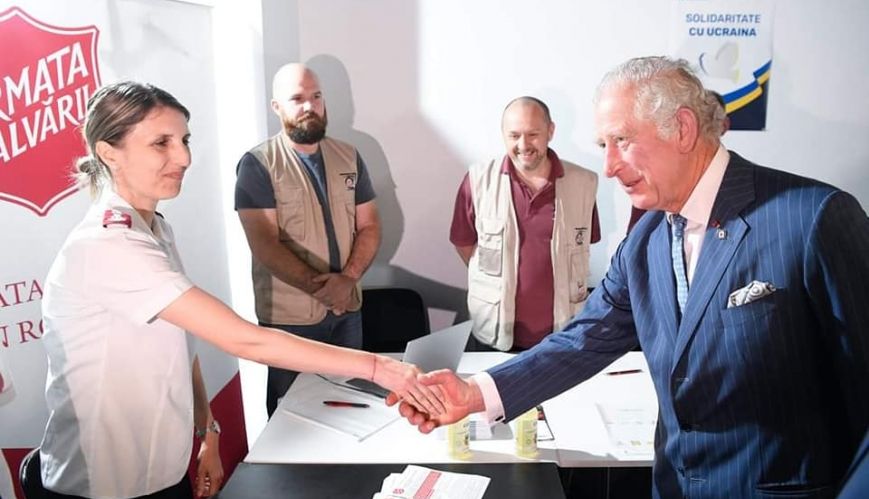 Royal treatment for refugee centre in Romania
Prince Charles meets Major Roxy Sandu, Romanian divisional leader, during a royal visit to Romania's Romexpo Ukrainian Refugee Centre.
Salvation Army officers and volunteers joined others in welcoming his Royal Highness, the Prince of Wales, yesterday when he visited the Romexpo Ukrainian Refugee Centre in Romania.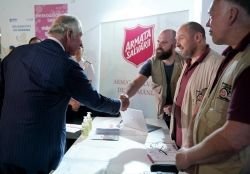 The Salvation Army International Emergency Response Team members greeted Prince Charles as he toured the refugee centre.
Her Majesty Margareta, Custodian of the Romanian Crown, accompanied Prince Charles, and together they toured the facility and saw firsthand the comprehensive response of the Romanian authorities and internal organisations, both national and local, to the Ukrainian humanitarian crisis.
Since the Russian invasion, Salvation Army teams have been part of the response when they met Ukrainian refugees fleeing the war on the Romania Ukraine border with food, blankets, and emergency supplies. Their response now includes emergency accommodation, material aid, anti-human trafficking, activities for children, help with finding employment and more.
Prince Charles and Crown Princess Margareta thanked and shook hands with every volunteer and employee at the centre, including The Salvation Army International Emergency Response Team and Romanian divisional leaders, Majors Ionut and Roxy Sandu.
Major Ionut presented a short report of the Salvation Army's activity and involvement in the crisis to the royal visitors.
Other dignitaries were also present, including the mayor and vice mayor of Bucharest, Romania's capital; the British Ambassador to Romania; and leaders of various international organisations.