You are here:
Home › Global Focus › Salvation Army Reintroduces Caterpillar Farming To Reduce Malnutrition In The Democratic Republic Of Congo
Salvation Army reintroduces caterpillar farming to reduce malnutrition in the Democratic Republic of Congo
Salvation Army reintroduces caterpillar farming to reduce malnutrition in the Democratic Republic of Congo
To address the challenge of malnutrition in the Mandiba district of Democratic Republic of Congo (DRC), an innovative Salvation Army project has begun the journey of working with locals to conserve and reintroducing caterpillar species to the local habitat.
The Army's United Kingdom with the Republic of Ireland Territory provides funding and technical support to the project, as well as linking local populations to experts in edible insect production for ongoing practical assistance.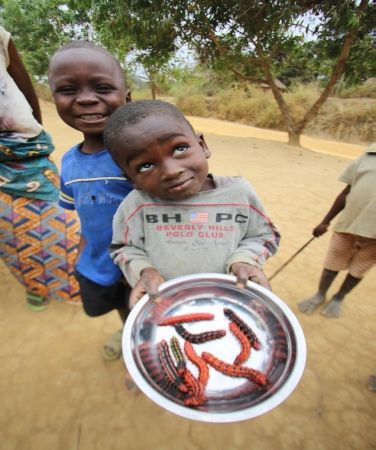 Isaac and Minze display their harvest of caterpillar in Kilueka in Democratic Republic of Congo.
Deforestation, slash and burn and severe soil degradation has led to reduced availability of protein-rich foods such as game, mushrooms, fish and edible insects like caterpillars, in the Mandiba district. This has resulted to rural communities struggling with high levels of adult and child malnutrition.
The caterpillar farming project aims to increase the production of caterpillars and forest cover. This will boost nutrition, create opportunities for income generation, and preserve the forests that are under threat from timber and charcoal burning.
Caterpillar production is beneficial because it links biodiversity management with food and nutrition security. They are loaded with protein and iron, and nutritionally can provide the body's necessary daily protein requirements.
Caterpillars are a wealthy local resource in DRC, culturally appropriate, and cheaper to produce than most other animal protein sources. Any surplus produced can be sold in the markets, enabling families to purchase other goods. Women can fully participate in caterpillar farming and production.
Working closely with Nkunkus (village elders' leaders), each of the 12 villages in the district has established a Caterpillar Management Committee.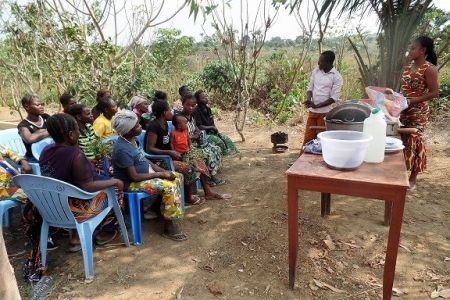 Lessons in caterpillar preparation and cooking.
The Salvation Army corps in Kilueka and the corps members are involved in the project as beneficiaries and in the Caterpillar Management Committee. The corps officer is also involved in mobilising and supporting the community in this project.
Each committee is trained in the best methods of growing trees that make good habitats for caterpillars. The committee members then teach the community the best techniques for breeding caterpillars, as well as acting as a resource point for the villagers and supporting them in the farming process.
The breeding of caterpillars is becoming very successful and the communities are reaping the nutritional benefits from them.
In collaboration with local primary schools in Mandiba, five community nurseries [plant] have been established. Each nursery contains 3000 to 3500 plants, made up of seven to eight species of caterpillar food trees.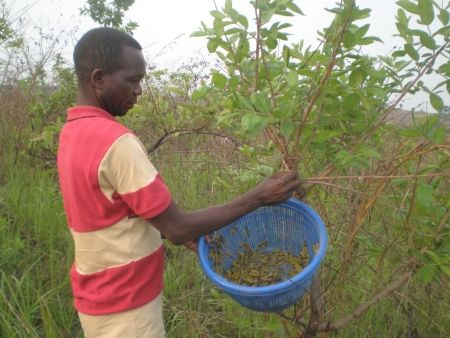 One of the project participants placing caterpillar on food trees for breeding.
Teachers and students are responsible for looking after the tree seedlings as they also learn together how to breed caterpillars. The seedlings are distributed to the communities who have planted over 5000 trees.
Once planted, these trees attract the moths of edible species to lay their eggs which eventually produce caterpillars.
A breeding workroom has been established within the community to breed different species of caterpillars and to help hatch caterpillar eggs. Once the eggs are hatched within the workroom, the caterpillar larvae are transferred to the trees and, in this way, different species are being reintroduced back to the villages.
Within the communities, training on caterpillar breeding, harvesting and preservation isprovided. Women are trained in different caterpillar cooking techniques and how to integrate caterpillars into local diets. Specific recipes and techniques regarding cooking for weaning infants and young children are also provided. This is also done through songs and drama.
The project hopes to expand and reach out to 50 more villages and seven schools within the next three years. This will benefit approximately 10,000 people.
The project expansion will require additional investment in terms of funding and any support will be much appreciated.
If you would like to donate to this project, please click here.
Violet Ruria is the Programme Advisor; Sustainable Livelihood Development (Africa), The Salvation Army International Projects Office, United Kingdom with the Republic of Ireland Territory. 
Download file