You are here:
Home › Global Focus › Salvationist Helps Launch Bible College In Timor Leste
Salvationist helps launch Bible college in Timor Leste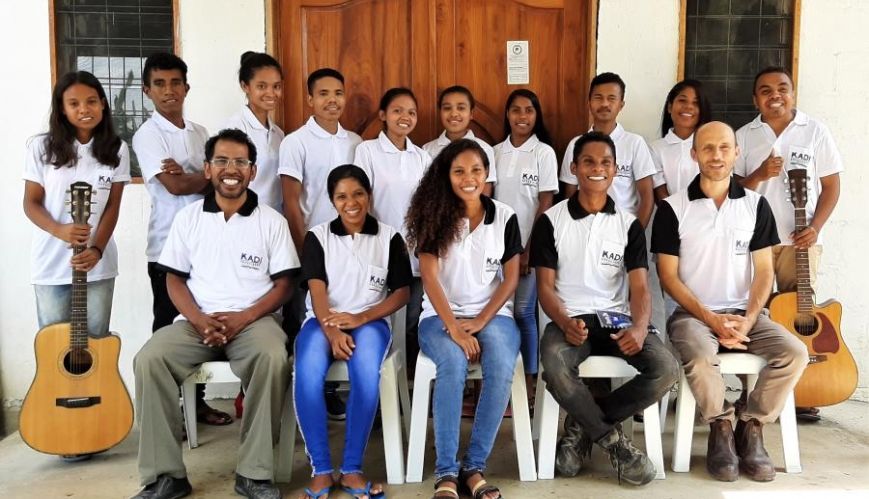 Salvationist helps launch Bible college in Timor Leste
Australian Salvationist Samuel Bacon (front row, far right) with Bible college students (back row) and college staff (front row).
By Kevin Elsley
The challenge of the Great Commission given by Jesus to go and make disciples of all nations is being pursued in East Timor, where people from different denominations, including The Salvation Army, are collaborating to prepare young people for ministry.
Bible college students learning computer and IT skills.
Only an hour's flight from Darwin, the country is witnessing something that has never been available for young people – a college offering full-time training and teaching for youth to serve God in their respective churches.
The college is the fruition of a vision that Lismore Salvationist Samuel Bacon had during his family's time living in the Timorese capital of Dili. Samuel, with other church representatives, established a School of Christian Ministry to provide an on-campus Bible college experience for one year full-time.
Launched in 2017, the school has doubled its inaugural intake of students this year. Not everyone who applies is accepted, Samuel says, as the selection process looks for young people with real commitment and desire to apply what they have learned.
"Even though churches say they need people involved, they often don't have viable pathways for young people to be engaged. This is not just the situation in Timor, but can be a challenge globally," he says.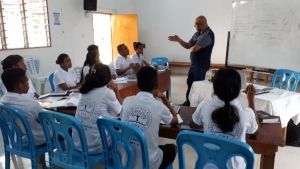 Students study a range of subjects at the Bible college.
The project began when an organisation called Kadi Kapasidade (Timorese for 'sharpen capacity') was launched, with Samuel as one of three directors. Kadi is meeting the challenge of enhancing the school by in-country activities, aided by the organisation's sister charity in Australia called Kadi Timor. There is also sponsorship from churches in Australia, including The Salvation Army.
The School of Christian Ministry is about empowering Timorese young people to be involved in God's work. Kadi calls on churches to send their finest young people and endeavours to provide them with a high-quality training program.
Kadi engages in a number of different activities to support communities and churches in East Timor, and the school is just one of them. Other activities include Bible translation, a Christian bookstore, recording studio, a Christian song book, agriculture development, and improving water, health and sanitation.
The nine students in the 2020 enrolment represent five different denominations. Samuel believes that to extend God's kingdom in Timor the country needs a Bible college to prepare young people for ministry and would like to see all churches stepping out in faith to let the next generation have a go.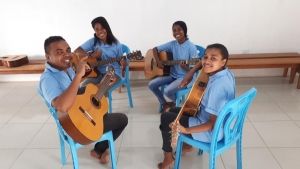 Music is a favourite with many of the students.
Teachers at the school come from positions within their own organisations and typically undertake a two-hour session each week. They teach a range of subjects that includes the Old and New Testaments, the life of Jesus, introduction to ministry, Bible study methods, and children's ministry. Practical subjects are also taught including music, computers, carpentry, hospitality, fish farming, chicken raising, gardening, sport, sewing and construction.
The students are required to engage in ministry each weekend in the church of their denomination and are given time and training to meet with God each morning for an hour. They also meet for Bible study and mentoring.
The school's vision is to make a quality investment in the training of young people for ministry in God's kingdom, equipping them with a sound understanding of God's Word and with the skills to learn more as they grow in him. When they complete the course they'll have a range of practical skills and resources that they can use to serve in their churches. 
The school is asking for prayer to cope with government restrictions due to the coronavirus; for students to grow in their relationship with God; that church leaders will allow their young people to get involved in ministry and that Timorese churches will catch the vision to send their best to prepare for God's service. 
For more information, or if anyone would like to be more involved in supporting ministry in Timor-Leste they can contact Samuel Bacon at samuel.bacon@kaditimor.org
Kevin Elsley is a soldier at Lismore Corps, Northern NSW.