Tiny houses making a big impact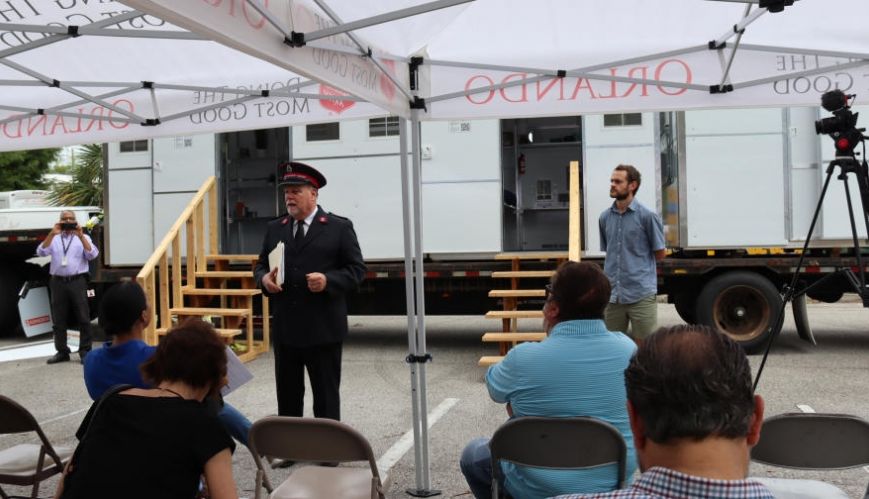 Tiny houses making a big impact
Major Ken Chapman, The Salvation Army Area Commander for Orange and Osceola Counties on the east coast of America, addresses guests and the media on the fundraising initiative to set up a village for people experiencing homelessness. Ben Simons (right) gave a presentation on the shelters that would make up the village.
By Darryl Whitecross
The Salvation Army in Orlando, Florida, is raising money to fund an initiative to buy several prefabricated temporary shelters as part of a new way to house people experiencing homelessness in Orange and Osceola counties on the United States east coast.
Major Ken Chapman, Area Commander for the counties, said the shelters would provide an easy, portable, moveable and affordable solution to caring for "the most vulnerable in our community".
He said the Army was bracing for "a big spike" in the numbers of people losing their homes and facing homelessness in the wake of the financial crisis brought on by the COVID-19 pandemic.
On the other side of the country, in Los Angeles County, the California South Division recently opened its own village of the shelters in Harbor City, Wilmington, south of Los Angeles. It is to be known as The Salvation Village.
California South Divisional Secretary Lieut-Colonel John Chamness said an estimated 66,000 people regularly slept rough on the streets in the division each night, and the Army aimed to help as many of them as possible with a bed.
The Army provides 5375 beds in southern California for the homeless, including 3506 in Los Angeles County.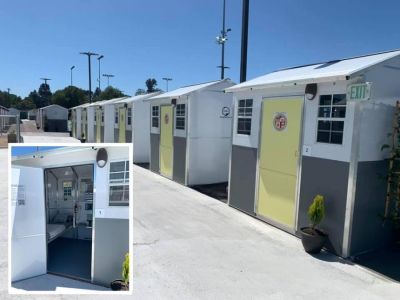 Part of The Salvation Village of tiny shelters in Harbor City, Los Angeles. Inset: A view inside a shelter.
Pamela Davis, the Divisional Director of Media and Public Relations, said 14 such villages had been opened in the past 18 months, creating more than 1700 beds for people experiencing homelessness in the country.
Pam said many students in the SoCal Division struggled to find housing: "They often have to decide whether to pay tuition or rent." Twenty-five "tiny houses" in the latest village were set aside for student accommodation. The village also has an onsite laundry and pet accommodation.
Pam said that, almost immediately, the Army could house 45 people, including one student. 
In Orlando, Ken said the Army was looking to involve government agencies and businesses to help it fund 50 shelters – to hold up to 120 people – and the space for them to be constructed.
The shelters cost between $US9000 ($A13,000) and $US13,000 ($A18,000) depending on size and fitout and without bathroom facilities. A bathroom unit costs about $US39,000 ($A53,000).
Ken said $US300,000 ($A410,000) of the $US1 million ($A1.36 million) needed for a village of 50 units had so far been raised.
"This idea is a wonderful alternative to brick and mortar buildings," Ken said. "These kinds of village concepts, along with case managers, help each beneficiary achieve stabilisation and lead them to permanent housing.
"Along with the good news of the Gospel, our people will receive the tools needed to become productive citizens in our community."
A second chance
The shelters are produced by Pallet, a company in Washington State, which has a specific interest in providing accommodation for people experiencing homelessness.
Pallet recently trucked a range of its shelters across the country to Florida in a 'show and tell' for Ken and his team. Pallet's Brandon Bills said Washington and Florida were "about as far apart as you can get in the US".
Brandon said Pallet was a company started by Amy King, who owned a construction company with her husband, Brady. They were passionate about hiring people who struggled to find work due to such issues as a criminal past, homelessness or addiction.
"[Amy] wanted to give these people a second chance. Working with these employees, Amy and Brady learned that there was a gap in the pathway out of homelessness," Brandon said. "Many people who resisted traditional shelters were seeking something more personal and dignified than what was available to them and often opted to live on the streets instead."
Brandon said the design of the shelters had improved over the years "thanks to input from people who have experienced homelessness".
He said the shelters could be built almost anywhere there was flat ground and took under an hour to construct with minimal tools to provide "personal, safe and dignified shelter" for people experiencing homelessness.
"Traditional construction is expensive and takes time, in some part due to requirements to pour a foundation. Our built-in structural floor eliminates the need to pour a foundation as long as the ground is relatively level and compact," Brandon said.
The standard shelter came with shelving and windows, and safety features such as an egress door, smoke detector and fire extinguisher. Air-conditioning was an option, and electricity could be provided with a connection to the municipal grid, solar power or a generator.
Pallet has 6sq/m shelters for single occupants, which can be configured to accommodate two single beds and a 9sq m design that fits four single beds.
Pallet's Ben Simons, who headed up the display team in Orlando, said the company's goal was "that we need to get people off the streets immediately".
"We don't believe the streets can be a waiting room for permanent housing," he said.