Business community sets generous example at launch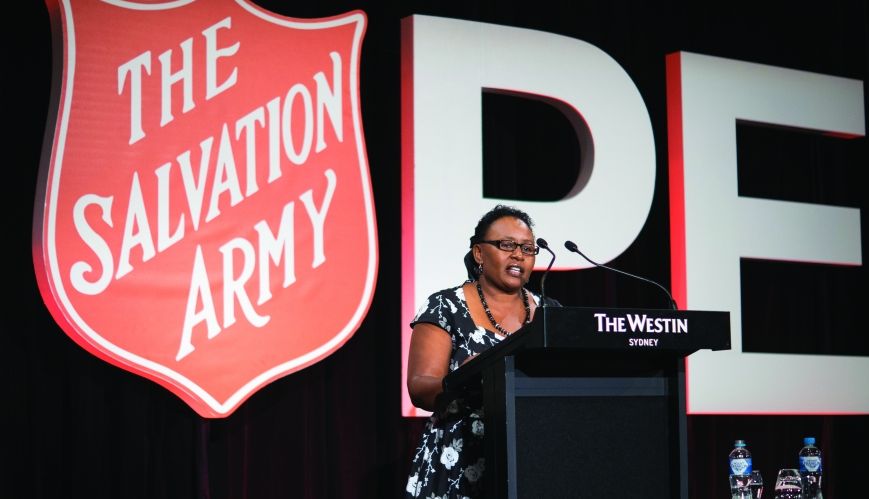 Business community sets generous example at launch
9 May 2016
Sydney's business community dug deep at The Salvation Army's Red Shield Appeal launch at The Westin Hotel on 6 April, with more than $1.4 million either donated or pledged on the day.
Television presenter Georgie Gardner compered the Sydney launch, encouraging the more than 500 guests to give generously. "For whatever reasons, many of our precious young people are hurting," she said. "We're talking about tomorrow's leaders, tomorrow's carers, tomorrow's parents, tomorrow's decision-makers, teachers and innovators and they're just one troubled sector of the community turning to The Salvation Army every day for help. So for the Salvos to render assistance, it's our duty to assist the Salvos."
Territorial Commander, Commissioner James Condon, welcomed the guests before the new Chair of The Salvation Army Territorial Appeal and Fund Development Committee, Frank O'Halloran, announced donations totalling $600,000 from a number of individuals in the room, including his own donation of $200,000. NSW Attorney General Gabrielle Upton then spoke on behalf of Premier Mike Baird and announced the State Government's donation of $200,000 to the appeal.
Margaret, a victim of domestic slavery before being helped by The Salvation Army's Trafficking and Slavery Safe House, then gave a moving testimony. "Today you can give a new hope to ending slavery in Australia," she said. "Your support will ensure that The Salvation Army can continue its commitment to protecting the most basic right of human rights – the right to be free."
Guest speaker, Australia's First Lady and Greater Sydney Commission Chief Commissioner, Lucy Turnbull, in announcing a $50,000 donation from the Turnbull Foundation, spoke of the importance of creating a resilient nation and praised the Army for paving the way in this area. "I think the Salvos represent the idea of resilience in a very special way," she said. "I think the Salvos are really one important piece in the great fortress of resilience in Australian society and great exemplars of resilience in action."
More than 20 Red Shield Appeal launches have either taken place or will be held, across the Australia Eastern Territory during April and May. Go to salvos.org.au/redshield donate to the Red Shield Appeal.