You are here:
Home › News › 2016 › 05 › 14 › Territorial Leaders Conduct Retirement Service For Maclarens
Territorial leaders conduct retirement service for MacLarens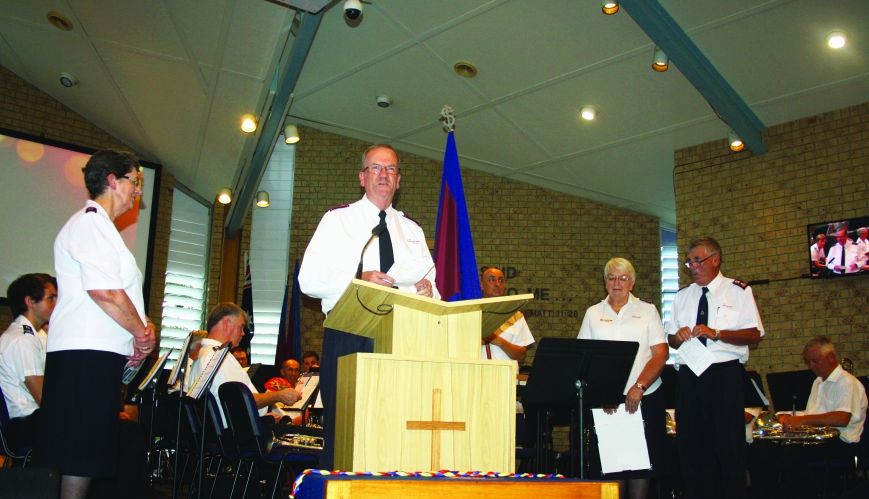 Territorial leaders conduct retirement service for MacLarens
14 May 2016
Territorial leaders, Commissioners James and Jan Condon, conducted the retirement service for Majors Phil and Nancy McLaren at Carindale Corps, Brisbane, on 14 February.
Commissioner James highlighted the McLarens' consistent and faithful service over 40 years of ministry, both in the Australia Eastern Territory and overseas. Commissioner Jan, Territorial President of Women's Ministries, expressed her appreciation to Nancy, in particular, for her ministry to women in the territory.
The McLarens also shared during the service. Major Nancy spoke about the many people who had influenced her life and the life of her family over 40 years of officership – both officers in different appointments and those who came from all walks of live. "I would also like to acknowledge the wonderful support given by my family over the years," she said. "They have shared in my calling."
Major Phil spoke about the blessings and privileges of officership and how God had opened so many doors of ministry through The Salvation Army. He made special mention of the times spent in Africa where he was privileged to conduct planned giving workshops. "The biggest impact on my life was the generosity of people who have so little to give," he said.
The Carindale Corps family were also guests at the retirement service, with the corps' music sections participating. An audiovisual presentation displayed highlights of the McLarens' ministry.
In retirement, the McLarens are looking forward most of all to spending more time with family. They also plan to invest time and energy into mission at their local corps, Carindale. Major Nancy will continue to participate in local ecumenical expressions.