Street Safe Salvos program expands in Newcastle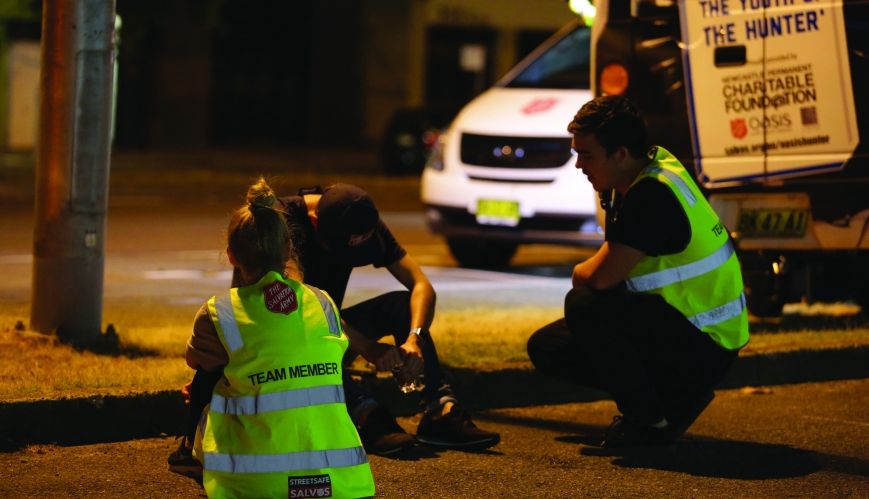 Street Safe Salvos program expands in Newcastle
16 May 2016
The Street Safe Salvos program launched in Newcastle last October has recently expanded beyond the city centre into the neighbouring suburb of Hamilton.
The six-month pilot phase has also been extended for another six months. The program, which is run in conjunction with the Newcastle City Council and NSW Police Newcastle Local Area Command, is designed to engage with vulnerable and isolated groups and individuals participating in Saturday night activities.
"The police are happy with the progress the program has made, they understand the needs our volunteers are meeting, and they trust us," said Peter Martin, the manager at Oasis Youth Network Hunter. "They have approved our expansion to Hamilton, which is where the rail line terminates, and where there are a host of issues facing young homeless girls in particular. Our 60 volunteers, who come mainly from the Northlakes and Newcastle Corps, will be a positive presence in this area.
"The role of the volunteers is to make contact with those affected by drugs or alcohol, or those with no way of getting home, and getting them into the right frame of mind to get them into a taxi or to call family or friends. If people can't make this contact, program volunteers will either provide transport or allow people to rest and sober up in their mobile van."
On each Saturday night, from 10pm until 3.30am, three teams of trained volunteers patrol the CBD on foot. They hand out bottles of water, lollipops and rubber thongs to replace high heels.
They can also help recharge mobile phones and offer a listening ear. "The program has helped 200-plus people so far," said Peter. "More than 70 percent of those we help are females aged between 18 and 25. As well as meeting immediate needs, our volunteers also provide follow-up to the people they assist. Sometimes they will also have time to sit and chat with people and explore what is going on in their lives and some of the underlying issues they are facing."