You are here:
Home › News › 2016 › 06 › 08 › General And Commissioner Cox Make Historic Visit To Eastern Europe
General and Commissioner Cox make historic visit to Eastern Europe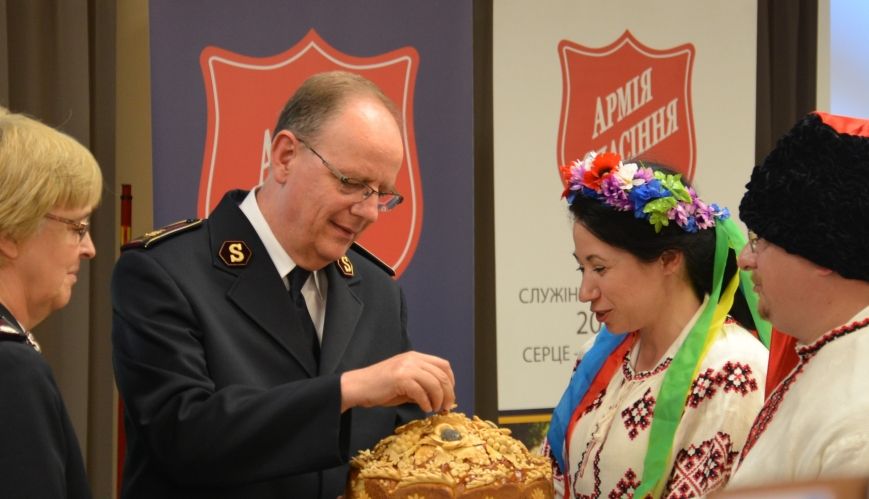 General and Commissioner Cox make historic visit to Eastern Europe
8 June 2016
A long-awaited event became reality when General André Cox and Commissioner Silvia Cox (World President of Women's Ministries) visited four countries of The Salvation Army's Eastern Europe Territory – Romania, Moldova, Ukraine and Georgia. The visit to Romania was the first by a Salvation Army General.
In Romania, the General and Commissioner Cox visited corps (churches) and danced with children at Ploiești. At the SALVATtex warehouse they spoke with people undertaking work training by sorting donated goods for the Army's recently opened first shop in Bucharest. They also joined the Army's new mobile medical team in its work on the streets of the Romanian capital.
In Moldova, they witnessed a similar ministry when they joined the long-standing mobile clinic which provides medical services to remote communities. In Dolinoe village on Sunday morning, the General spoke to local people about God's healing touch to the broken soul.
During the public meetings held in Romania, Moldova and Georgia, representatives of different corps testified to God's work in their lives through physical healing and the guidance of the Holy Spirit. Testimony was also given of God's power to love and rescue and of the way in which he is working in corps and communities.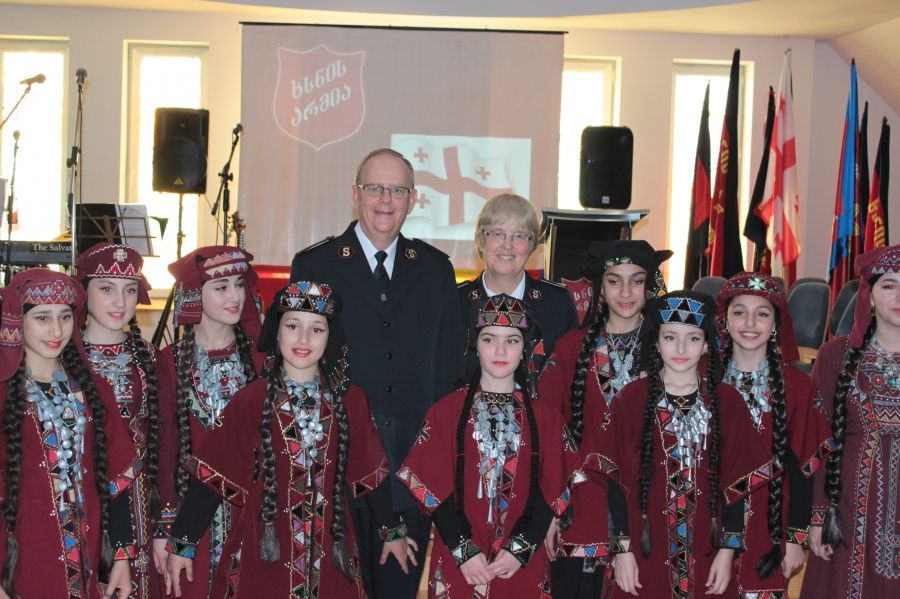 The General and Commissioners with a group of young dancers dressed in traditional Georgian costume.
The message of "God's Priceless Kingdom" was illustrated in beautiful ways through the singing of young people, and words of witness. Dance in national costumes in Romania and Georgia depicted local traditions.
Following the Bible message in Georgia, many people knelt and responded to a calling to follow Jesus wholeheartedly. A large number also gathered on the platform to express their interest in becoming Salvation Army officers, reflecting their desire to be agents of change in an often-fractured world.
The conclusion of the public meeting in Georgia included another historic moment as, for the first time, the Founder's song, O Boundless Salvation!, was sung in the Georgian language. This moving rendition brought the curtain down on a visit to the Eastern Europe Territory that will live long in the memory of those who were able to be a part of it.