You are here:
Home › News › 2016 › 06 › 17 › Chief Of Staff Installs New Territorial Leaders In Japan
Chief of Staff installs new territorial leaders in Japan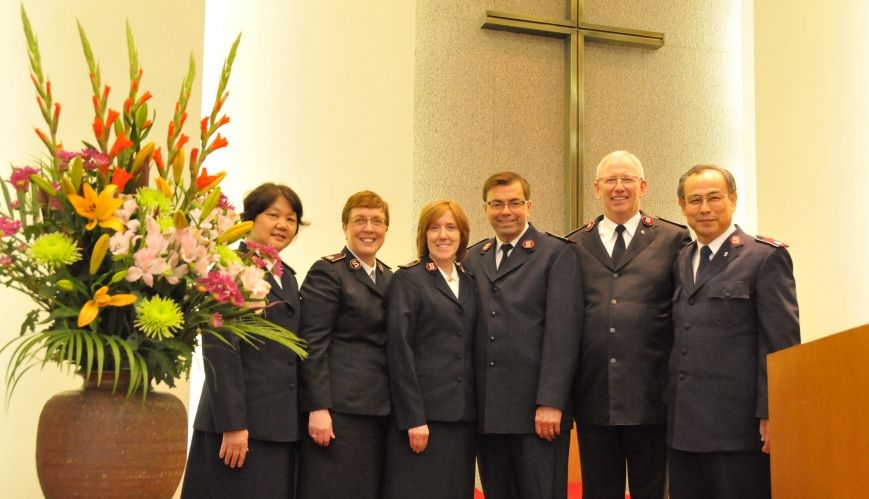 Chief of Staff installs new territorial leaders in Japan
17 June 2016
The Salvation Army's Chief of Staff, Commissioner Brian Peddle recently installed former New York officers, Colonels Kenneth and Cheryl Maynor as the new territorial leaders for Japan at a meeting in Tokyo.
Under the tricolour Army flag, the colonels were charged by the Chief to carry out their sacred task of leadership. The congregation was pleasantly surprised when the new leaders responded not in English but with a clear "itashimasu" – Japanese for "I do" or "we do". The congregation, made up of retired leaders, officers and soldiers embraced the occasion as the start of a new chapter in the journey forward for the territory.
After a powerful dedication prayer by World Secretary for Women's Ministries, Commissioner Rosalie Peddle, the Colonels knelt at the mercy seat before being presented by the Chief as the new territorial leaders.
Then, Colonel Kenneth introduced the Japan Staff Band and ceremoniously removed his New York Staff Band tiepin, leaving behind his legacy with the band. "For many years as executive leader, I proudly put on this pin. But from this day, I will not wear it again. Goodbye New York Staff Band, hello Japan Staff Band!"
The Chief followed with a message from the Bible, referring to the apostle Paul's writings about finding hope in Christ. "Our hope is not in history, our hope is not in our programme, our hope is not in centres. But our hope is in Christ, the living hope."
Many people from the congregation then responded to the Chief's call to renew their hearts with the hope of Christ by kneeling at the mercy seat. After the meeting, hundreds of people waited patiently to greet their new leaders.
The following day the international visitors and new territorial leaders toured the Army's Suginami Complex, which includes the training college, a women's home, a senior citizen care home, a hospital that offers terminal care, a corps and a thrift store.