First Step program launched in Rockhampton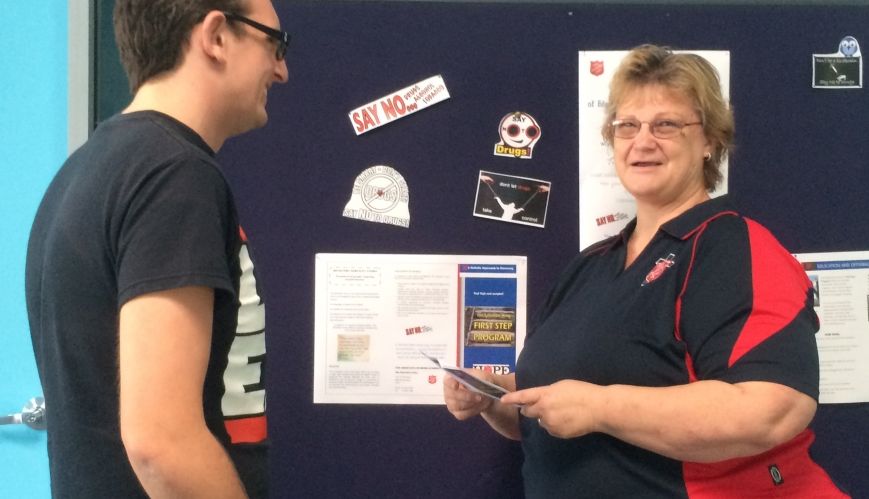 First Step program launched in Rockhampton
17 June 2016
The Salvation Army in Rockhampton launched its First Step program on Tuesday 14 June. The program is a step-by-step journey of education, intervention and recovery for people with addiction, their family and friends. 
The Salvation Army's Jenny Wayman, Alcohol and Other Drug Facilitator, leads the program and runs the groups, which will now run weekly, breaking only for a few weeks over Christmas. Jenny is a former nurse with a background in community welfare, prison ministry, and drug and alcohol prevention, and a vision to see the problems of addiction and youth suicide in Rockhampton drastically reduced.
"First Step is a combination of the Army's Bridge and First Floor programs," Jenny explains. "My dream is to help cut down Rockhampton's drug and alcohol addiction problem with a long-term, holistic program that includes help for families. We do have other centres and programs here, but they are short-term only and often those completing them don't know where to go next. This is particularly true for those leaving prison. I have felt for a long time that an ongoing program like this, that also offers referrals as appropriate, was very much needed here."
The First Step recovery program will offer education and intervention, using parts of the Bridge Program, Positive Lifestyle, and other Alcohol and Other Drugs (AOD) programs. "We had a good first response, with 14 in the group and others coming in looking for assistance," says Jenny. See Change and VIFs (Very Important Families) are the two programs that will be offered for family and supporters through First Step, starting in July.  
"Our goal, eventually, is to not just work with people in addiction and their supporters, but also include children of those in addiction, as they are affected too," Jenny explains. "We want to develop what we offer into a holistic program for the whole family. It's definitely a work in progress." 
In developing the program, Jenny has worked with the First Floor, a holistic drug and alcohol service based at the Wollongong Corps; Gerard Byrne, Operations Manager Recovery Services for The Salvation Army; Major David Twivey, Manager, Townsville Recovery Services Centre; and Major Colin Maxwell, Capricorn Region Corps Officer. Jenny has also networked with community centres in Rockhampton.