Brassworx hits right note with young musicians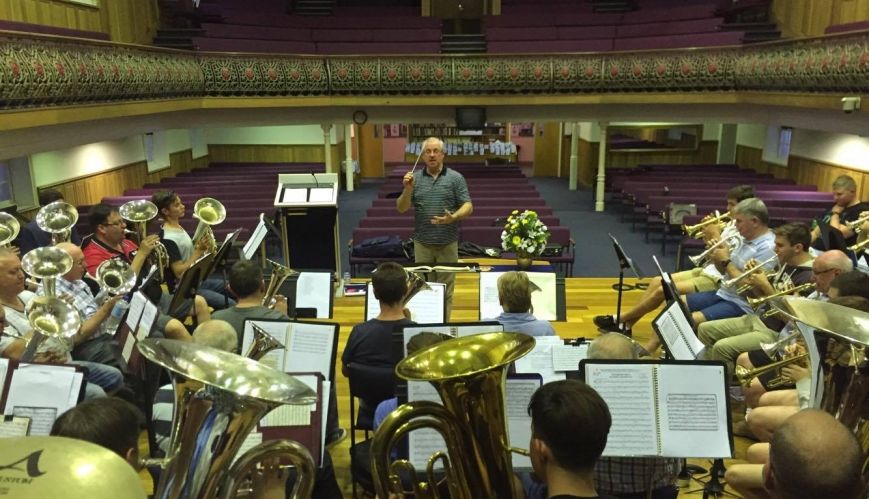 Brassworx hits right note with young musicians
25 October 2016
The Brisbane City Temple Band hosted the inaugural Brassworx Youth Event for high school and university-aged brass and percussion players earlier this month.
The event brought together many young people from around The Salvation Army's Queensland Division, as well as some from local high schools.
Major Dean Clarke, Brisbane City Temple (BCT) Corps Officer, said the Brassworx idea was proposed by Bandmaster Tim Green as part of the corps' efforts to encourage and support other Salvation Army centres. He said its goal was to encourage and equip young musicians and inspire them to be faithful in their Christian music service or to go further in their faith journey.
 
"The Brassworx experience was a great time of musical tuition and learning," Major Clarke said.
"The young players performed music that stretched and challenged them and had the joy of doing so in a supportive group environment. The goal for our corps was to inspire, equip and empower young musicians to keep serving Jesus by using their musical gifts. We believe that this and more was achieved."
The guest conductor for the weekend was Bandmaster Ken Waterworth from the Melbourne Staff Band. BCT principal players also offered sectional tuition.
In addition to the musical training, the young people participated in the corps' Friday youth activity, Factory 412, and after a full Saturday of rehearsals they enjoyed a fun evening of bowling.
The Brassworx group joined with the BCT band during the Sunday morning meeting and featured a number of musical works during the afternoon concert. These included Temple 125, an energetic, Broadway-inspired piece by Kevin Larsson, the Bill Himes' arrangement of Amazing Grace, El Es El Senor by Dean Jones and their major work, Mission Force, by Stephen Bulla. 
For more information about the weekend, go HERE