Justice conference challenges Salvo delegates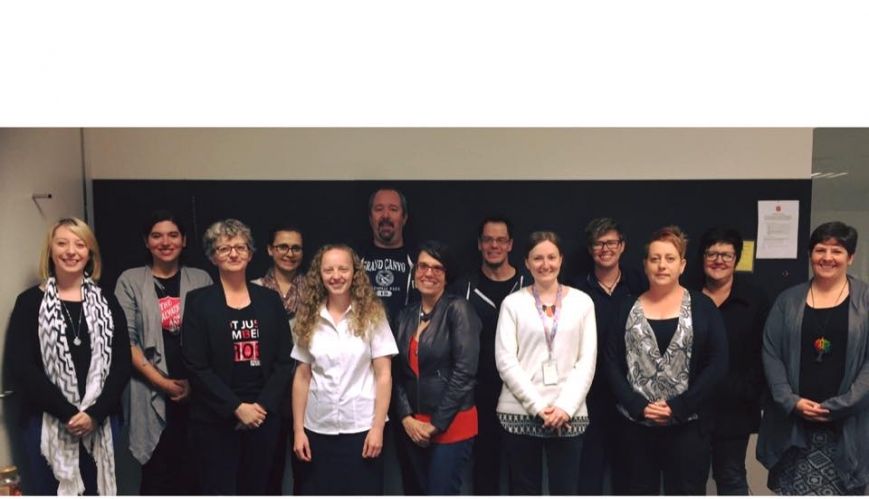 Justice conference challenges Salvo delegates
15 November 2016
Delegates from both the Australia Eastern and Southern territories of The Salvation Army attended the annual Justice Conference in Melbourne from 21-22 October.
The Justice Conference is a vital global platform for the faith and justice community, bringing together world-class speakers and artists into gatherings designed to catalyse emerging works of justice around the world. Speakers this year included the Army's Major Danielle Strickland; World Vision Chief Advocate, Reverend Tim Costello; advocate for women and girls, Melinda Tankard-Reist; and many more.
The Eastern territory's Social Justice Department attended the conference, seeing it as a vital time of learning and sharing, both as a department, and as the Army's social justice arm. Other delegates from Sydney and Brisbane also attended the conference.
After the conference, Eastern territorial delegates spent time with the Southern territory's JUSTSalvos staff, as well as divisional and regional social justice coordinators to share and learn from each other's experiences.
"The conference gives us an opportunity to step outside our Salvation Army context and see what other organisations are doing in this space, but also to share with others the way in which the Army is working in the justice space and the principles on which we are working," said Casey O'Brien Machado, Territorial Social Justice Coordinator.
"I was greatly challenged by the call to be missional as individuals. It is not enough that we belong to a missional or justice-bringing organisation. We must be missional and intentional in our own lives also."It was a great encouragement to me to learn that the way in which we are working as a Social Justice Department is best practice, and that in many ways, our strategies and plans for social justice within The Salvation Army are ahead of the game."
Rebecca Percival and Matt Cairns, who are also part of the Social Justice Department in administration and project support, were also impacted by the conference.
The Social Justice teams from both the Australia Eastern (AUE) and Southern (AUS) territories.
"I was certainly motivated to better connect with other Salvos who might be working in the social justice space but aren't necessarily on anybody's radar," said Matt. "There is strength in numbers and supporting each other in this Kingdom cause is important."
Rebecca was personally challenged by one of the speakers who spoke about "the seduction of this world" and being able to "recognise and overcome the oppression of comfort". "The speaker challenged us to look beyond our own circumstances in order to recognise the struggles of others," she said. "He made the point that it is very easy to not act for the needs of others when all of your own needs are being met."
The Salvation Army's Freedom Partnership to End Modern Slavery is a founding sponsor of the Justice Conference and continued its sponsorship this year. "Our hope is that participants will use the tools that conference sponsors provided to make a difference in the lives of others," said Jenny Stanger, Freedom Partnership National Manager. For example, we are asking people to sign our 'Just fruit and Veg' campaign to stop the exploitation of people who pick and pack our food here."
For more information, go to socialjusticeconference.com and keep an eye on facebook.com/socialjusticeaue for updates on next year's conference as they become available.