Southern Territory welcomes the Joyful Intercessors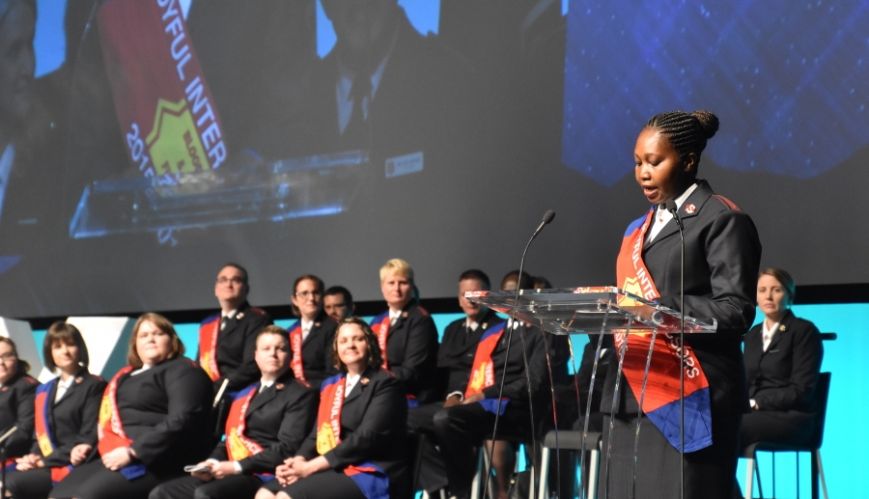 Southern Territory welcomes the Joyful Intercessors
14 December 2016
By Jessica Morris

Six hundred people witnessed the ordination of 10 new officers at the Melbourne Convention and Exhibition Centre on Sunday 11 December.

The Joyful Intercessors were commissioned by Commissioner Floyd Tidd, who called them to fulfil the purpose of The Salvation Army by spreading the love of Jesus.
 
Speaking on John 17, he emphasised Christ's prayer for his church's protection, sanctification by the Word, and their mission to be set apart for the specific, pure purpose they're called to. "This is why God raised The Salvation Army," he explained.
 
The cadets stepped onto the stage, and were given their new appointments upon receiving the title of Lieutenant. Gemma Keogh (Tea Tree Gully), Shannon and Tracy Watson (Geraldton), Reak Deng and Elizabeth Kang (Dandenong), Dale and Fi Allen (Playford/Smithfield plant), Alexis Mapleback (Sale, EVD and Assistant Divisional Doorways Coordinator), Kahlia McIntosh (Brimbank City) and Laronie Thompson (Nepean Hub – Westernport Mission Centre) presented themselves with the Army salute, signalling their commitment to service.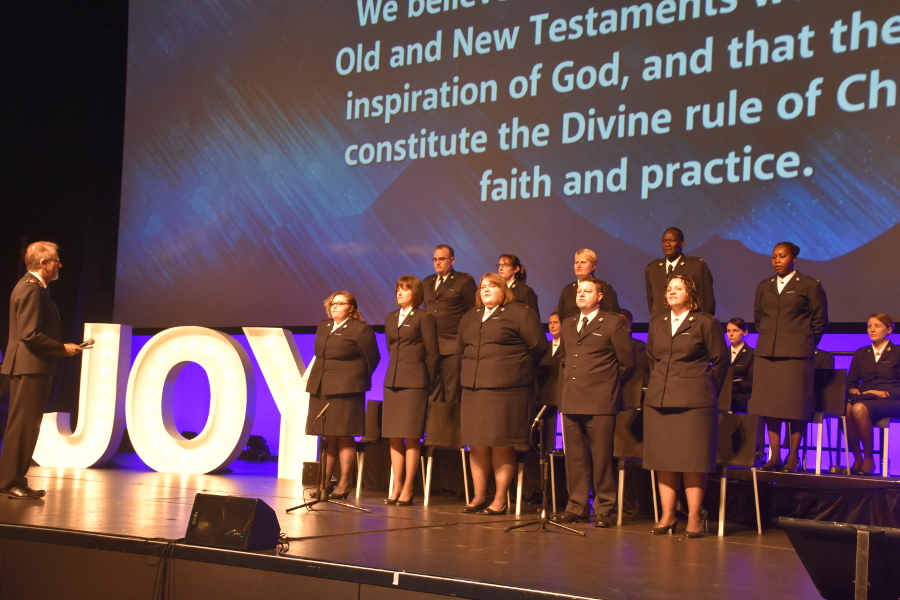 The Joyful Intercessors offer their Declaration of Faith before being comissioned as officers of The Salvation Army.
As they entered cadetship during a period of transition, training principal Major Gregory Morgan commended them for their understanding as the first session to graduate from the new Ringwood Campus.

"This weekend you are commissioned as officers, but you have not arrived at the end game," he said in the principal's report. "This is a beginning and as you encounter many new experiences over the coming months and years give every effort to learn and grow."

Major Morgan presented the Joyful Intercessors to Commissioners Floyd and Tracey Tidd, and Colonel Graeme Rigley, Secretary for Programme, conducted the Declaration of Faith before the official commissioning and ordination of the cadets.
 
Lieutenant Elizabeth Kang spoke on behalf of her session, sharing about God's faithfulness. Born in North Sudan, she talked about her life as a refugee in a Christian minority and how The Salvation Army provided for her family when no one else could.
 
"Wherever I go in Sudan and in Lebanon and here, in Australia, God is still using me and I'm still doing the same thing again and again," she said. "When I look at it I say, 'Really, God's calling me to be an officer in The Salvation Army. I said to God, 'Whatever it takes. Let your will be done.'"

Her testimony, which she also shared in a video with Salvo Studios, revealed the grace of God and his unfolding purpose in our lives. She and her husband Reak Deng will begin their appointment at Dandenong Corps in the new year, along with children Grace, Jonathon and Helen.
 
"The Holy Spirit is still there," she shared with Salvo Studios. "Sometimes in a whisper, sometimes in actions. God surprises me in many different ways through the journey and he's still doing a good work in my life."

Following Elizabeth's testimony, she and the rest of the Joyful Intercessors sang their sessional song May Your Strength Be With Us with the Melbourne Staff Songsters.
Colonel Karyn Rigley and Lieut-Colonel Vivien Callander also contributed to the service, with Lieut-Colonel Ian Callander leading the song Joyful Joyful and the Melbourne Staff Songsters delighting the crowd with Somebody Prayed for Me.