Stories help bring Salvos recovery centre to closure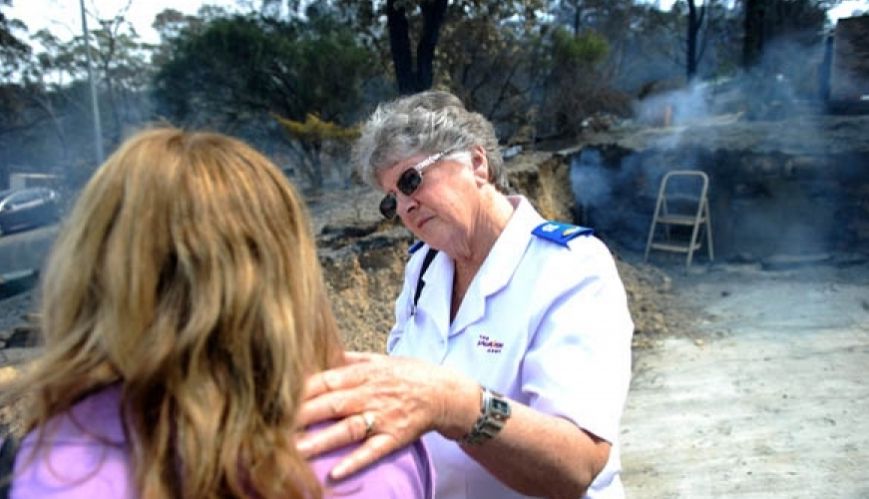 Stories help bring Salvos recovery centre to closure
20 December 2016
Remembering and sharing stories was the focus at the closing ceremony of The Salvation Army's Bushfire Recovery Centre in Faulconbridge, Blue Mountains, on 11 December.
Since the recovery centre opened as a direct result of the bushfires in October 2013, it has helped nearly 600 households who were affected by the natural disaster. Over 130 people, including many who lost their homes, attended the recognition and thanksgiving service at Springwood Corps to share their recovery stories with the wider Blue Mountains community.
"It's the stories that people value most," said Tracey Greenaway, Faulconbridge Bushfire Recovery Centre manager. "It's not the bricks and mortar, it's your story that is gone. The irreplaceable things are your family history, your achievements, anything to do with your identity or story."
At the recognition service, individuals were also invited to share their story in the form of a poem, video, audio track, photo or personal item to be added to a history box, which will be archived at Springwood Corps for future generations to experience. Since the service, additional people have contacted Tracey to add a personalised memory to the history box.
Over the past three years Tracey has been assisting bushfire victims through the different stages of recovery. "Bring a sense of hope that this is a long journey and we're going to be with you during this whole process."
Emotional, spiritual and financial support have been the three recovery focus areas. Tracey would offer financial grants wherever there were gaps in her clients' financial situations. Mental health has also been a crucial part of the recovery process and Tracey would often refer clients on to professional counselling.
"Just being a part of people's journey and explaining the process of how recovery works – connecting with people and listening to people. Just acknowledging what people would be feeling at different stages. Hearing their hearts and finding ways to meet needs and bring hope to their situation," said Tracey.
Tracey said God would often show her the needs of a struggling family, prior to them sharing their stories with her. "I feel I have been directed by God through this whole experience because I could not have done it on my own."
While the centre has officially closed, Springwood and Upper Blue Mountains Corps will remain as support systems for bushfire victims. "Everyone who lives in an area who has experienced natural disaster, is in someway affected by trauma and loss. The community is not the same. We're still in recovery and it will continue for quite a few years," said Tracey.
Tracey, who lives in the Blue Mountains region, will continue to volunteer with The Salvation Army's Emergency Services (SAES) and assist with disaster preparedness for this area.