You are here:
Home › News › 2017 › 01 › 30 › Campbells Installed In New National Roles At Leadership Conference
Campbells installed in new national roles at leadership conference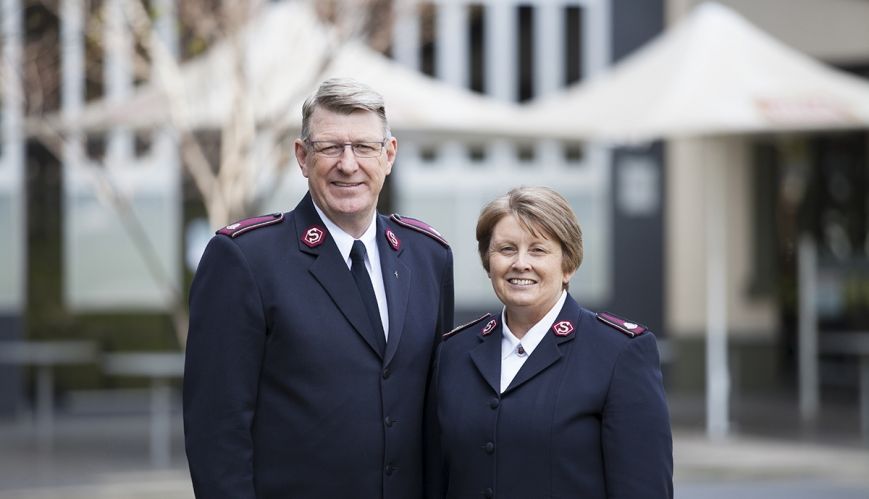 Campbells installed in new national roles at leadership conference
30 January 2017
Colonels Mark and Julie Campbell were installed in their new national leadership roles last night at The Salvation Army's National Leadership Conference in Geelong.
Salvos across Australia joined in via live stream to watch the installation of Colonel Mark as the National Chief Secretary and Colonel Julie as the National Secretary for Women's Ministries.
"We just want to say we're committed to leading people through this [Australia One] ... we're committed to lifelong serving of Jesus Christ," said Colonel Mark.
Colonel Julie added: "I'm grateful to be part of this women's ministries team ... I see an Army of women wanting to serve God and I believe God has much more in store for us as women."
The Campbells were officially installed in their roles by The Salvation Army's National Commander, Commissioner Floyd Tidd, and National President for Women's Ministries, Commissioner Tracey Tidd.
After the Campbells shared with the audience about their officership backgrounds, Colonel Mark spoke about the importance of being focused. He challenged the congregation present and those watching via live stream to determine what distracts them and to fix their eyes on Jesus instead.
In addition to the Campbells' installation, 10 officers were recognised for their long service to the Army. Commissioner Floyd Tidd also launched The Salvation Army's new national magazine, called "Others".
"Our focus would be, we continue to be a movement focused on others. The sub-branding under the word Others is 'Connecting Salvos in Mission'. The purpose of the publication is again to tell the story, his (Jesus') story, lived out through us as he continues to touch others throughout The Salvation Army. May God indeed bless this publication and everyone who reads it."
Go to others.org.au for further information.