You are here:
Home › News › 2017 › 02 › 03 › Guest Lecturer Inspires Leadership Students At Booth College
Guest lecturer inspires leadership students at Booth College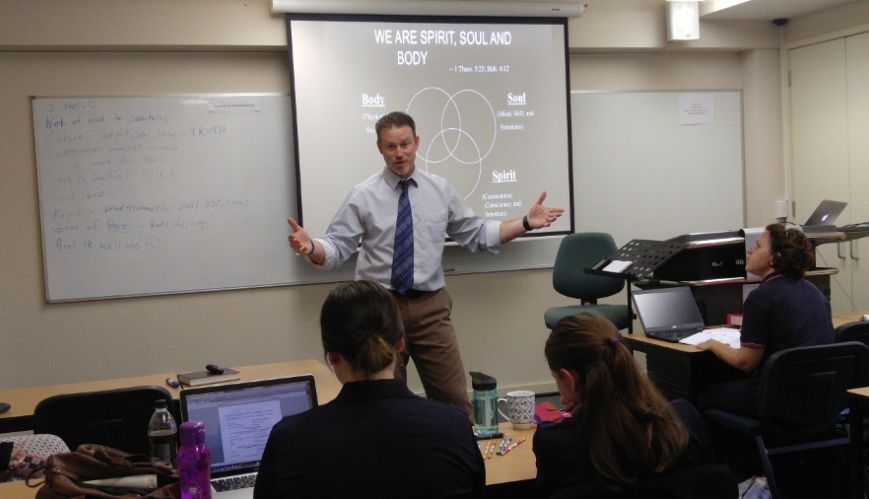 Guest lecturer inspires leadership students at Booth College
3 February 2017
The separation of discipleship from church leadership is a critical issue facing the 21st century church, according to Booth College guest lecturer Dr Bryan Sims.
Visiting Australia this week as part of the Sydney-based college's Master of Arts program, Dr Sims said that the personal spirituality of those in leadership is one of the main issues that the contemporary church must address if it is to fulfill the call of the gospel.
"One of the things that has happened in many churches is that we have separated discipleship from leadership," he said. "In the US some research suggests that many pastors spend less than 10 minutes a day in prayer and that their time in the scriptures is primarily for the purpose of preaching.
"A lot of leadership development is about the skills people possess but the core of responsible Christian leadership is to be a disciple of Jesus themselves."
For the past 16 years, alongside his academic role as Associate Professor of Leadership and Lay Development at Asbury Seminary in Kentucky, Dr Sims has been working with local churches and their leaders to move into communities to develop a culture of "adaptive, shared leadership".
"The past ways of leading and doing church are not helping us to take the gospel to our communities," he said. "We need our leaders to be learners again. We need leaders humble enough to know they don't have all the answers and can't fix all the problems. Instead they need others to be in conversation with, to pray and discern together God's direction in what to do."
He said the church needed both a culture of discipleship and of team leadership which brings forth a community where "all are equally committed to the vision" of the gospel.
He said working with the 11 Booth College students this week, all of whom were involved in ministry, made for "rich questions and some genuine wrestling".
"Dr Sims brings an up-to-date perspective on the growing edge of the church in North America and shares from his years of experience in coaching churches across the USA," said Dr Evelyn Hibbert, Academic Dean at Booth College. "It is always helpful to have a perspective from outside our own context. It encourages us to lift our eyes to consider possibilities, rather than just focusing on the challenges we face."
For more information about Booth College courses, go to boothcollege.edu.au/courses