PNG mission trip focuses on community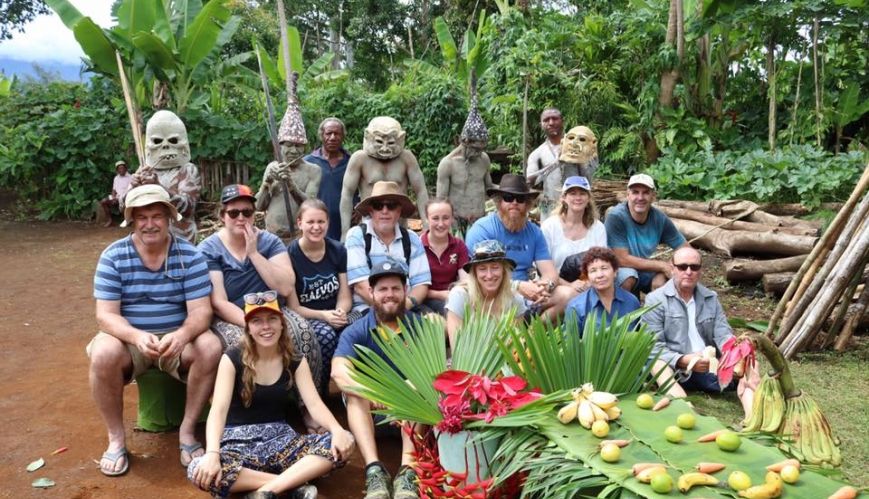 PNG mission trip focuses on community
16 February 2017
Experiencing and giving to a unique community was the goal behind a South-East Queensland mission team's trip to Papua New Guinea last month.
The team, made up of Salvation Army adults, one teenager and one child, left Australia for Goroka in the PNG Highlands on 5 January. Some of the team returned nine days later, while others stayed on until 21 January.
"We simply wanted to go and help as much as we possibly could," said Steve Unicomb, Children's and Families Coordinator at the Army's North Brisbane Corps. "I researched where we could go and what we could do. My parents, [Majors Kevin and Heather Unicomb] serve in PNG and helped us settle on the idea of renovating a motel that the Army owns in Goroka, which is one of the division's only source of income.
"As 95 per cent of the population doesn't have a job that earns money, the church cannot rely on tithes to fund ministry. The motel was doing this but was getting rundown, and people were starting to use other options in the town."
The team, who came from North Brisbane, Stafford, Carindale and Longreach Corps, included tradesmen, handymen, people for children's ministry, those who could sew, and others ready to do anything else that was needed.
Through generous donations from the corps, the team was also able to purchase extra building materials and kitchen supplies for the motel.
Team members worked together with locals to help renovate and restore the motel rooms.
Sanding, painting, tiling and sewing were the major areas of activity for the team, who managed to restore the four single rooms of the hotel. Two family rooms are still in need of repair. The team is hoping that the locals who worked with them, and learned what to do, can finish most of the job themselves.
"Working with these local guys and getting to know them was one of the highlights for me," Steve shared. "After work we'd play touch footy with them in the mud and pouring rain."
The team faced many challenges in their renovation work. Supplies, including new showers and toilets that were ordered two months in advance, did not show up. They found two active beehives in the ceiling, rats were common and there were several water leaks. "Dealing with that was part of the experience, though, but God always provided!" said Steve.
Local children enjoyed being around the team and spending time with them. The children also helped with some of the painting, and were amazed by the pump soap the team gave them to clean their hands!
A few team members also organised a kids club, with games, making bracelets and sharing the gospel story.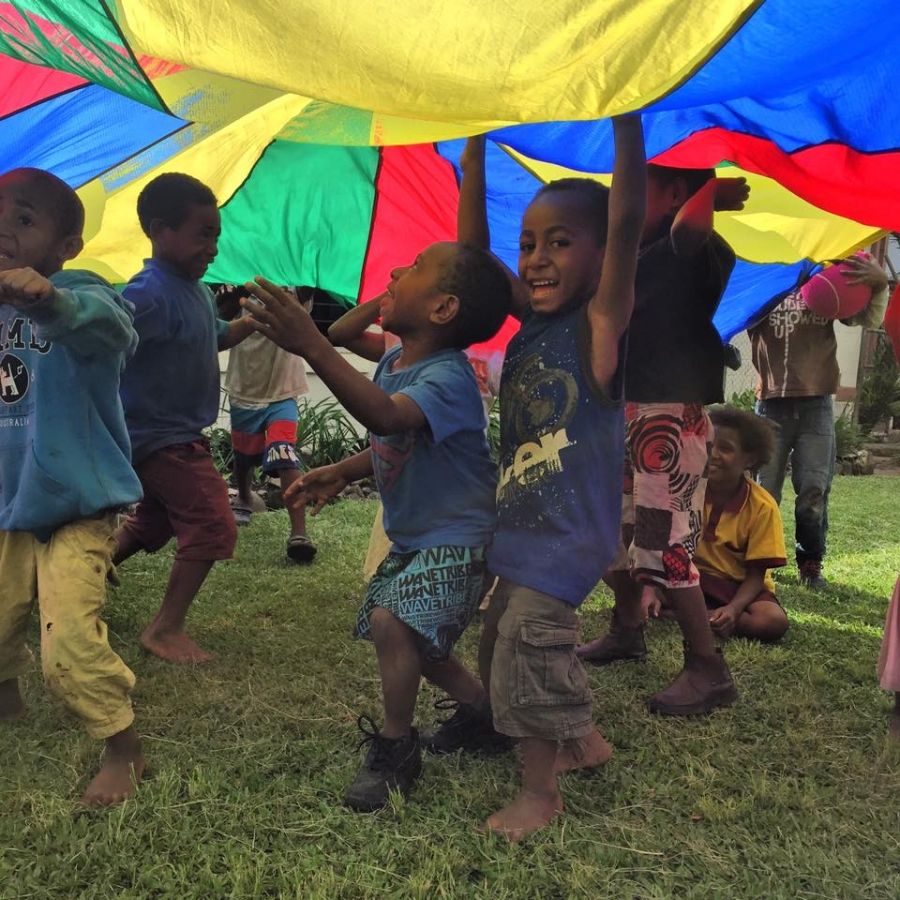 The local children enjoyed the kids club, and spending time with the team.
Attending and participating in the Goroka Salvation Army Sunday meeting was part of the mission. The team agreed that it was one of the most joyful services they had ever attended.
"The team just loved the experience and want to go back," said Steve. "They built some great relationships with the local guys they worked with, the corps officers and the divisional leaders and their families. It's all about relationships."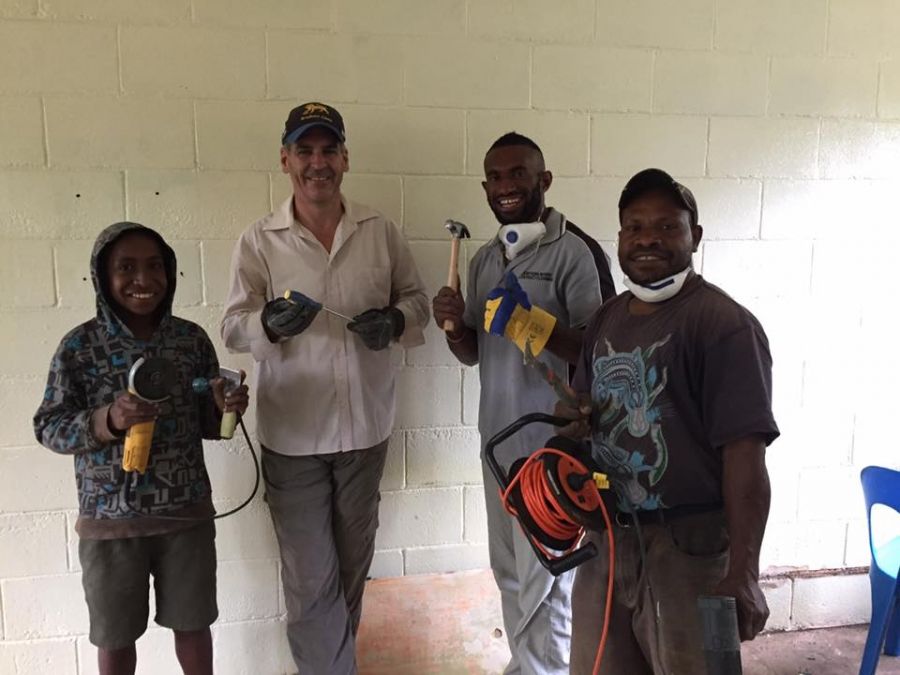 The team build good relationships with the locals and taught them skills to use in continuing the work.
Don't worry, be happy!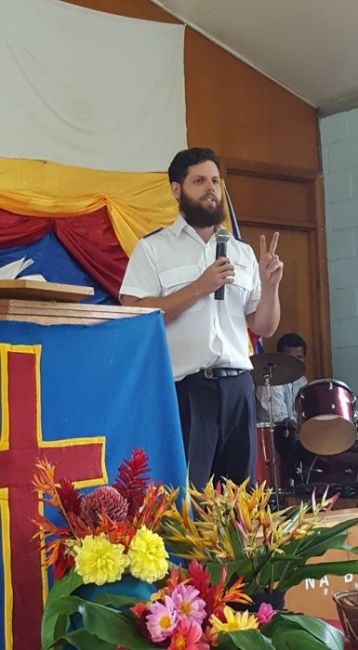 Jeremy and the team participated in the Sunday meeting at Goroka Corps.
There are a number of things that I loved about Goroka – the scenery was spectacular, the weather was nice and cool and the fruit was incredible. The thing I loved most, though, was the people of Goroka. There was something special about these people. Journeying around town on different days you could encounter an array of different things – the incredible smell of some food, often followed by one of the worst smells your nose has ever experienced; you see the delicious fruit and veg being sold in the market; there may be a rugby game being played on their field, which is more like a mud pit than a footy field. One thing was constant – everywhere we went we were greeted with a smile. People seemed happy to see us; in fact, people just seemed happy!
It was amazing to get alongside and experience the life of the locals through working alongside them for our project and to travel to their village. I wanted to understand why they were so happy. One evening a few of the boys and me were sitting "sharing stories". I was asking them questions about their culture and they were asking about Australian culture. I shared about where I live and about how people lived and they were amazed. Amazed that in a society where we own and have so much, people still aren't happy. I asked them, "Why are you so happy?" Their reply was that they don't worry. They are content with what God gives them, happy with the blessings they already have and focus on those. They rely on God for all things and by doing this no longer need to worry themselves. They focus on the moment, on what is right in front of them.
I don't know if I'm better suited to island time rather than Australian, but these people have taught me that finding joy in the moment is much more beneficial than worrying about what may or may not happen.
Jeremy Clarke – team member and leader of Youth and Young Adults Ministries at North Brisbane Corps.