World day of prayer to focus on Philippines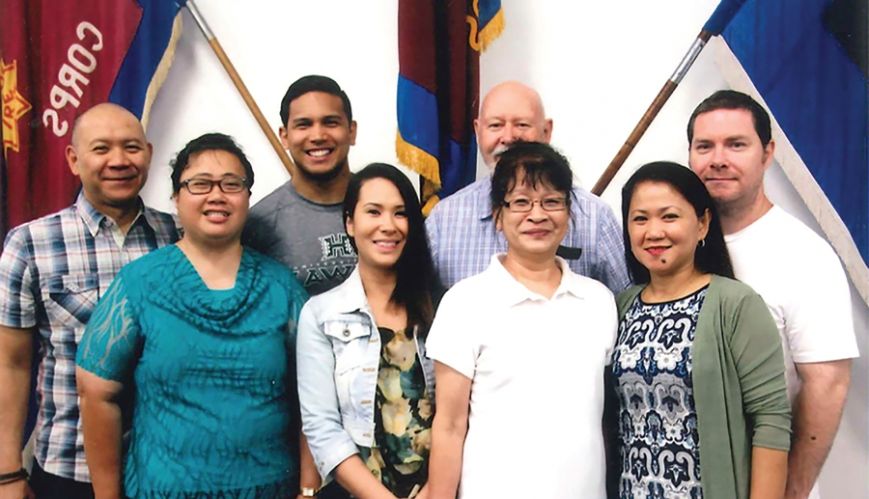 World day of prayer to focus on Philippines
27 February 2017
Millions of Christians from diverse traditions around the world, including The Salvation Army, will be united in prayer on 3 March as part of the global World Day of Prayer event.
The ecumenical prayer movement, which is active in 170 countries, will this year give focus to the Philippines.
The Philippines is a country that Salvationists from Ingle Farm Corps in South Australia have close to their heart through a faithful Filipino family who have made the corps their spiritual home.
"Vicky was born in Iloilo City, and was a soldier at the La Paz Corps," says Lois Denholm, Ingle Farm Corps' World Day of Prayer representative. "She met her husband, Lyndon, when his father, the late bandmaster Keith Francis, assisted the Manila Central Corps with their youth band, and Vicky was his interpreter. Vicky and Lyndon came to Australia in 1982. Their daughter, Leah,
has grown up in our corps and is soon to be married to Matthew Son, whose family are from Manila."
In 1992, Daryl and Joy Moncera, Vicky's nephew and a grandson of Salvationists from La Paz Corps arrived in Australia in 1992 as a young married couple. The arrival of their son Dillon in 2000, who weighed just 740 grams, united the corps in prayer. "Many times our whole corps prayed that this miracle baby would survive. Today, Dillon is a healthy teenager, joining with other youth in our Ingle Farm Corps."
Vicky and Lyndon have also been central to the journey of Salvationists Tim and Angie Moore, who attend the corps.
"Although she had not met Lyndon and Vicky before, Angie stayed with them for eight months while here on a work visa. She met Tim and they married in 2012." They have just been enrolled as soldiers, due to Vicky's influence in bringing them to the corps," says Lois.
Participants in the World Day of Prayer will share in a service prepared by Filipino women for Christian communities around the world.
The beginnings of the event began with women in the US and Canada involved in missionary endeavours gathering for prayer. What began in a small way has now become a worldwide movement, with the annual day held on the first Friday in March each year. More than 16 million Christians are estimated to have participated in the annual event over the past six years.
Offerings taken in South Australia will benefit the Bible Society's project The Heal- ing Word for Hurting Women and also Women for Women, an education project devised to help poorer women gain basic skills to change their living situation.
For more information go to worlddayofprayeraustralia.org